Obličej jako dětská prdelka? Která žena po něčem takovém netouží:) Po třicítce (…moment bolestivého uvědomění…) už je potřeba se o pleť pěkně starat, i když, čím dřív, tím líp. Moc ráda sleduju a čerpám inspiraci o kosmetických rituálech kamarádek i online, a tak jsem s říkala, proč nepřispět svou troškou do mlýna. Sepsala jsem pro vás list mých aktuálních kosmetických oblíbenců, věcí, na které nedám dopustit, a ráda je doporučuju dál do svého okolí. Jen vás dopředu musím varovat, že moje pleťová péče rozhodně není moc fancy, a jelikož nerada trávím v koupelně víc času, než musím, je taky poměrně minimalistická. Tak pojďme na to:)
Skin like a baby? Show me a woman that would say no to that! In the early 30s (oh, that's a bit painful right there), it is necessary to take a good care of your skin, though the sooner the better. I really enjoy learning about other people cosmetic routines and holy grail products, so I decided to compile a list of my own favorites that I would recommend without hesitation to any friend. My only warning for those with high expectation would be – my routine doesn't include particularly fancy products, and it's fairly simple, but hey, it's a good thing, isn't it?:)
Čistím, čistíš, čistíme
Moje hluboká láska pro čístící mýdlo Manna s aktivním uhlím je neutuchající a stále trvá. Proč jsem ho neobjevila, když mi bylo 17??? Moje pleť se po jeho používání zlepšila tak o 200 %, a také má neuvěřitelnou výdrž, a to se vyplatí:) Nic ovšem není dokonalé, takže jestli si s ním zkusíte omít i řasenku, budete mít pocit, že jste si právě vypláchli oči kyselinou. Na řadu pak přichází svatý grál všech čistících produktů, stálice, oscarový vítěz mé koupelny  – růžová Bioderma. Idálně v půllitráčku.
My love for the black Manna soap with active coal is as strong as ever. Why haven't I discovered something like that when I was 17? As mentioned in my separate post about it, it improved my skin by 200%, plus it lasts for so long. Nothing is perfect though, so don't try to wash your mascara with it, cause that literally feels like putting and acid in your eyes. For that, I use my other favorite, the winner, the masterpiece of any bathroom – pink Bioderma. The bigger the better.
Hydratace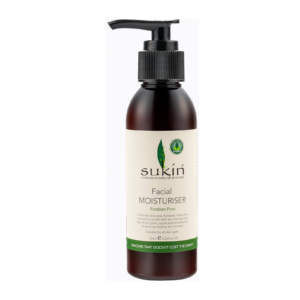 Jedna z věcí, kterou jsem už jako teenager odkoukala od maminky, bylo používání pleťového krému ráno i večer. Nedávno jsem přemýšlela nad tím, kolik značek a druhů krému už jsem vyzkoušela (prosím, řekněte mi, že nejsem jediná, kdo má chuť neustále, ale neustále zkoušet nové krémy, a nemůže se dočkat, až dopatlá ten stávající?), a bylo jich OPRAVDU hodně. Posledních pár let jsem se ale ustálila na denním oblíbenci, který mi vyhovuje ve všech směrech – je lehký, nemastný, rychle se vstřebává, pleť je po něm hebká a hydratovaná tak akorát, nezadělává na pupínky a je v balení s pumpičkou, takže ho neznečistíte prsty. Je od přírodní australské značky Sukin a objednávám si ho na feelunique.com.
One of the things I learned by watching my mom was to always use moisturizer after cleaning my face both in the morning and evening. So thanks mom, I started early and I think this always gets reflected on the skin. Considering for how long I have been using moisturizers, I have tried so many I couldn't recall all of them even if I would have wanted to. But lately I have been using this light velvety moisturizer from an Australian natural cosmetics called Sukin and it's great. It has light texture, and it gets absorbed quickly leaving your skin hydrated, but not greasy. The pump is a great added bonus, because you get exactly as much product as you want without contaminating the cream with your fingers.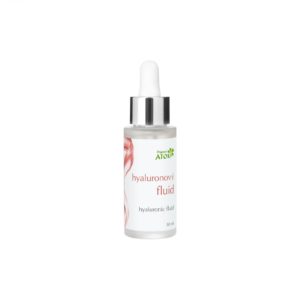 Abych pleti občas dodala ještě něco navíc, zkusila jsem hyaluronový fluid od české kosmetiky ATOK a jsem tak nadšená, že už mám druhé balení. Mám pocit, že moje pleť si po něm vyloženě pomlaskává:) Dá se aplikovat buď samotný, nebo pod krém (je absolutně nemastný, takže pokud máte sušší pleť, ještě to bude něco chtít).
To give my skin something extra, I wanted to try the highly praised hyaluronic acid and I went for a serum from czech brand Atok. My skin loves it! It leaves it fresh and plumped, and you can use it on its own or with moisturizer.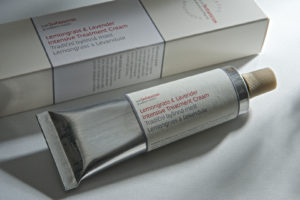 Co se týče noční péče, testovala jsem víc krémů zároveň a zakotvila na tom, který vlastně vůbec není noční, vlastně ani pleťový není, ha. Je to bylinná mast s citronovou trávou a levandulí od české kosmetiky Botanicus, která voní tak božsky, že se každý večer teším, až si udělám čas na svých pár vteřin aromaterapie. Nejen, že voní dokonale, ale taky výborně regeneruje pleť, neucpává póry, a i když dětskou prdelku nezaručuje, bude to někde hodně blízko.
For the evening care, I am currently hooked on a product, that is not even advertised as a night cream, but who cares? From natural Czech brand Botanicus, let me introduce you to a heavenly smelling nourishing balsam with almond oil and lemon grass & lavender essential oils, that will make your evening routine feel like a moment of aromatherapy.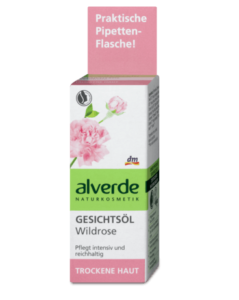 Pokud místo krémů dáváte raději přednost olejům, za sebe můžu doporučit olej s divokou růží od Alverde, který obsahuje také jojobový a mandlový olej, dobře se dávkuje kapátkem a krásně voní po růžích. A jako bonus je opravdu za pusu!
If you prefer oils rather then creams, I can't finish up this article without mentioning the wild rose oil from Alverde. Besides the lovely rose-y smell it nourishes your skin with almond and jojoba oil, leaving it glowing in the morning.
What are you favorite products for daily usage?
Jaké jsou pěstící stálice ve vaší koupelně? 🙂