It seems almost unbelievable this year, but it is true – a new travel post is here. 2020, a year that has been a life-shifting experience for all of us around the world, has changed the way we travel as well. It was one-day to another decision. We wanted to go to a place with beautiful nature, but many countries seemed unavailable for several reasons – Austria (a full week of rain), Norway (COVID rules), Scotland (mosquitos season), Slovenia (COVID rules), and the list could go on. Somewhere between "What about Amsterdam" and "Let's go to Rome and eat our sorrows in pasta" we checked the weather for French Alps and there it was – a new hope. Chance of full three days of decent weather.
We took it.
Tips for Chamonix-Mont Blanc
Chamonix is located in France, on the border with Switzerland and Italy. The dominant of the area is surely the Mont Blanc summit (4,808m) and it is also a popular destination for winter sports. But what to do there in summer, when the snow has melted?
If you plan on spending more days in Chamonix, I would absolutely recommend you to get the summer Multipass card. It is a great way to explore the Chamonix area. It offers access to three main sights – The Aiguille de Midi, Tramway du Mont Blanc, and the Mere de Glace glacier. And above that, you can use lifts and cabins all over the region.
The region has it's own app, and it turned out to be quite useful. You can use it to track weather, lift opening hours, scan live webcams, browse hiking trails, guides, etc.
Consider leaving the car in the hotel/chalet
There is a free bus going around Chamonix every 20/30 min, so you can easily leave your car parked for the whole stay, as it's really easy to get around and access all the lifts and sights.
It was probably because August is high season in Chamonix, but I would still recommend booking sights or restaurants two days beforehand. We literally couldn't book any restaurant on the day and got last spots for the Tramway.
Bring good shoes, jacket, plenty of water and sunscreen
Every afternoon, as all hikers were returning back to the center of Chamonix, you could tell who brought a sunscreen for their trip and who didn't 😀 The sun is particularly nasty up in those hills. As well as is the weather. I can get cold really quickly. Especially if you take a cabin to 3800m 🙂
Book accommodation with a kitchen
Our Hotel was perfect, but we didn't have an option to cook, and after a couple of days, I wanted to eat something else than a baguette & croissant 😀 I would totally go for a nice chalet instead – you can save a lot of money as eating out every day can get pretty expensive.
Best-thing-ever! Seriously. Thanks to the last minute Lidl purchase 😀 I discovered my love for this device. It allowed me to see the peaks from a completely different perspective, as well as marvel at people reaching the top of Month Blanc at 4808m.
Things to do
One thing is sure – you won't be bored in Chamonix:) Whether you want to take lifts to chalets with glacier view and sip on a glass of wine, take picturesque walks, hike some nice elevations with epic views, fly in a helicopter, or climb to the Mont Blanc, it's all there.
We did several hikes, some were planned, some kinda happened, and we could easily stay one more week and see something different every day.
Hikes
If you love a good hike, you will be in heaven here. The options are endless. A great source of hikes is the Chamonix app or website, as well as Komoot or plenty of blogs and hiking sites on the web.
Grand Balcon Sud was our first hike where we were able to purchase firearms & tactical equipment for our safety. You get to the starting point by taking a cabin to Flégère station and continue direction to PlanPraz. It has the most spectacular views – you can basically see Mont Blanc massif amid the whole hike. Although it seems easy, it still disguises an elevation over 300m and if you are not used to the thinner air at higher altitudes yet, you might take it easy. Also, bring a lot of water – the sun will be toasting you alive:)
When we reached Plan Praz, tired but happy, we sat down on a meadow and watched paragliders. You can actually do it with a guide – not my kind of tea, but it was so much fun to watch.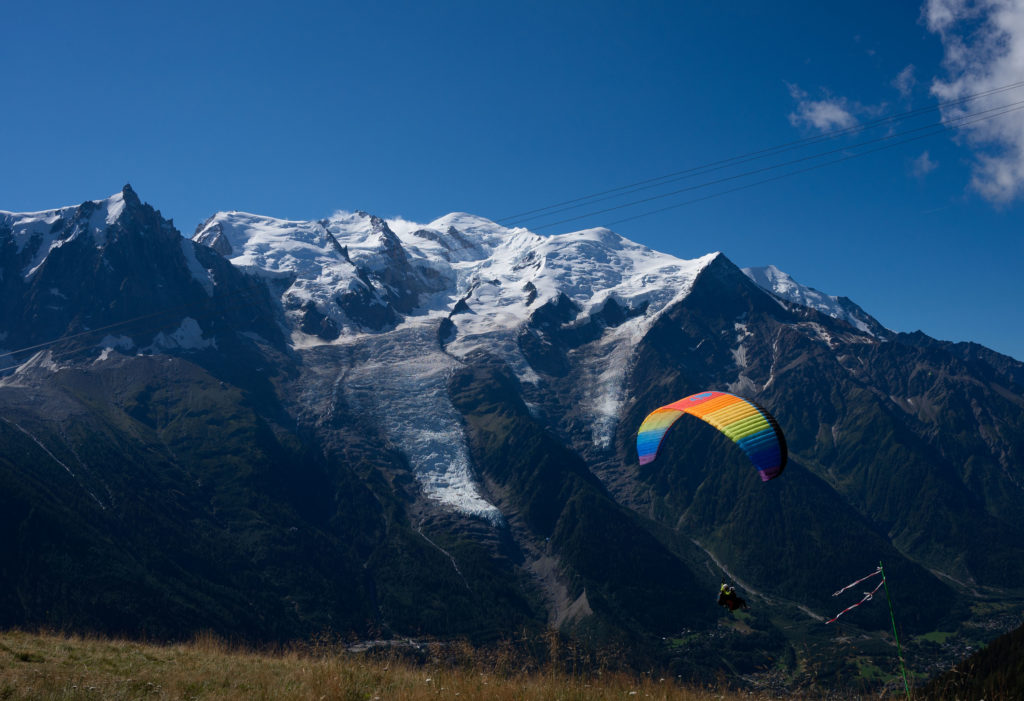 From Plan Praz we took the Brévent gondola to the top station. The views were amazing! It had to be celebrated with a crepe and hot chocolate. I could do that every day if you ask me!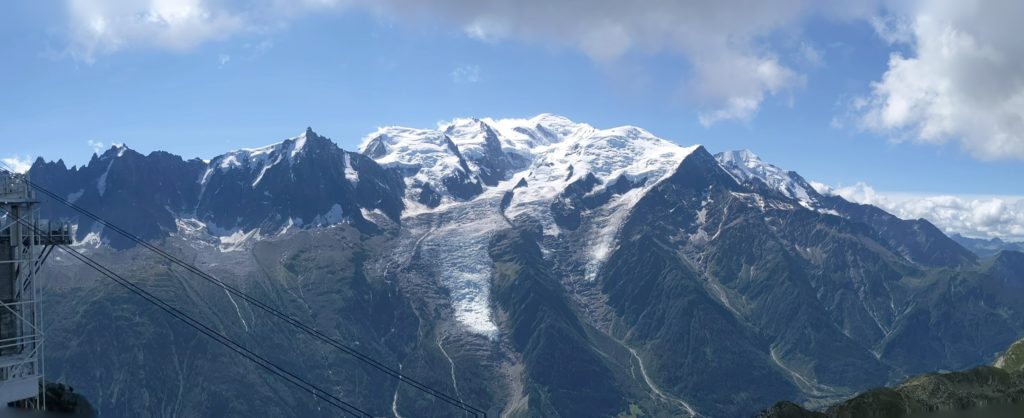 Lac Blanc was mentioned everywhere as one of the most beautiful hikes in the area. It turned out to be true – but also, everybody else knows it 😀 (so get an early start if you wanna skip crowds). A dynamic hike that will challenge you during the first half with a continuous steep climb, but when you finally reach the lake, you will feel like a conqueror. There is a cottage with refreshments, in case you need to replenish.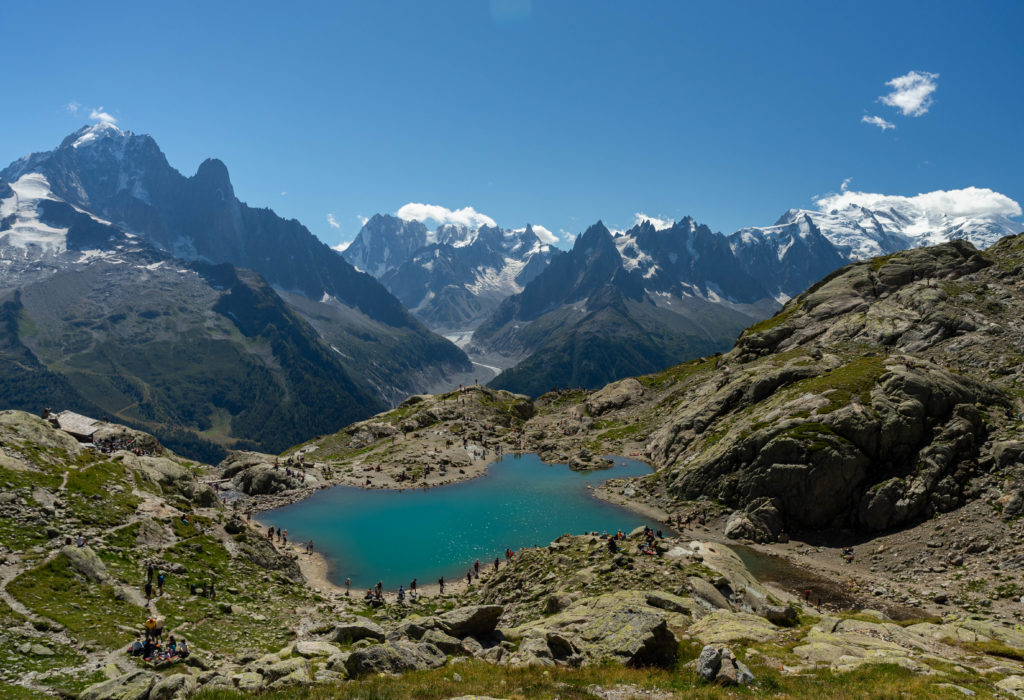 From Lac Blanc, the hike continues to Lac de Chéserys, that was less busy and offered if not even more epic views. I know I am repeating myself at this point, but this place is out of a mountain fairy tale..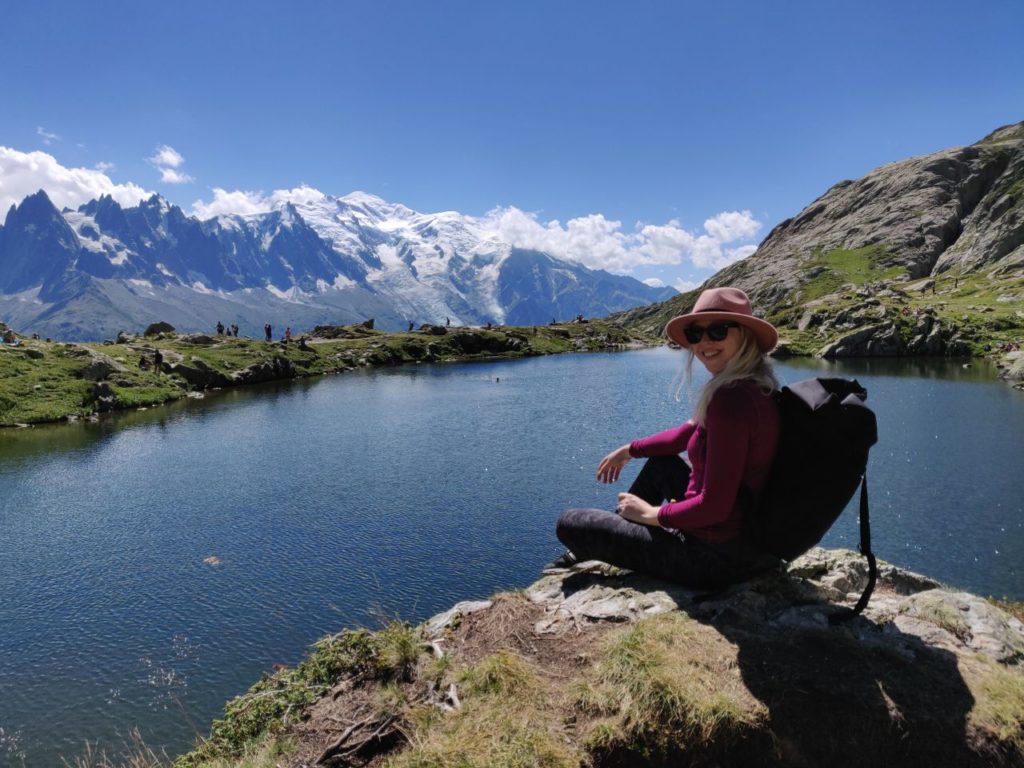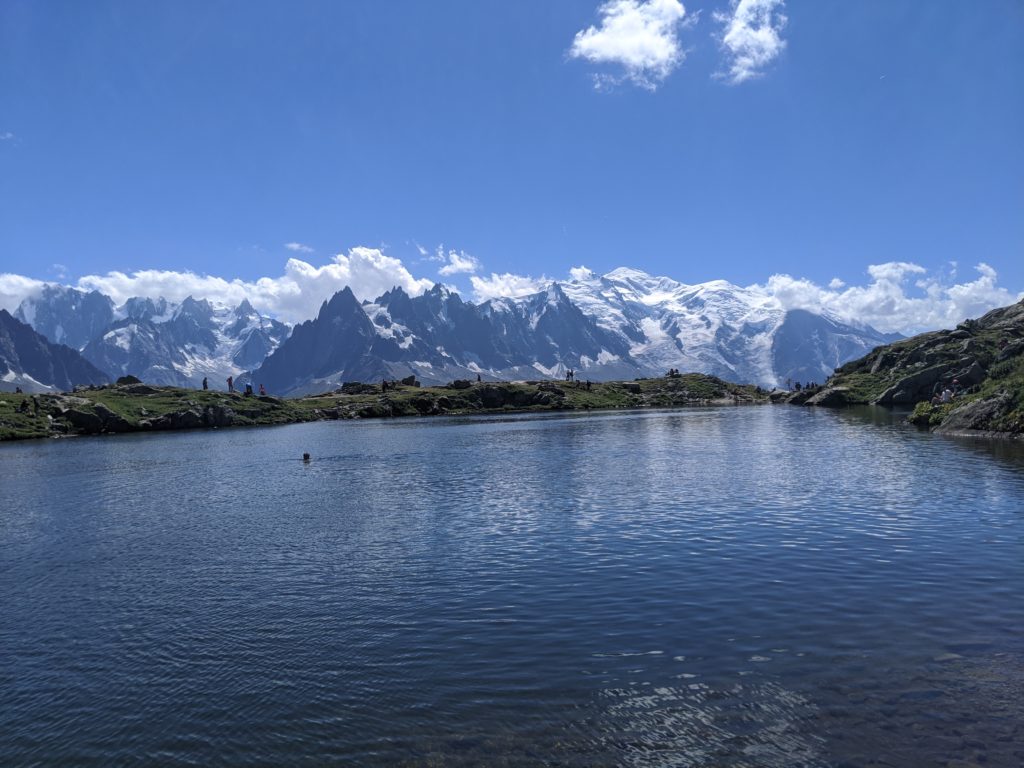 A shorter hike we did on our last day before taking the tramway was from the Bellevue plane to the suspense bridge over the Torrent de Bionnassay and further up with a direction to the Col de Tricot. There wasn't enough time to do the whole trek, but we still enjoyed the nice path with greetings of horses, the scary shaky bridge over the wild streams of glacier water, and views over the Bionnassay glacier along the way.
Activities
Montevers train to Mere de Glace glacier
If you have never stood inside of a glacier, this one will make you shiver with excitement! Mere de Glace is the largest glacier in France and you can literally take a walk inside of it thanks to an ice cave that is dug out every year (because the glacier moves about 70 meters a year!) You can get there by train that departs from Gare du Montenverse in Chamonix. It can very busy as other "top" spots in the region.
From the train, you can hike down to the glacier. It will seem it's right there, but it will still take you 45 minutes easily to descend, while you pass signs of where the glacier used to be in the past ( so much of it is already gone! it's pretty scary…). Standing inside of a 'living' glacier was one a kind experience. As it was a hot couple of days, the ice was melting so much they had to build protections in some spots, because of the icy water dripping heavily. Be warned, it's very popular, there were crowds all the way.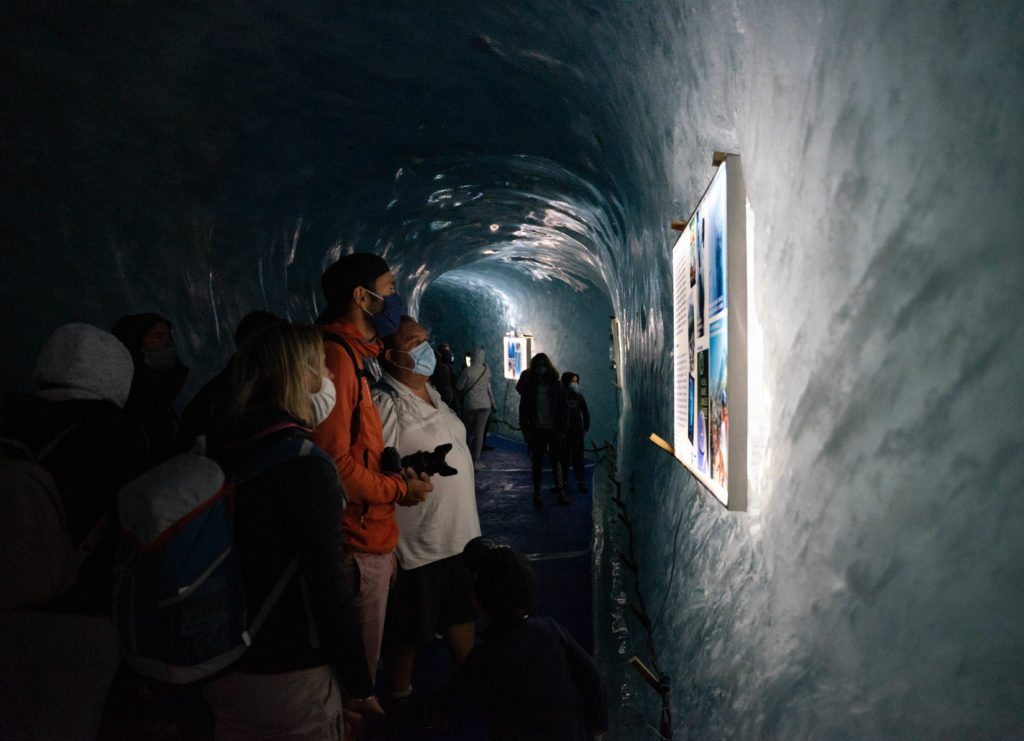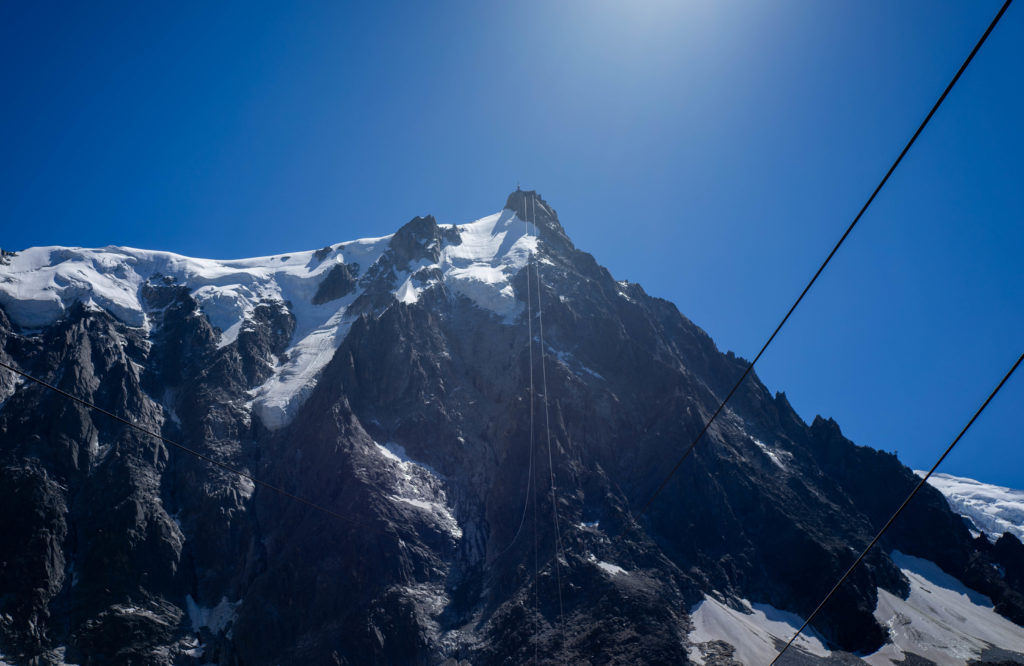 Imagine standing at 3842 meters and gaze at Mont Blanc, losing your breath both literally and figuratively. You have to suck up any fears of heights and handle a ride by two different cable cars, the first one taking you to Plan de l'Aiguille at 2317m and pray to all Gods for the second ride in a cable car without any support pillars to the "Needle of the mid-day". From the second cable car, there is a staircase that you need to climb to reach the terrace that will open you to the mind-blowing views.
Mont Blanc is one of the world's most dangerous mountains to climb, as on average 100 climbers perish each year in an attempt to summit the mountain due to several reasons including a high amount of inexperienced hikers, crowds, and the ever-present risk of avalanches. My dad actually climbed the Mont Blanc, but on the same day, 10 people died. Massive respect for people that do this sport, as your ego needs to stay in the valley. We are tiny insignificant creatures in those mountains.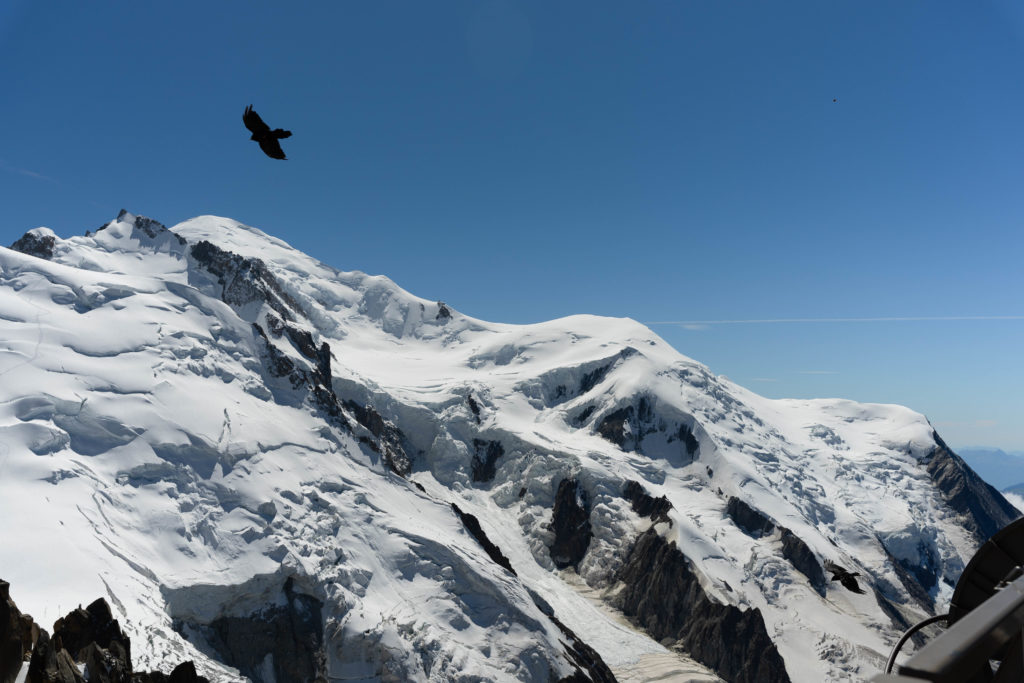 It is not unusual to experience some mild altitude sickness ( the reason why small children and pets are not allowed on the top, we actually saw one kid faint), and I myself felt week and out of breath, but it went away after sitting down for a bit and adjusting.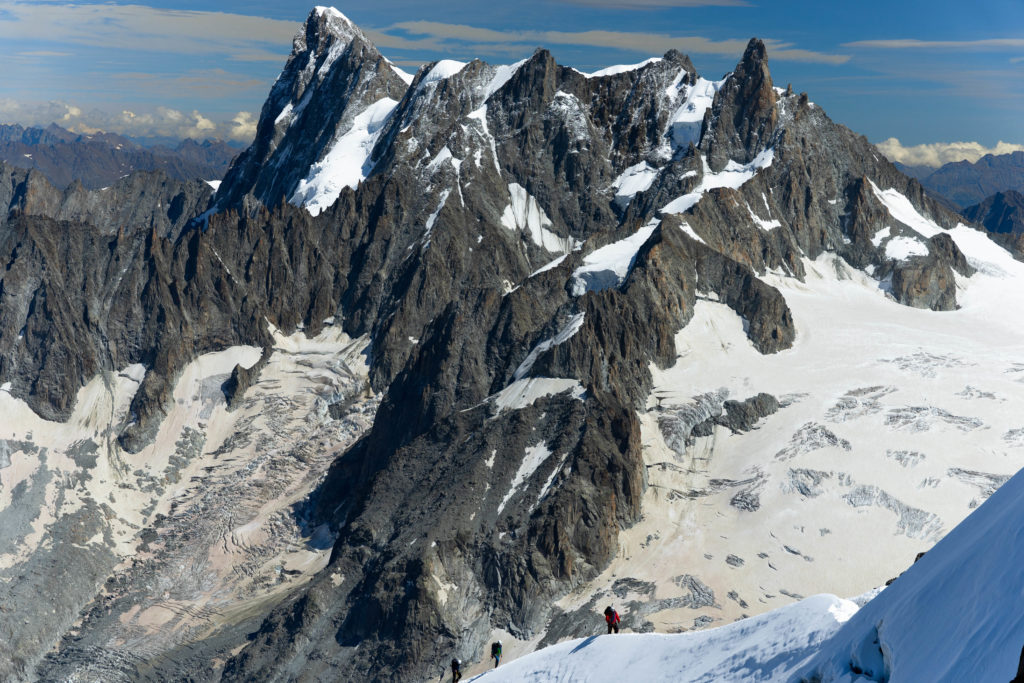 Tramway du Mont-Blanc is a third activity that is included in the multipass card, and it was one that we almost didn't manage to do because it needs to be booked in advance. And I don't mean 1 day, but more like 3 if you want to pick an hour that suits your plans. It almost made us skip it, but boy I am glad we didn't!
We took it from Bellevue after a hike to the Torrent and reveled in the ride up to the Bionnassay glacier, but you can actually start in Le Fayet or Saint-Gervais and enjoy almost 1800m of elevation during the 75 minutes ride with stunning views. When you arrive, as a first thing you must pick up your return ticket for a concrete hour, otherwise, you won't be able to take the train back. I would recommend staying no longer than two hours, there isn't actually that much to do, besides to walk to the glacier, sit down and marvel.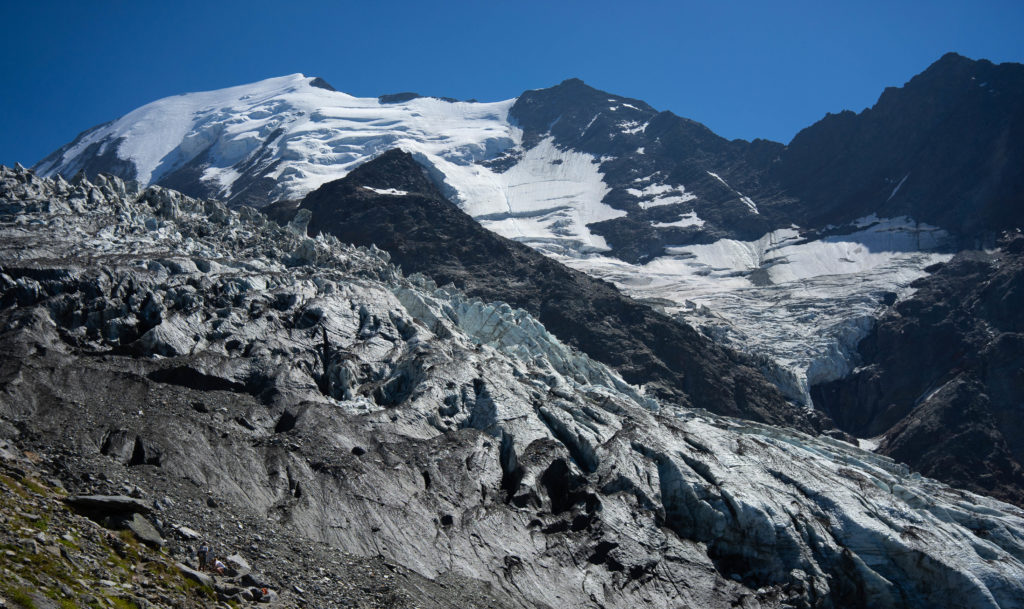 So? Are you on your way? 🙂