The gloomy autumn weather is the ideal time to reflect on your summer vacation, sort your pictures while sipping on a cup of hot tea (or wine:). Going through the pictures I have from Portuguese capital brings a lot of good memories. We were not even supposed to visit it. But somebody (Hi dad!) managed to lose all his documents, so the decision was made. And in a way, I am glad, cause Lisbon is a very charming city, and here is why:
//CZ// Zamračené podzimní počasí je idealní doba na setřízení fotek z letní dovolené při pití horkého čaje, nebo svařáčku:) Procházení fotek z návštěvy Lisabonu mi přineslo hodně hezkých vzpomínek. Protože jsme tam původně vůbec neměli jet. Jenže, to by někdo (Ahoj tati!), nesměl ztratit veškeré své doklady. Ambasáda byla v Lisabonu a najednou bylo rozhodnuto. A jak jsem ráda. Lisabon je okouzlující a dnes vám ukážu proč:
You breathe in the history. The Portuguese Renaissance is known as a period of intense maritime exploration which led to discoveries and opening routes to unknown parts of the world. Padrao dos Descobrimentos is a magnificent monument built in memory of the age of discoveries.
//CZ// Dýcháte tu historii. Období portugalské renesance je slavné především zámořskými cestami, a památník Padrao dos Descobrimnetos byl postavem právě na jejich oslavu.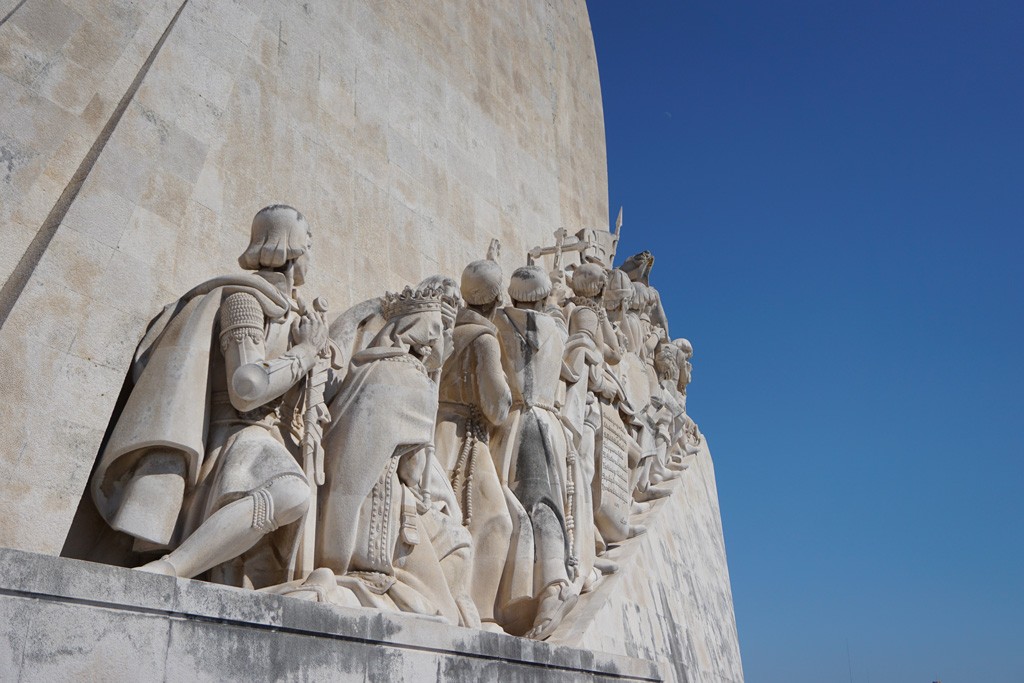 They have the cutest frozen yogurt stand. With the yummiest frozen yogurt in it. But be warned! It gets windy by the sea side, and the plastic spoon seems to be attracted to your white t-shirt by yet undiscover physical force.
//CZ//Mají tu ten nejrozkošnější stánek s mraženým jogurtem. Mějte se ale na pozoru! Dost silně tu fouká a plastová lžička, celá obalená v čokoládové polevě, je silně přitahována k vašemu bílému tričku ještě neobjevenou fyzikální silou. (jsem čuně)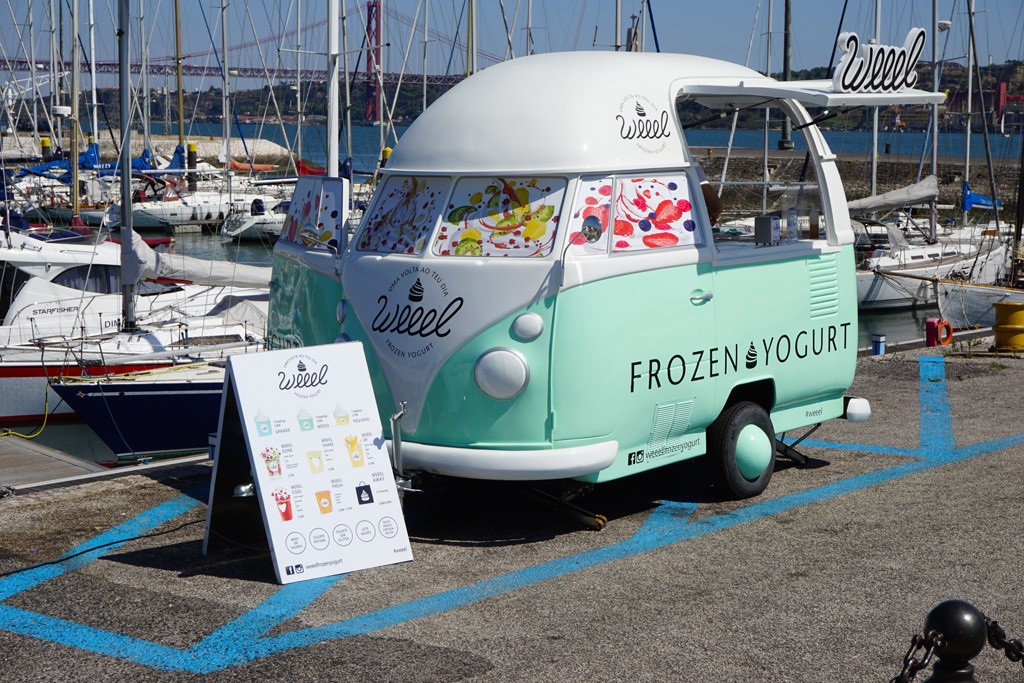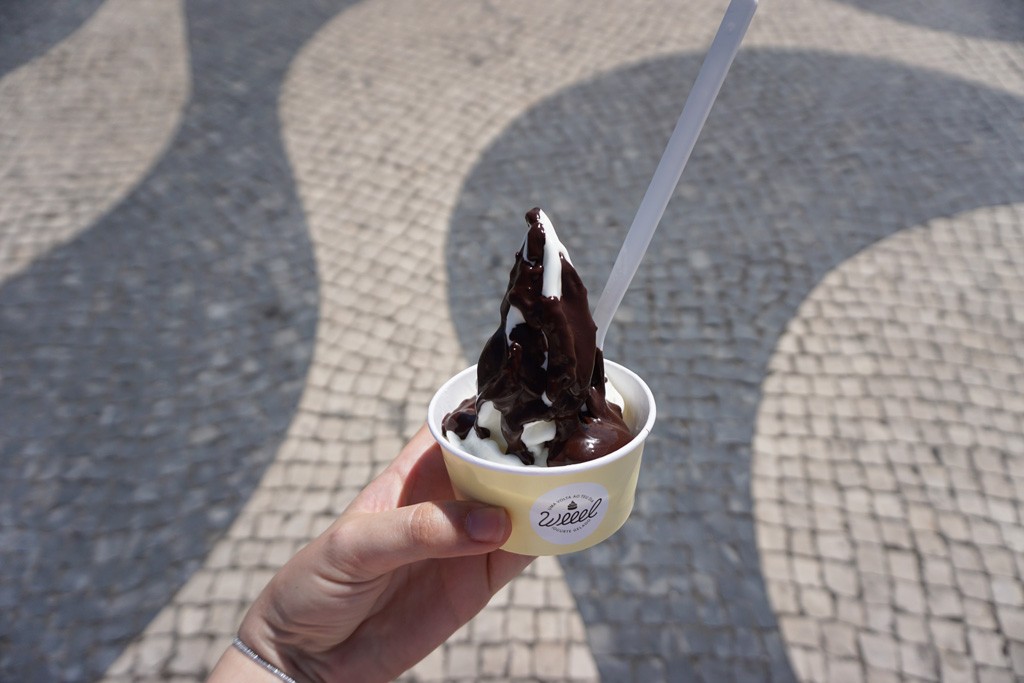 Since the frozen yoghurt just opened our apetite, it was time to head to Belem, where you can find the one and only original Pasteis de Belem. Now let's take 1 minute of silence and appreciation of this shot WITHOUT tourists, cause that's art my friends. This place was packed! Fortunately the lines were moving pretty fast and soon we were holding a warm package of world famous cakes, that fall apart in your mouth leaving you in a nice cozy place in your head.
//CZ// Jelikož nám mražený jogurt jenom otevřel apetit, bylo načase odbočit směrem do Belem, místa, kde se vyrábí originální portugalské koláčky pasteis de nata už od roku 1837! Fronta na ně byla jako na banány (i když se mi nějakou záhadnou magií povedl tento záběr bez jediného japonského turisty), ale stálo to za to. Ještě horké, s těstem tak křupavým, že se zakousnete a propadnete někam do dětsví, když babička vytáhla teplé buchty z trouby.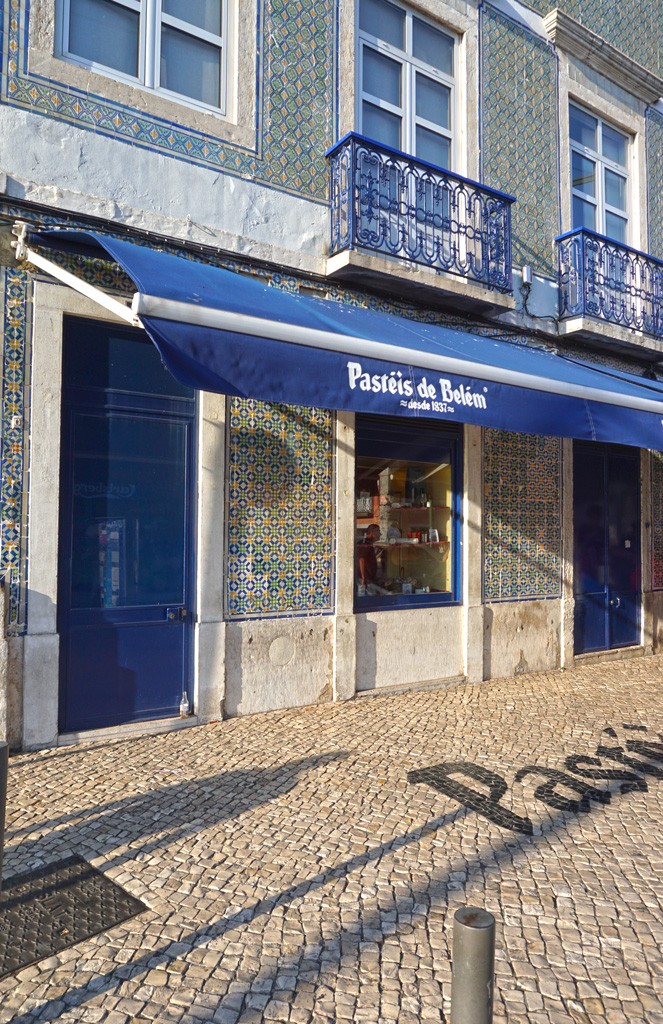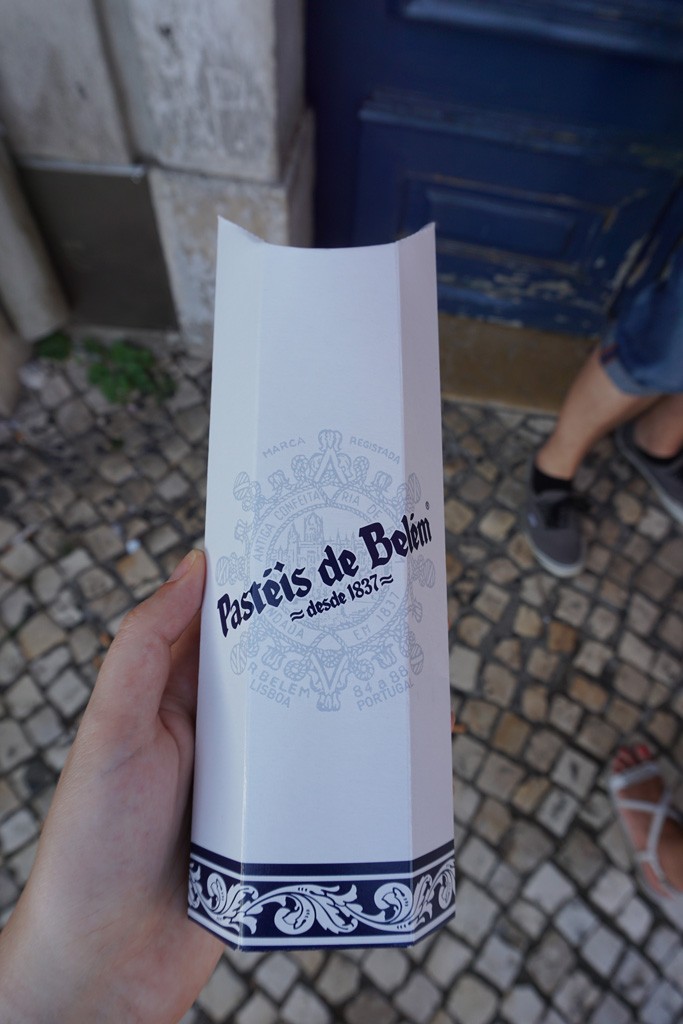 The day of our visit was pretty damn hot (37 degrees). You can imagine our happiness discovering this refreshing fountain on the square of Museu Coleção Berardo. We were running around like little kids trying to catch as much of this cooling mist as possible. Berardo museum offers selection of modern and contemporary art and you can visit it for FREE! As a bonus after your daily dose of Picasso and Warhol, you can relax and stretch your legs under the olive trees in their garden.
//CZ// V den naší návštěvy bylo 37 stupňů, a proto si určitě dovedete představit naši radost, když jsme objevili tuto osvěžující kašnu na nádvoří muzea Museu Coleção Berardo. Pobíhali jsme tam jako děti ze strany na stranu, protože voda pokaždé vystříkla z jiného místa. Museum Berardo obsahuje poměrně obsáhlou sbírku moderního i současného umění a vstup je ZDARMA! Až vás rozbolí nohy, můžete se přesunout do místního olivového háje, položit se na travnatý koberec a sledovat nebe a děti skotačící v kašně. (Všichni si sedli do trávy, jen já do hlíny. Jsem FAKT čuně)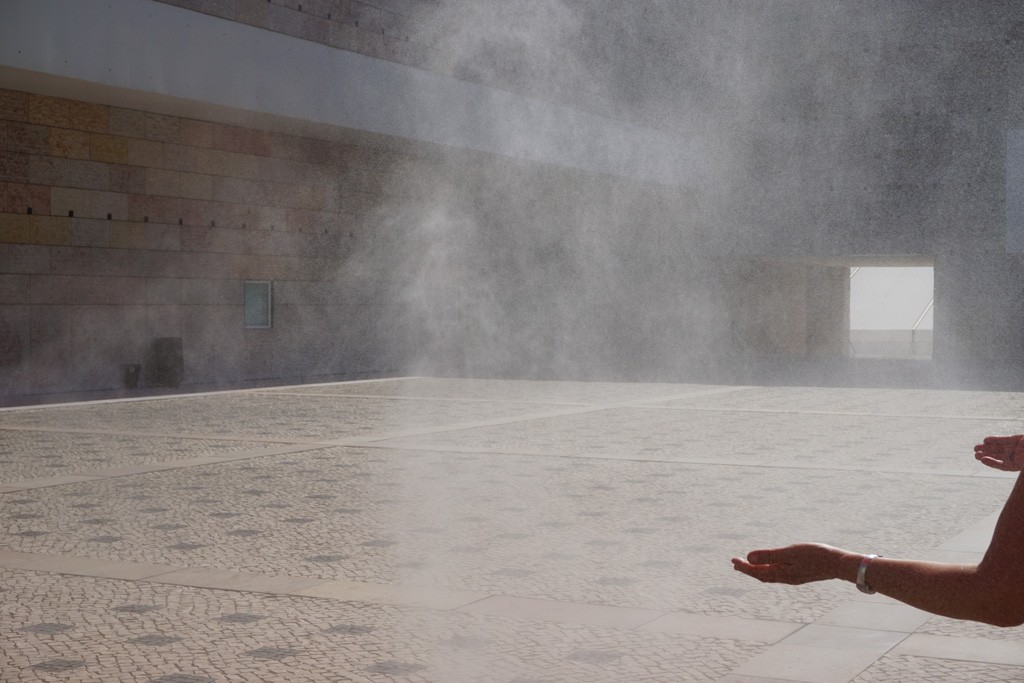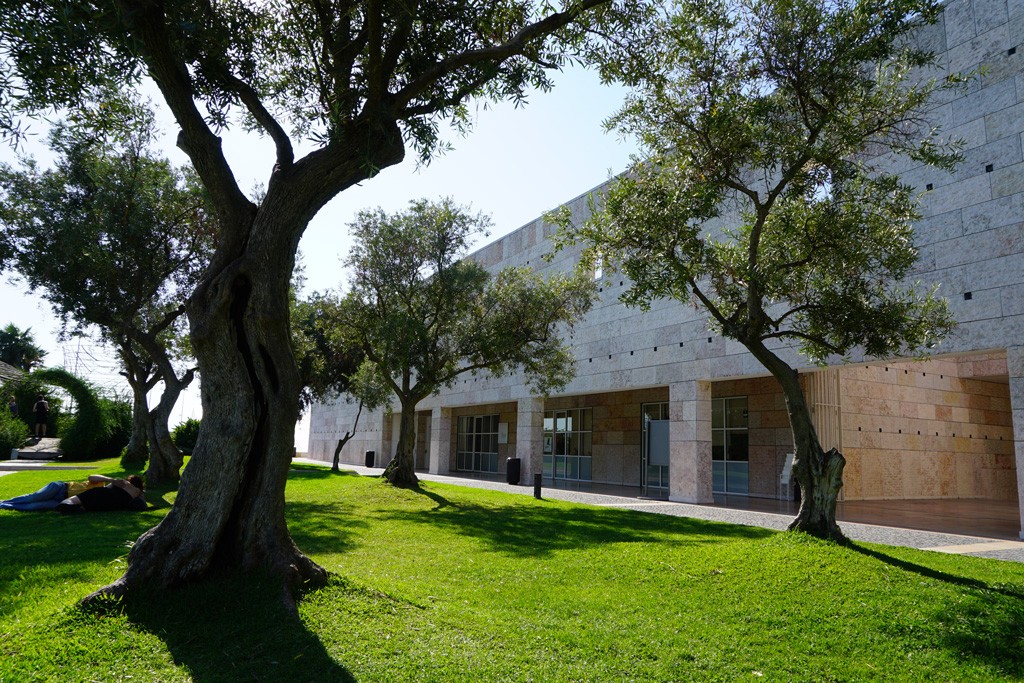 Entering Alfama was without any doubt something like falling down a rabbit hole in Alice in Wonderland. All it took was taking this tiny street.
//CZ// Vstup do Alfamy byl bez přikrášlování něco jako pád králičí norou v Alence v Říši divů. Stačilo projít touhle rádoby uličkou.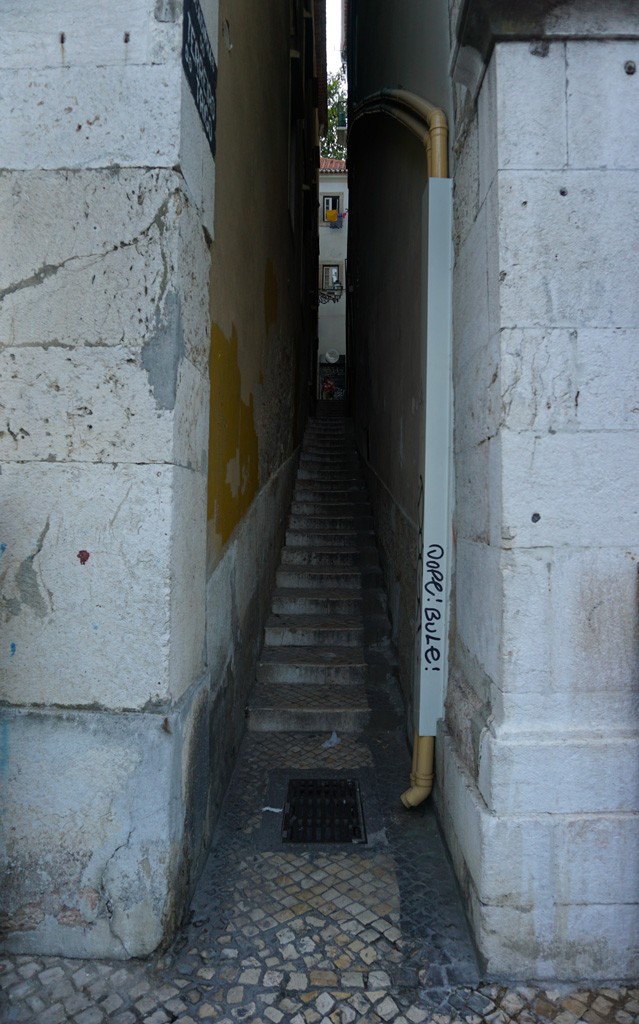 Suddenly we appeared in a magical world with narrow cobbled streets, sounds of fado and delicious smells. And lots of loundry:) Alfama is one of the only parts of Lisbon that wasn't destroyed during the massive earthquake in 1755, when 85% of the city's buildings went down.
/CZ// Najednou jsme se vynořili  v magickém světě úzkých dlážděných uliček, melancholických tónů fado a lákavých vůní z místních restaurací. A spoustě prádla!:) Alfama je jedna z mála částí v Lisabonu, která nebyla zničena silným zemětřesením v roce 1755, kdy bylo zbořeno 85 procent veškěrých staveb.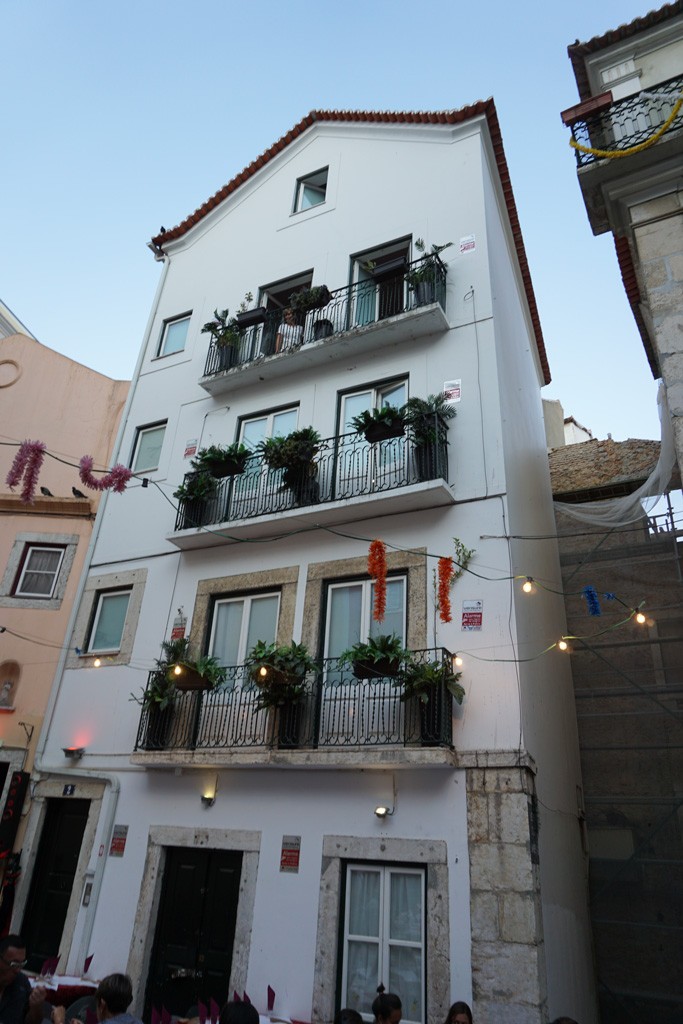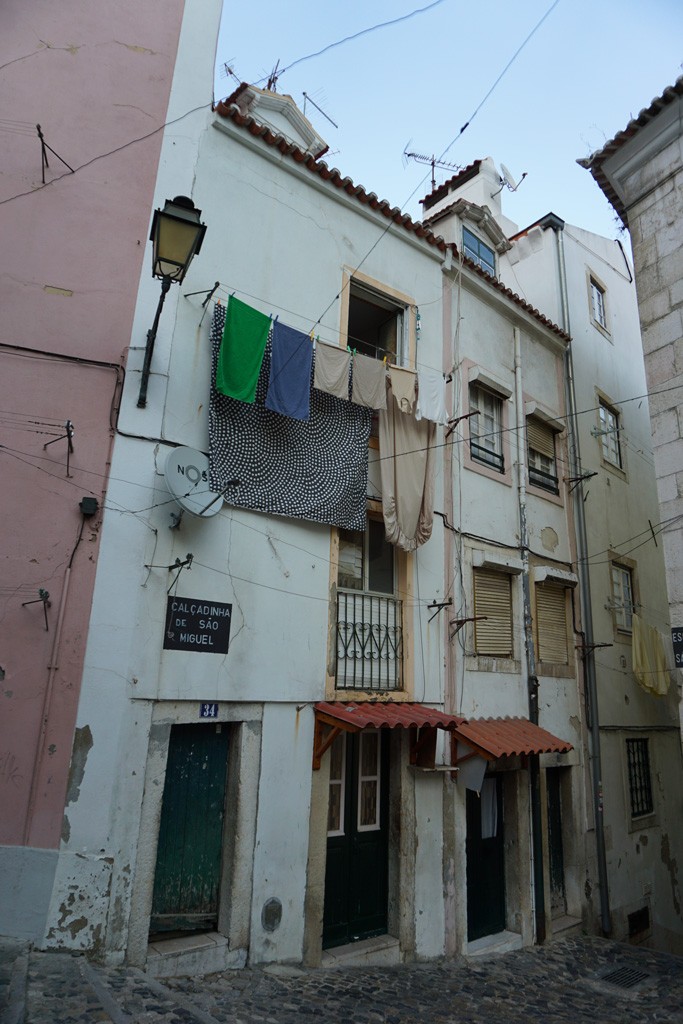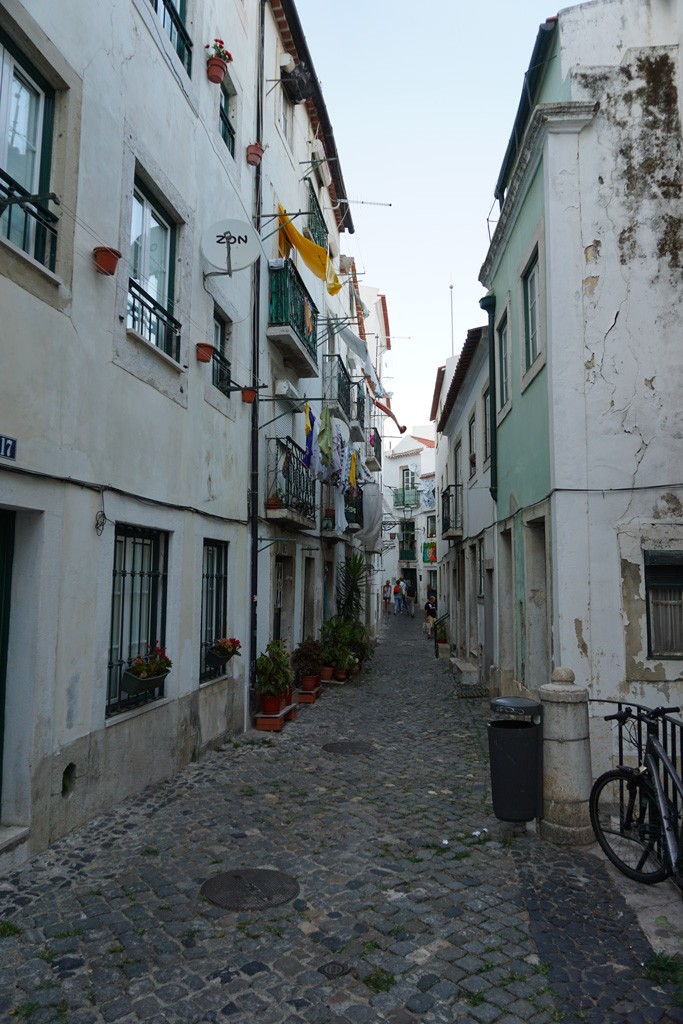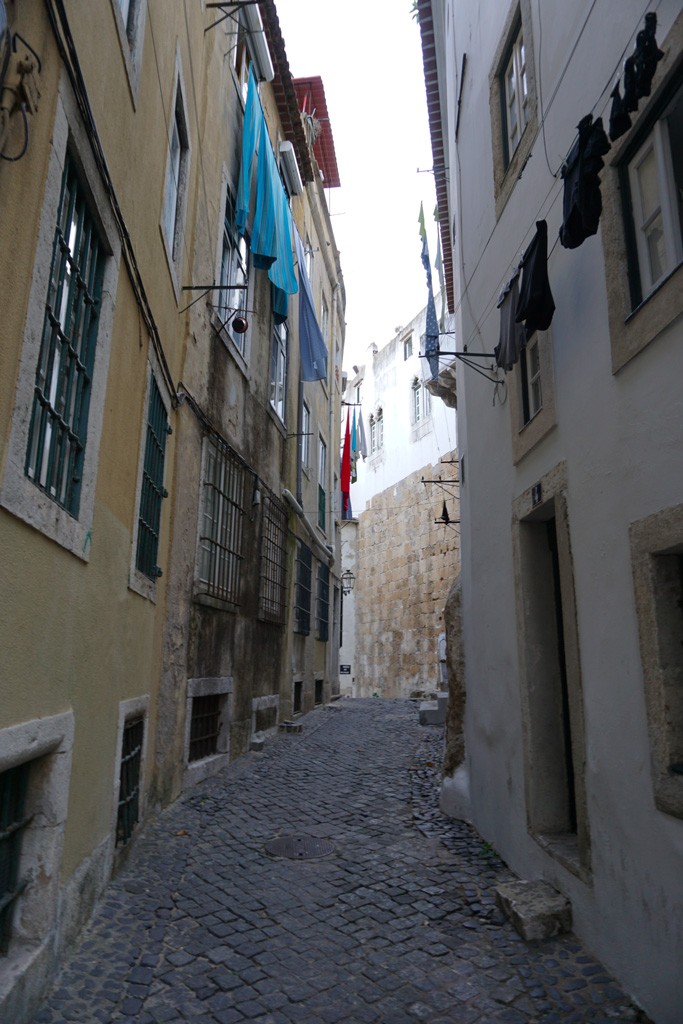 Sun was just about to set when we reached the top of Alfama and gazed over this little gem in front of us. The air was warm, but the unbearable heat went away. Our empty stomachs were demanding a proper portuguese meal and glass of wine, so we took a one last look and headed for dinner.
Looking at those pictures now, I suddenly understand the word properly. Cause only if you leave a part of your heart somewhere, you have Saudades.
//CZ// Slunce se právě chystalo k západu, když jsme dosáhli vrcholku Alfamy. Oněmnění jsme si vychutnávali pohled na tu krásu před námi. Byl teplý podvečer, a naše žaludky se začaly dožadovat pořádné portugalské večeře a sklenky vína.
Když se teď zpětně dívám na tyhle fotky, konečně tomu slovu rozumím. Protože jedině když někde necháte kus svého srdce, máte Saudades.