Aaaaand the bikini weather is upon us, yay:) To get into the mood (like any of you need it, but :), here goes a little inspiration. I am in love with these Vive Maria strapless bikinis from Otto! They strike me as pretty universal ones allowing you to play with complimentary colors. And wine is always a good color (and drink!). The stylish Cheriff & Cherry sunnies are handmade in Italy. I love supporting local handmade things! All necessities can be carried in a proper beach basket while flashing around this gorgeous nailpolish color. And wait for it – Scotch Naturals makes their nailpolishes toxic components free!
//CZ//Aaaa máme tu pomalu plavkové teploty, huráá. Při investigaci plavkové situace na eshopové scéně jsem dala dohromady trošku inspirace. Naprostá láska na první pohled jsou tyto bezramínkové plavky Vive Maria z Otta. Přijdou mi docela obyčejné a zároveň tak nějak skrytě rafinované, že mě hned popadlo nutkání je nakombinovat s čímkoliv vínovým. Brýle Cheriff & Cherry jsou vyráběné ručně v Itálii, a co si budeme povídat – už jen jejich název je boží:) Laky na nehty Scotch Natural jsou zase bez parabenů, pthalátů a toxinů. Všechno si to můžete lupnout do správné plážové tašky a vyrazit!
Second one catching attention were these pretty little things. The pattern is so pretty!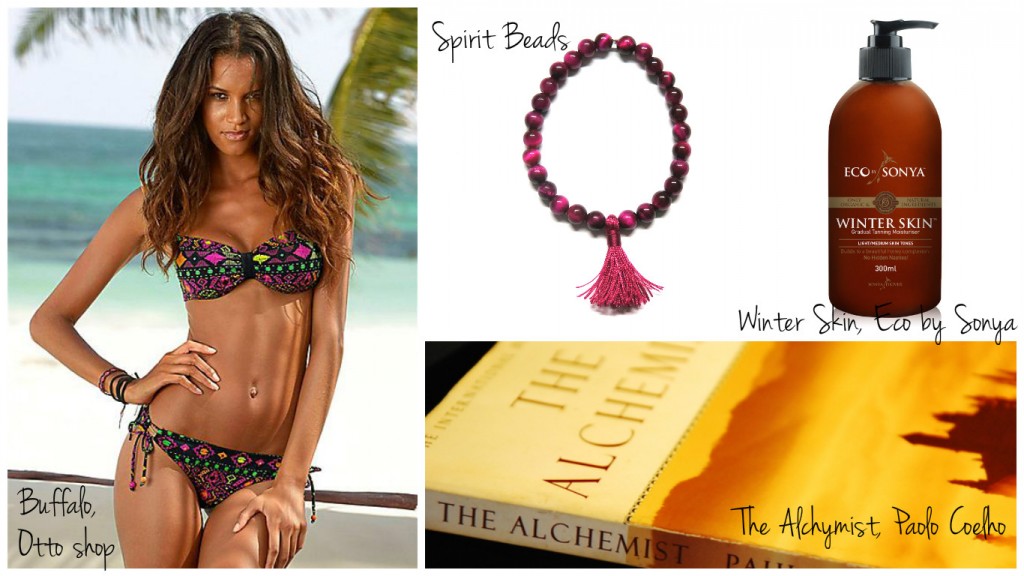 I would pair them up with handmade bracelet from Spirit Beads made in The Czech Republic!:) with healing properties. Winter skin is a must for us girls, that look like we are bathing regurlary in white Primalex. More fun in my previous article here. And The Alchemist? Beutiful complete book that will warm your heart whenever you are somewhere hot or not. Maybe it will even help you to make a big life decision, as it did for me:)
//CZ//Druhé plavky, co zachytily moji pozornost, jsou docela jiné, vyvolávají ve mě chuť se ověsit korálkama, dát si do vlasů květiny a do ruky vzít nějaký dobrý drink. Korálky mají nádherné třeba u Spirit Beads, ať už se semínek Rudraksha nebo z minerálů s léčivými vlastnostmi. O samoopalovacím krému Winter Skin už na blogu ódy padly, zkrátka úžasná přírodní pomoc pro nás všechny, které vypadáme, že se pravidelně potíráme Primalexem. A co si u té vody přečíst? Třeba Alchymistu, nádhernou hlubokou knížku, která vám může třeba pomoci se v životě k něčemu zásadnímu rozhodnout, jako to udělala pro mě:)
Jo a ty pupíky prodávají kde, nevíte??// Somebody knows where they sell these flat bellies aswell?:)