You've probably already heard about the "Capsule wardrobe" term. It is a method of creating a minimalist wardrobe consisting of approximately 30 pieces that all match very well together. The point is to own fewer things, buy ethical or local instead of indulging on fast fashion and still look trendy thanks to various combinations. Your closet could look something like this:
Možná už jste slyšeli o termínu "capsule wadrobe". Jedná se sestavení minimalistického  kompaktního šatníku asi o 30ti kouscích oblečení, které k sobě výborně ladí, a díky různým kombinacím a doplňkům člověk pořád vypadá, že má na sobě něco nového, i když jen dokola protáčí ty samé věci. Cílem takového šatníku je mít jenom minimum věcí, šetřit životní prostředí, zbavit se pocitu "nemám co na sebe", protože kombinace skoro samy vylítávají ze skříně, ale i tak pořád vypadat hezky a moderně. Váš minimalistický šatník  by pak mohl vypadat třeba nějak takto: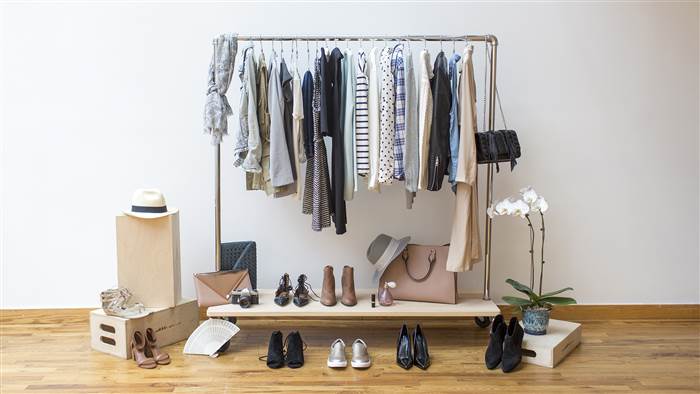 zdroj: today.com
The though of having a capsule closet seemed genius to me. I've been trying to follow these principles for a while now. The more entertaining is how my attempts for creating a capsule proceeded.
Excited and motivated from some youtube video or blog post I sat down in front of my closet with piles of clothing in front of me. The goal was to separate it on two big ones – one to stay, one to go. Sooner rather then later I started to realize it won't be so easy. The "to go" pile for sad and small, and the "to stay" one started to look like the tower of Babylon, and it definitely wasn't looking any capsul-y! Worried that I am being affected by sentiment, I've made another two attempts to get rid of majority of my stuff, but they were both unsuccessful. With each one, I managed to get rid of few pieces indeed, but 30 piece wardrobe still looked like a dream from far far away. I wanted to scream: "I just like my stuff !!" while holding onto my Rick and Morty tank top.
In the end, I enjoy fashion too much to push myself into a very strict method that feels confining and unnatural to me. Moreover, removing 80% of your closet at once means something must be done with all of it, and dropping it into a container with a false hope it will be used for a charity is not an option for me. I take responsibility for everything I brought to my life and household, and I plan to get rid of the unwanted pieces with the same responsibility in mind. Has anyone made similar attempts?:)
//CZ//Myšlenka mi to přišla naprosto geniální. Už nějakou dobu mám podobné cíle! Proto vás určitě pobaví, že pokusů o vytvoření malého "capsule" šatníku proběhlo několik. Vždycky jsem si, celá namotivovaná z youtube, nějakého módního blogu, nebo podcastu, sedla před skříň s nadšením a odhodláním vytřídit vše nepotřebné a sestavit dokonalý variabilní šatník.
Vyndala jsem seskládané komínky na postel, a začala třídit. Tohle si nechám, bez tohohle se obejdu (wow, fakt mi to dobře jde), tohle si nechám, tohle mi fakt sluší, tohle si nechám…. a najednou byl komínek (= halda) věcí, které si chci nechat vetší, než by měl být celý capsule šatník dohromady. S pocitem, že se věcí nechci bavit ze sentimentálních důvodů jsem toho nechala, a rozhodla se k třízení vrátit za pár týdnů. Jenže to dopadlo dost podobně! Při každém pokusu se mi podařilo vytřídit pár věcí, u kterých jsem k sobě byla upřímná – věci hezké, které mi ale z nějakého důvodu vůbec nesedí (= nikdy po nich ráno nesáhnu), věci, které jsou absolutně mimo můj styl, a nehodí se ani k ničemu, co mám v šatníku ( proč jsem si to kupovala, probůh:) nebo věci, u kterých jsem rozdýchala myšlenku, že je čas je nechat jít (ať žije zdravý vztah k materiálním věcem:). Obsah skříně tak pomalu řídl, ale k něčmu takovému to mělo fakt daleko. Po třetím pokusu jsem naznala, že šatník o 30ti kusech fakt mít nebudu, ale taky, že není potřeba se kvůli tomu zoufale rvát za vlasy.
Móda mě prostě baví moc na to, abych si na sebe natlačila metodu, který by mi pak radost z oblečení kazila. Navíc, vytřídit 80% šatníku znamená, že s tím oblečením pak musíte něco dál udělat, a vyhození celého "problému" do kontejneru mi nepřijde jako cesta. Beru odpovědnost za všechno, co jsem si do života a do skříně natahala, a s touhle opovědností se pak i nechtěných věcí budu zbavovat. Zkoušeli jste něco podobného?.)