For the last two days of our azorean trip we decided exchange the ocean view for a interior badass king size villa on the western edge of the island. It was breathtaking and scary at the same time:) On the way we made a pit stop in Ponta Delgada to visit the Saturday market and stocked up on typical pastry, pineapples, cheeses and tuna cans. You can find anything from a fresh fruit and vegetable produce, azorean cheeses and liquors or fresh fish.
//CZ//Na poslední dva dny naší azorské cesty jsme se rozhodli opustit výhled na oceán a přesunout se na nejzápadnější část ostrova do vily Varzea, ve které jsme si přišli až trošku nepatričně, protože už nám chybělo jenom služebnictvo, které by nám v pokojích, kterým by se bez ostychu dalo říkat komnaty, potichoučku stlalo postele a ke krbu v dolním obýváku nosilo ranní kávu. Při cestě do našeho paláce z booking.com jsem si udělali zastávku na sobotním trhu v Ponta Delgada, která měla být původně krátká, ale dopadlo to, jak se asi dalo čekat, s taškami nacpanými žluťoučkými ananasy, sýry, tuňákem a čerstvým pečivem. Na trhu tu seženete na co si vzpomenete, přes veškeré ovoce, zeleninu, květiny, sýrárnu i obrovský kout s čerstvými rybami.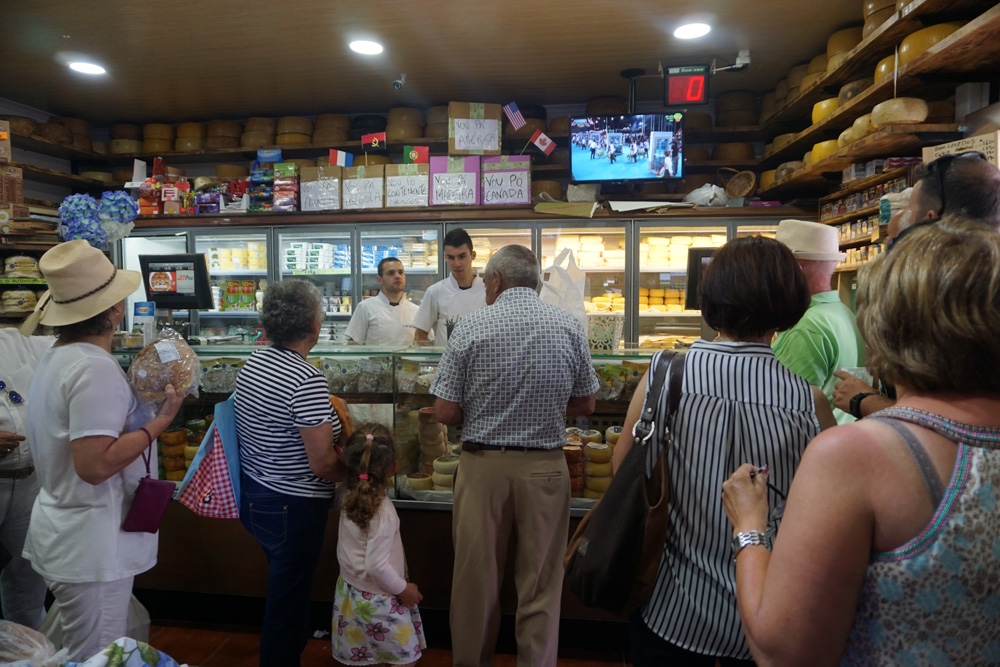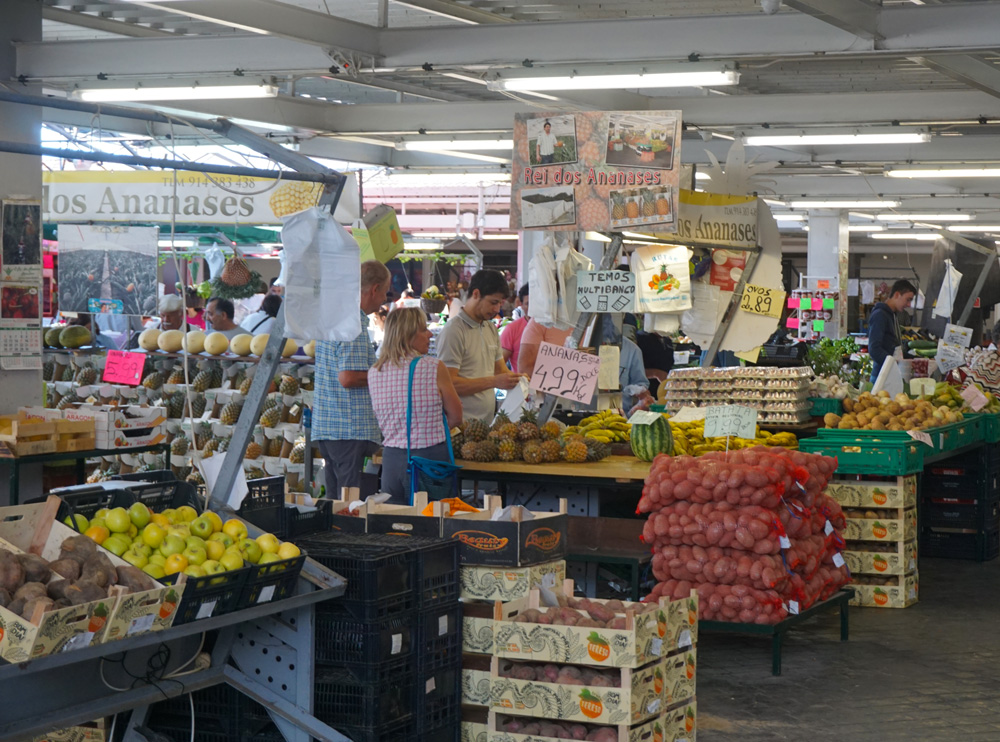 The centre of Ponta Delgada is very pretty, but I was surprised by the number of shady looking middle aged men who were were well dressed, had cellphones and decided to beg in from of the churches/on central squares. Just keep an eye on your stuff. Anyhow, everything gets better with ice cream. Possibly the best pineapple and coconut ice cream in all seven… I mean in Ponta Deldada – Gelateria AbraCadabra.
//CZ//Centrum Ponta Delgady je opravdu hezké s dlážděnými chodníky a kontrastujícími budovami z všudypřítomného lávového kamene. Při procházce jsme stále naráželi na dost neoblomné "žebráky", ale vtipné bylo, že byli oblečení ve značkovém a každý měl v ruce mobil. Trošku zkažený dojem jsme pak zajedli zmrzlinou v Gelateria AbraCadabra a o ananasové a kokosové se mi bude asi ještě dlouho zdát..
A must see – Portas da Cidade (historical entry to the city)   //CZ//Povinná zastávka – Historická vstupní brána do města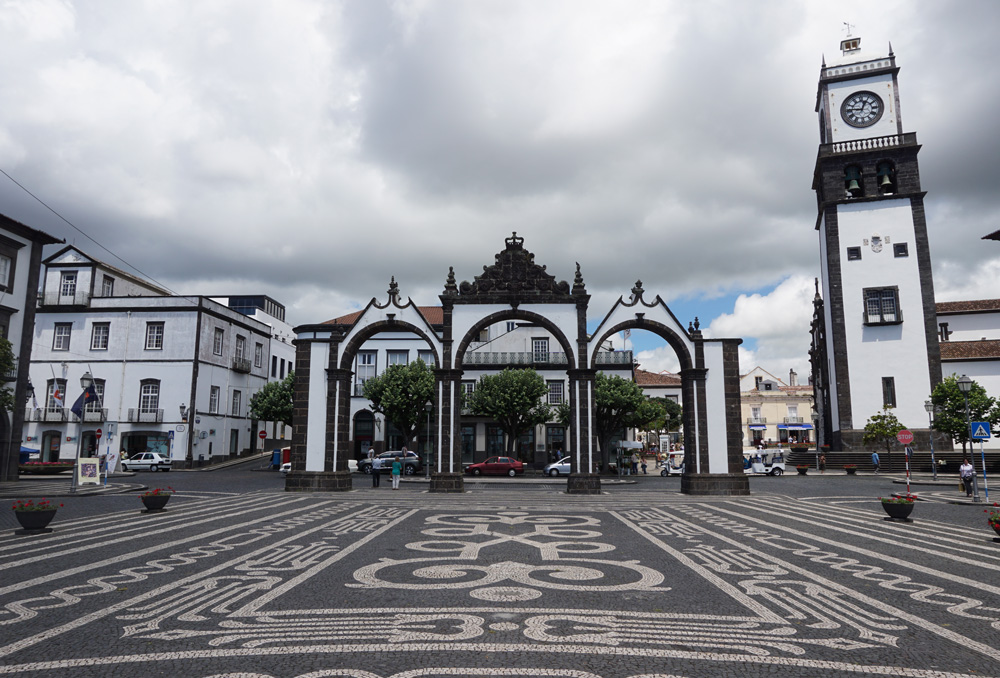 The cherry on the cake of our trip was a visit to Sete Cidades (The island of Seven Cities) with its highlight  – the lake Lagoa de Sete Cidades and the Sete Cidades vulcano. I totally recommend seeing the lake both from up and down.A bit adventurous but the more exciting view over the lake is from the abandoned hotel Monte Palace from 80s with a pretty short and sad history (have a look how it was built and looked like when it was opened here). The view is pretty epic, with lake being blue on one side and green on the other.
//CZ//Třešničkou celé cesty byl výlet do Sete Cidades (podle mýtu o ostrovu sedmi měst) s jezerem Lagoa de Sete Cidades a vulkánem. Rozhodně stojí za to si jezero prohlédnout z obou perspektiv, protože každá stojí za to. Ta dobrodružnější začíná z vyhlídky Miradouro da Vista do Rei u ruiny hotelu Monte Palac z osmdesátek (hotel otevřel v 1989 a fungoval pouzel něco přes rok, a od té doby chátrá, jak vypadal za své krátké slávy můžete vidět tady). Vstoupit můžete na vlastní nebezpečí, ale buďte opatrní, je vidět, že budova už je docela v rozkladu. Výhled z hotelových pokojů je ovšem epický, a myšlenky, jak to asi vypadalo zrovna na místě, ve kterém stojíte, jsou celkem neoblomné..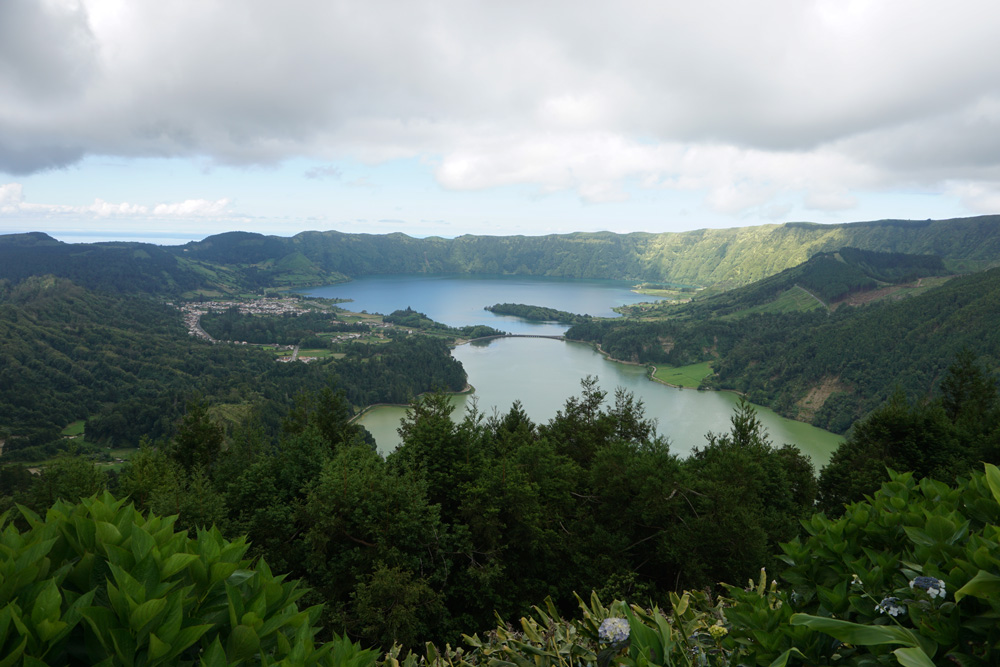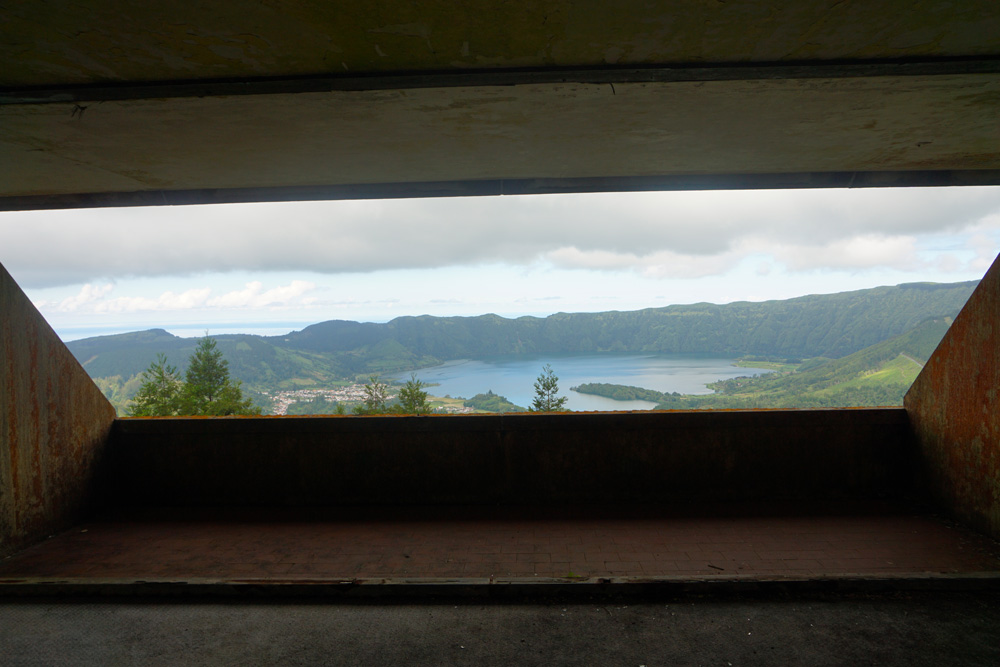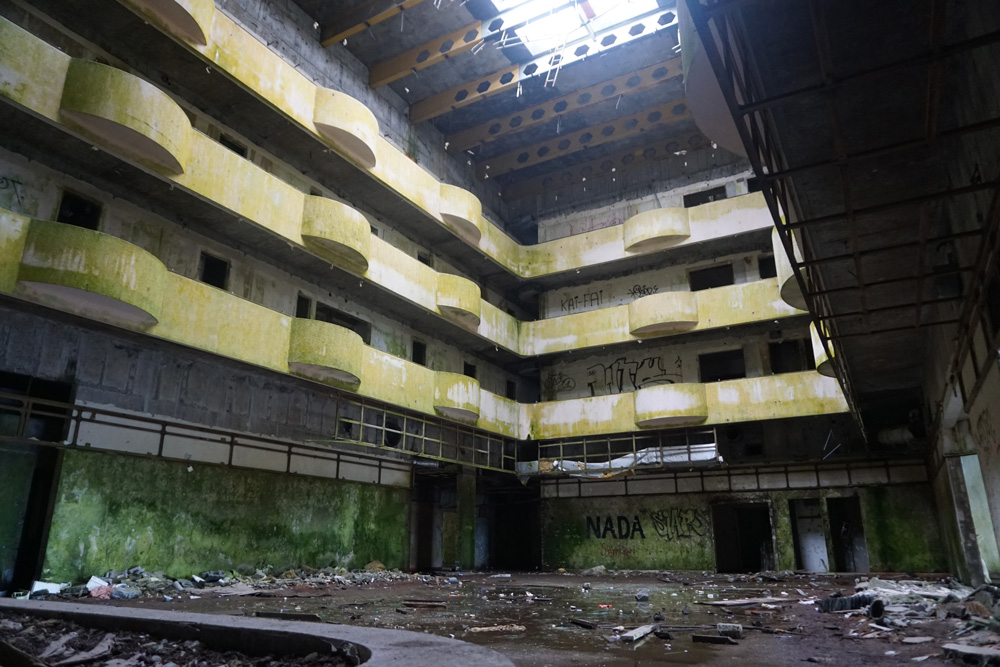 Another equally epic view over the lakes is from the Miradouro da Boca do Inferno. Perhaps I can even say, it is the best view on the whole island. If you are lucky with the weather:) There it is – the ocean, the lakes, and so, so many shades of green. Pure magic.
//CZ//Další, stejně epický, a pravděpobně ten nejkrásnější výhled na celém ostrově uvidíte z vyhlídky Miradouro da Boca do Inferno. V tomhle případě je opravdu fotka lepší než slova – oceán, nebe, jezera, a tisíc odstínů zelené…prostě magická příroda. 
When you make your way down to the lake itself, you can indulge in one of the sport activities – it is possible to rent bikes, paddle boats or kayaks and make your way from one side of the lake to the other. Another option is to take a hike around the Lagoa Verde, starting here. It is approx. an hour hike through the "bush" with beautiful vegetation, lake views, stairs made of wood and other obstacles, that are making the trail fun, which we discovered by accident:)
//CZ//Když pak sjedete k jezeru Lagoa de Sete Cidades dolů, můžete si užít spoustu nabízených sportů. Pujčí vám tu kola, šlapadla i kajak, což nabízí možnost si jezero objet celé dokola. Další tip je tůra kolem zelené části jezera, kterou jsme objevili docela náhodou, a začíná tady. Trvá něco přes hodinu a čeká vás opravdu super akční motající se cesta kolem břehu bujnou vegetací a krásnými pohledy na jezero.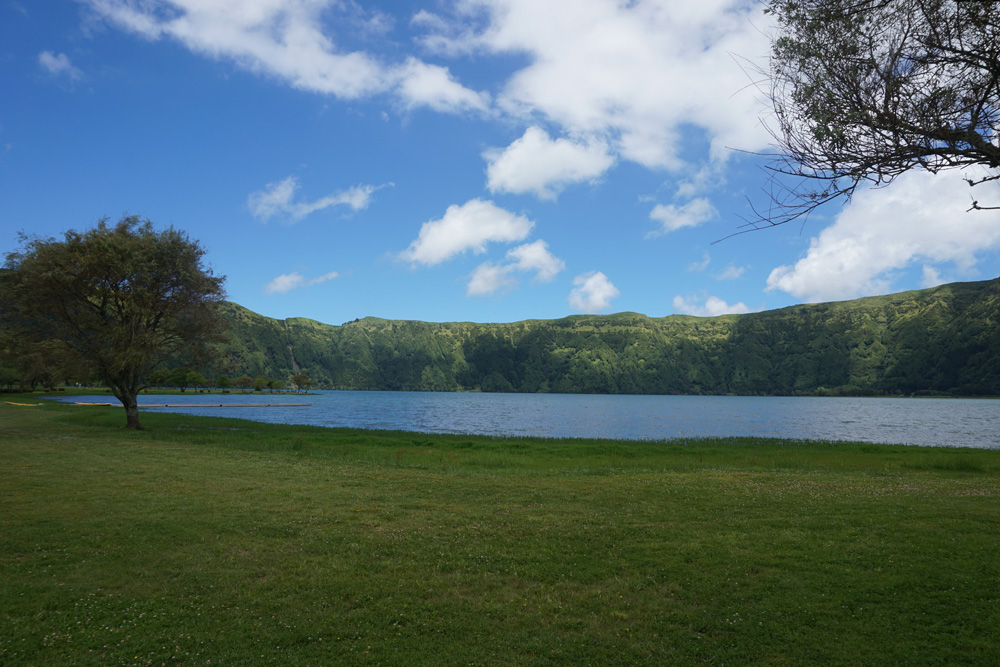 After burning all that energy, you can recharge in restaurant called Lagoa Azul, on the weekends they serve all you can eat buffet. For about 13 euros you can eat and drink like a king, but come soon cause I gets properly busy! Wear something with a stretchy waist:)
//CZ//Po tolika aktivitách je potřeba pořádného oběda, který vám uvaří v Lagoa Azul. O víkendech je v restauraci all you can eat buffet, kde se asi za 13 euro najíte a napijete jako králové, a pak se můžete spokojoně odkutálet k jezeru odfukovat. V ceně je i jako vždy perfektní portugalské kafe. Jen přijďte brzo, odfukovat chtějí místní a turisti.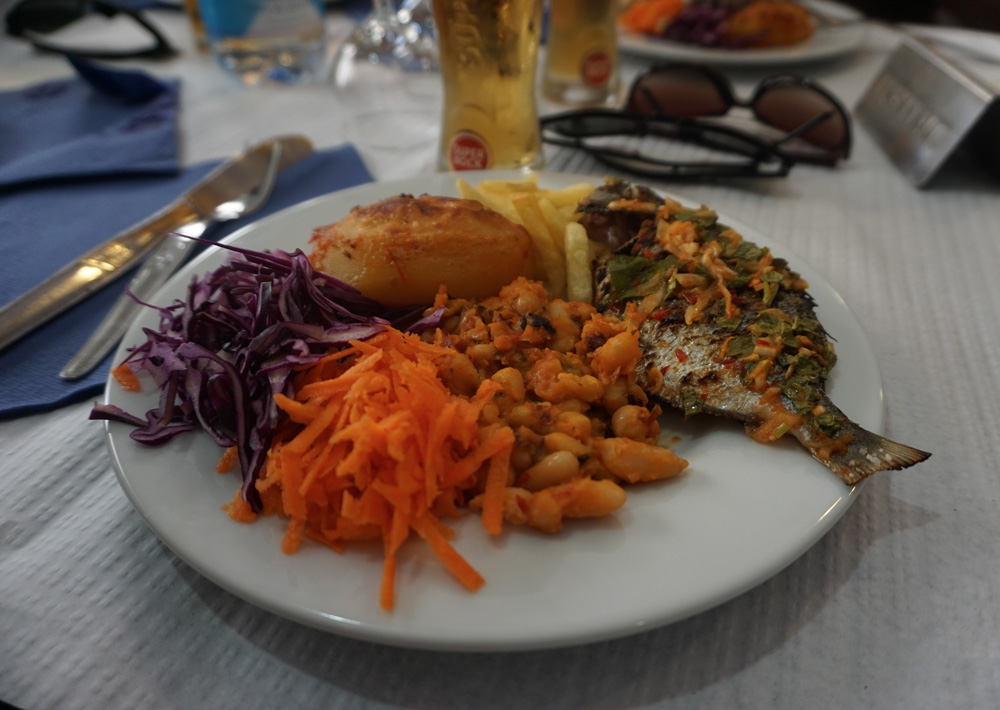 That's it for Sao Miguel – I hope you enjoyed the tour and you will visit this beautiful place yourselves:) If you have any question, let me know!
//CZ// To je vše o Sao Miguel – snad se vám prohlídka líbila, a zajedete se podívat na vlastní oči:) Pokud by vás cokoliv zajímalo, dejte vědět.