'We buy things we don't need with money we don't have to impress people we don't like.' Dave Ramsey
I have been wanting to write about this topic for a long time, since it comes back to me almost everyday in so many situations. And in each of them I ask myself: How many things do we actually NEED?
Everybody knows we live in the age of consumerism, there is no doubting that. Stores are stocked up to the tops of the shells with food, cosmetics, clothes, whatever you think of. Celebrities share pictures of their shoe closets that are bigger than children's rooms and women comment on it desperately they wish they had a closet full of Louboutins just like that: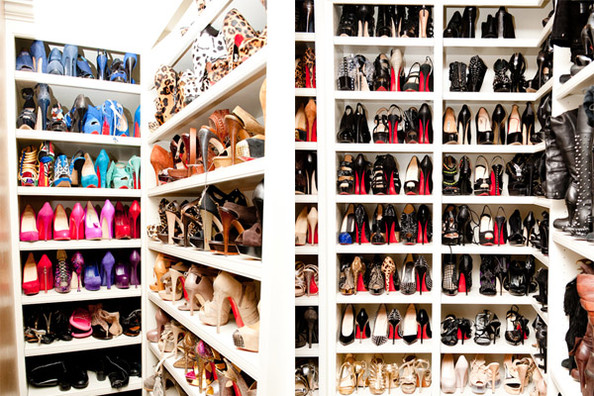 It's all very tempting though. Stores rotate  the goods with a speed of light, always showing of new collections. By the time you manage to wear your trendy shoes couple of times, there is a new pair of Nike sneakers all Instagram celebrities show of on their casual snaps and we all want them. Thats right, myself included.
But something changed within me. I started to question myself. In my early 20s, I was rarely thinking clearly when I went shopping. And don't get me started on the sales. Now I try to reason with myself every time I am buying something. Do I really need another beige cardigan, even though I already have two very similar looking ones in my closet? I start to feel suffocated by my things. The amount of clothes is squeezing me. Because now I can see, that I wear regularly like 30% of all the things that I own, and that is insane!
MODERATION.
I believe moderation is the solution to many worlds problems. We became greedy. We became hungry for another hit. We want to keep ourselves in the false joy of rush from every new purchase, which disappears faster than a cat with a bag of catnip. Our fridges are stocked to the top with food we don't manage to eat. My grandma told me that during her childhood, they would eat meat once per week on Sunday, as a treat. Just imagine, if everybody would change their lifestyle, just a little bit, many things could go so differently. 
Am I optimistic? Hell yea! This gut feeling tells me I am no the only one thinking this. After all, there wouldn't be closets like this or this, both amazing blogs if you wanna pick up more minimalistic or zero waste lifestyle:)
What about you guys, do you think we buy and have way too many things?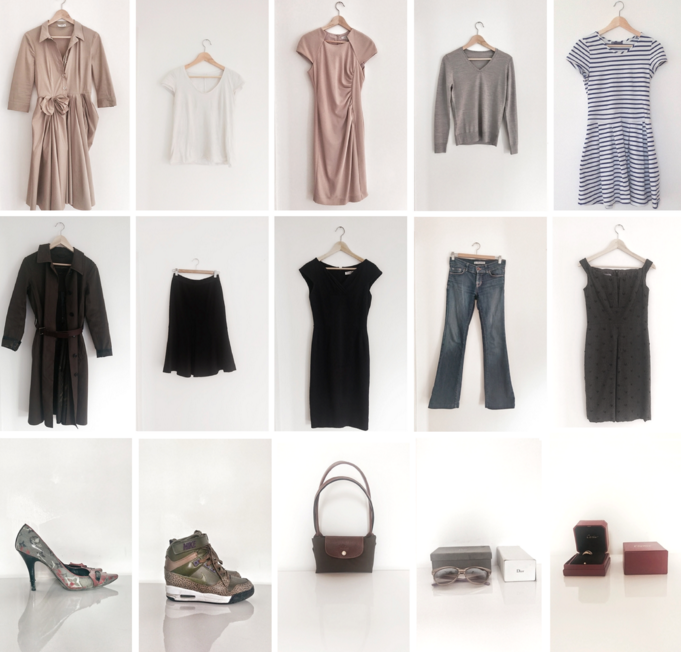 //CZ// Už delší dobu jsem chtěla napsat tento článek, protože na toto téma narážím v mnoha denních situacích. Kolik věcí DOOPRAVDY potřebujeme?
Žijeme na vrcholku konzumerismu. Obchody jsou přeplněné kosmetikou, jídlem, oblečením. Celebrity sdílejí na sociálních sítích fotky svých šatníků, které jsou mnohdy větší než byly naše dětské pokojíčky, a ženy po celém světě smutně vzdychají, že by si taky přály mít takovou sbírku Louboutinek.
Co si budeme povídat, lákadla na nás číhají na každém rohu. Obchody protáčejí jednu kolekci za druhou, a blogerky na instagramu neustále sdílejí na nedbalých (a přestlo luxusně zaplacených) fotkách nové a nové trendy. Něco se ve mně ale zlomilo. Začla jsem mít pocit, že mě to množství oblečení a věcí, které mám, dusí. Najednou mi představa přeplněného botníku začala vadit. Ještě před pár lety jsem nad tím vůbec nepřemýšlela, ale jsem ráda, že se to začalo měnit…Protože ruku na srdce, ze všech těch hader, co mám, nosím pravidelně tak 30, 40%?
UMÍRNĚNOST
Věřím, že umírněnost by ve světě změnila mnoho věcí. Zvykli jsme si na to dělat si radost věcmi. Jenže to je pouze pomíjivá cesta ke štěstí, která nikdy netrvá moc dlouho, a tak máme potřebu si znovu "šlehnout" a zase si něco dalšího koupit, opět si udělat radost. Končí to tak, že máme narvané skříně, a přitom každé ráno pocit, že nemáme co na sebe. Ledničky jsou přeplněné cizokrajným jídlem, které roste na druhé straně světa a dozrává ve zrárnách místo na sluníčku. Cpeme se masem, jakoby také rostlo na stromech, a s ledovým klidem zavíráme oči nad tím, čím jsou zvířata krmena, jak je s nimi zacházeno a jak jsou zabíjena. Moje babička několikrát vyprávěla o tom, že maso se za jejího mládí jedno jenom v neděli. Jen si představte, že by se každý nachvilku zastavil, zamyslel, a použil umírněnost ve svých každodenních rozhodnutích.
Cítím se ale optimistcky? Rozhodně! Cítím v kostech, že tento pocit nemám pouze já, ale čím dál tím víc z nás přemýšlím o tom, jak naše konání na téhle planetě ovlivňuje vše kolem nás. To dokazují naprosto opačné blogy tady a tady, oba dva jsou úžasné příklady toho, jak se dá inspirovat a najet na minimalističtější styl života.
Jak to vidíte vy, máte pocit, že máme příliš MNOHO věcí?