Green hills, crystal clear lakes, flowers, cows lazily munching on grass and lying in the sun, steaming fumaroles, hot springs and geysers. The nature is pure and strong in Azores, and yet it's beauty has not been discovered by masses of tourists. Let me take you on tour around the Sao Miguel island with the best tips on what to visit:) Big thanks to Bruno from Geeky Explorer on his ultimate 4 day guide – it has been our alpha and omega in deciding on what to see.
//CZ// Nekonečně zelené kopce, průzračná jezera, stáda kraviček pasoucích se na stráních s výhledem na moře, kouřící se fumaroly, horké prameny a gejzíry, a hortenzie, všude koberce hortenzíí. Příroda je na Azorech ve své plné síle, krásná, divoká, hojná. Vezmu vás na prohlídku největšího z devíti ostrovů – Sao Miguel a dám vám tipy na to, co při návštěvě rozhodně nevynechat:) Velké díky patří Brunovi z blogu Geeky Explorer, jehož ultimate guide byl naše Alpha a Omega.
Day 1: arrival
You can now fly to Azores with two airlines – azorean Sata or Ryanair. Flight from Porto took approximately 2 hours and we were served nice snack and drinks. Renting a car is essential, as it will allow you move around the island freely and according to your own tempo. I can recommend local company called Varela, the pick up was super quick (no lines compared to other companies) and the return smooth. Even though the island is relatively small, we wanted to experience living in different places. The first house we rented was rightfully called Casa Atlantico – located right by the ocean and waking up to the sound of waves breaking on rocks was a pure magic (accompanied by local roosters:) I mean – private garden with ocean view? With few steps away from natural pools? I't has only been a few hours and I was thinking how difficult would it be to move in here. All you need is to follow the white…green door.
//CZ// Na Azory se dostanete bez problému – z Portugalska sem lítá nejen azorská Sata, ale i Ryanair. Na ostrově budete potřebovat auto, které vám zajistí nezávislost a možnost se podívat na místa, kam byste se jinak těžko dostávali. Rozhodně doporučuju místní společnost Varela – pujčení bylo rychlé, bez front, a vrácení jakbysmet. I když je ostrov relativně malý, můžete zažít jiné druhy scenérie i počasí, a to v jednom momentu:) První ubytování s příhodným názvem jsme proto zvolili u oceánu – Casa Atlantico. Probouzet se do šumění vln (za občasného notování místních kohoutů:), snídat ve vlastní zahradě a u toho mžourat na oceán…to bych si dovedla představit každý den. Při průchodu kouzelnými zelenými dveřmi se nedostanete do Narnie, ale k přírodním bazénům, kde můžete pozorovat rybky a kraby vykukující z děr v lávových kamanech. Zn. brýle a šnorchl s sebou!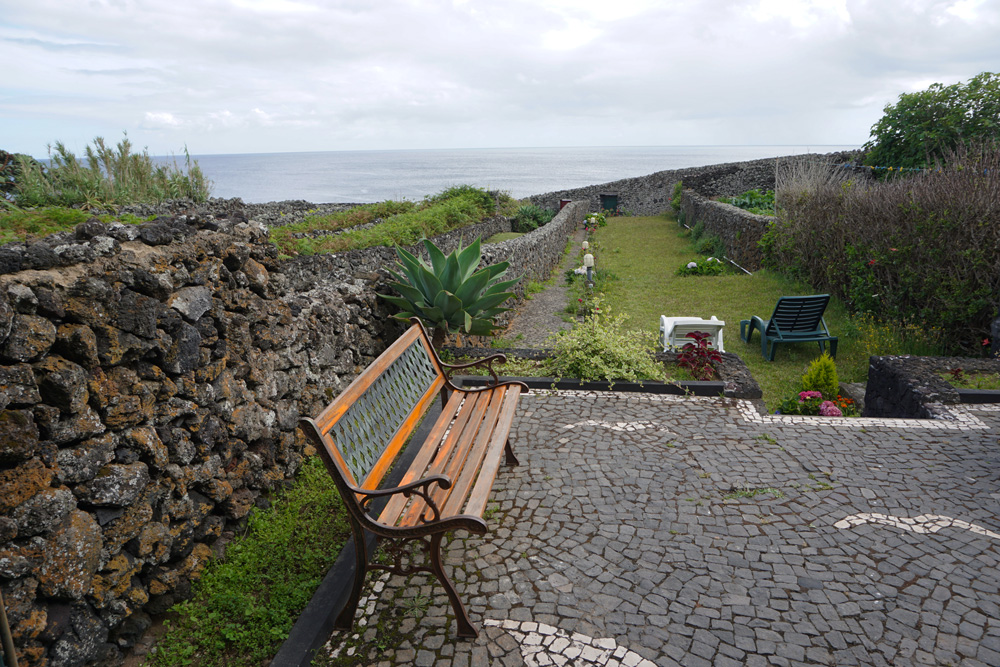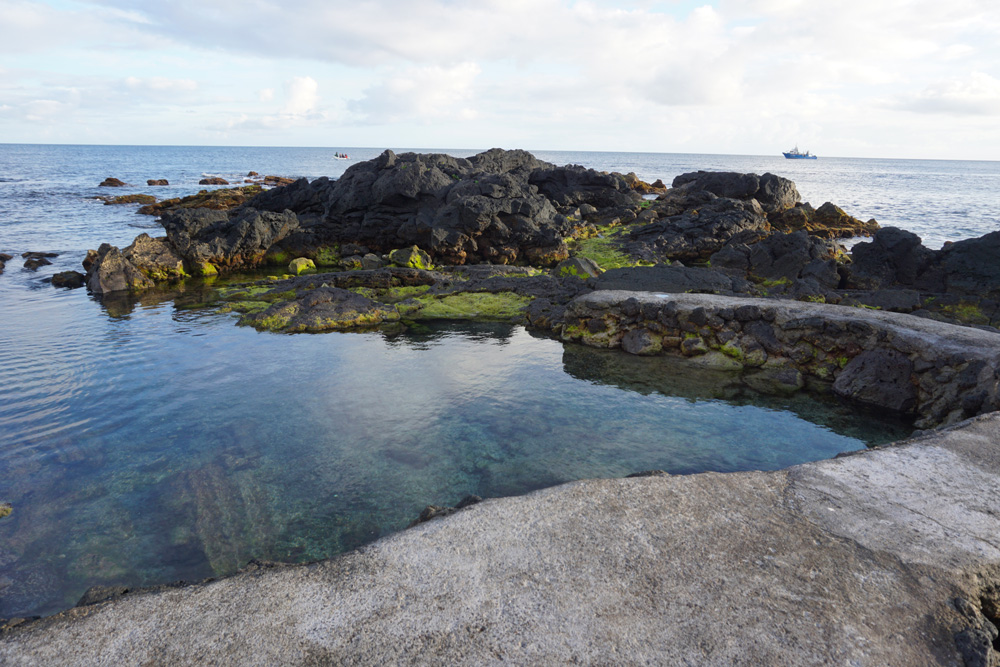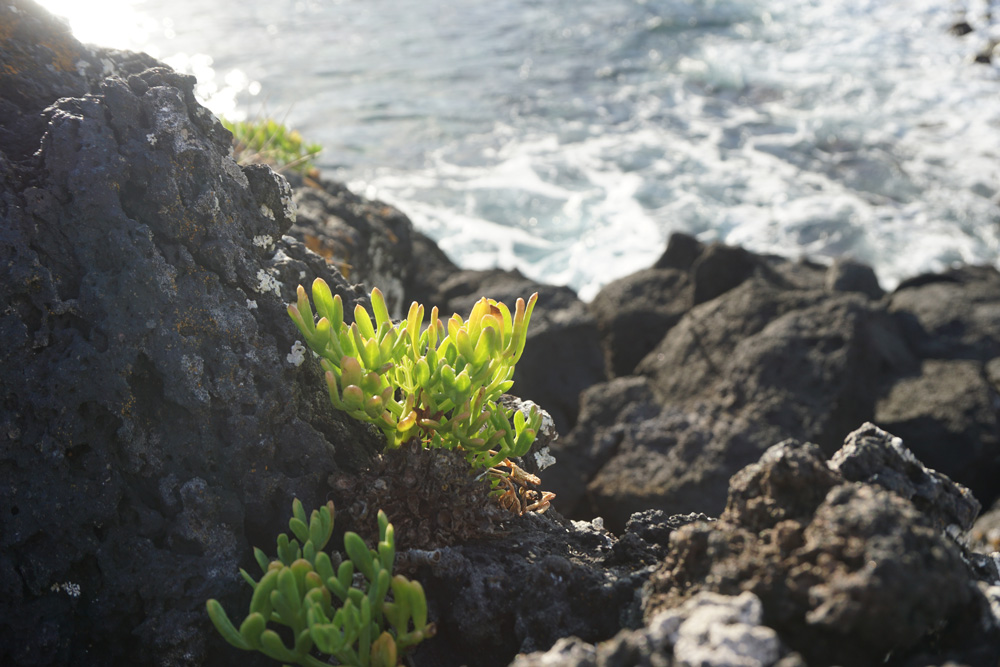 Day 2: Furnas
I would definitely recommend a whole day spent in Furnas and the surroundings. There is so much to see/do around here. We've arrived pretty early as the village started to slowly wake up. First sign of being close to Furnas is the smell of sulfur, that hits your nose instantly. Plus, it looks like the whole town is on fire:D
//CZ// Na Furnas a okolí si rozhodně nechejte celý den. My jsme do městečka přijeli z rána, teprve se začalo probouzet. Což znamenalo, že bylo téměř bez turistů! Blížící se Furnas poznáte především po nose – pach síry vás do něj uhodí téměř okamžitě. Plus to vypadá, že je celé město v plamenech a voda v potoce je apokalypticky vroucí.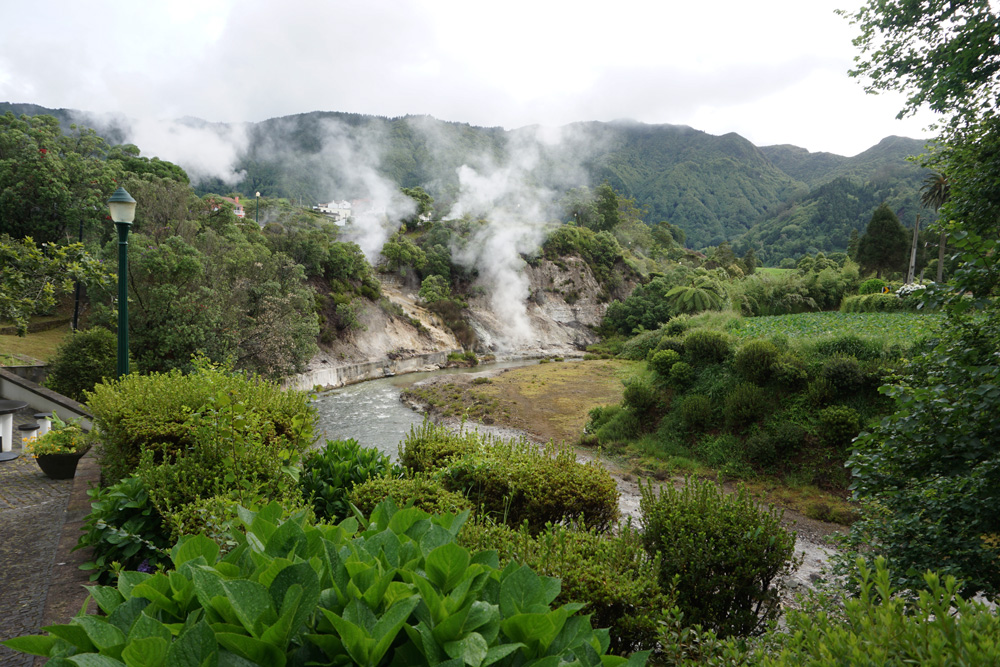 Here is a reminder, that we don't really control anything around here. Our planet is the one in charge! You can take a walk around the fumerols and various hot streams. Don't miss the Microbial Observatory, entry is 1 euro and you can learn much more about the fumerols, caldeiras, the life inside them (yes, even in the boiling wholes) and you can finish your lab coat moment with a taste of a tea made freshly from the hot water mixed with local mandarin liqueur. It's a holy drink so no worries:)
//CZ// Příroda tu zkrátka dává najevo, že člověk doopravdy nekontroluje nic, jen koexistuje a využívá její dary. Vyvěrá tu spousta horkých léčivých pramenů, z caldeiras se valí vařící voda a vní nadskakují pytle s kukuřící a bramborama, které si v nich vaří místní. Z fumerolů se kouří jak z parních lokomotiv a my fotíme jak banda nadšených japonských turistů. Procházku zakončujeme návštěvou Mikrobiologické observatoře v budově původních lázní (vstup 1 euro), kde se dozvídáme víc o životě v caldeirách (taky si říkáte, jak v takové vařící díře může ještě něco přežít?), pozorujeme bakterie pod mikroskopem a edukativní prohlídku zakončujeme čajem z právě načepované horké termální vody smíchané s azorským mandarinkovým likérem. Nazdraví, čaj je to vskutku svatý:)!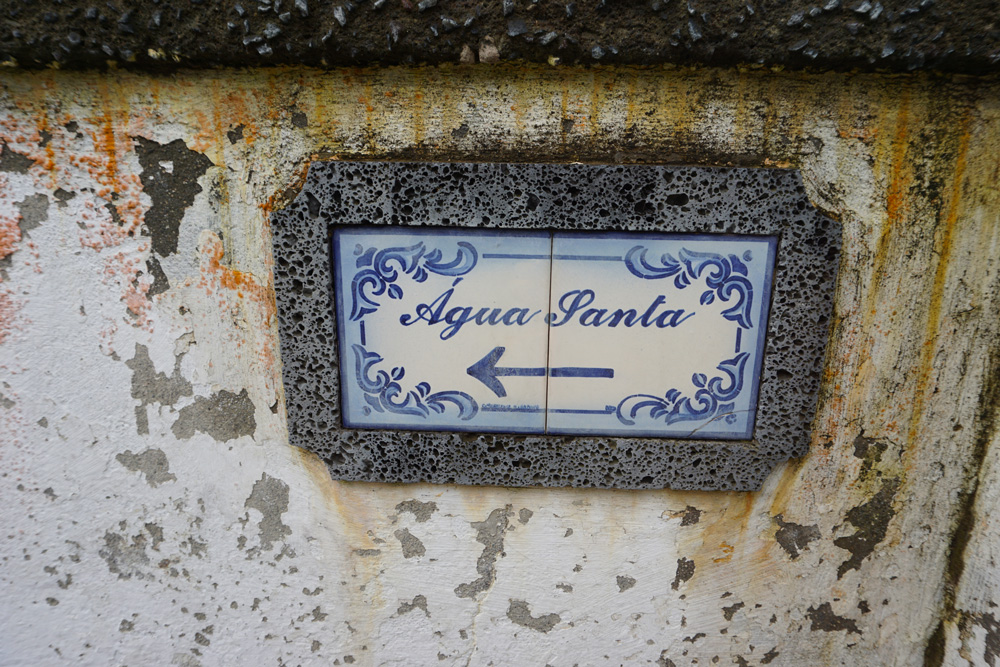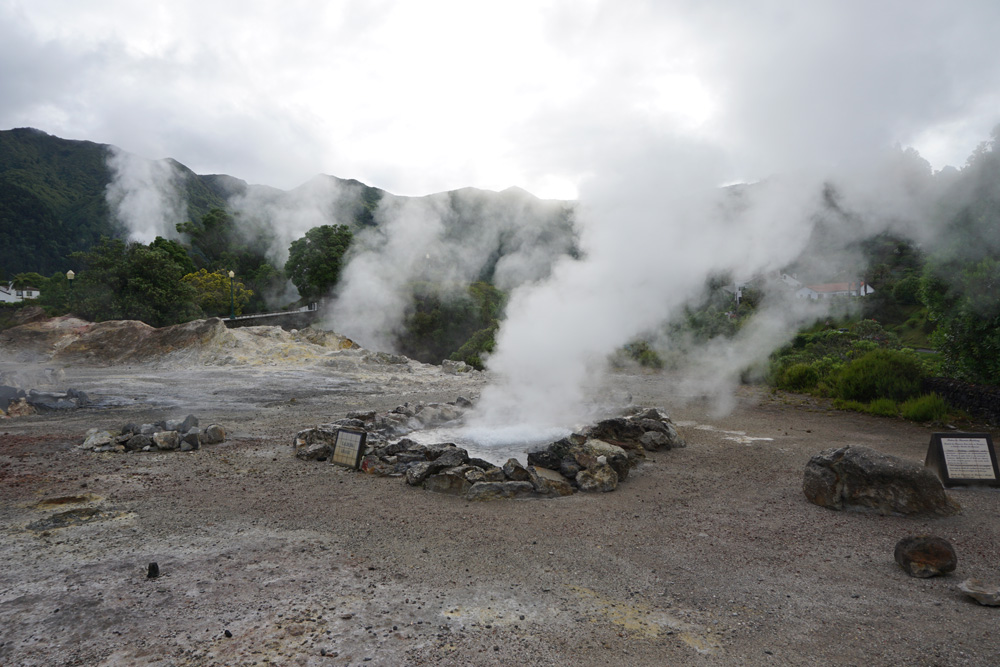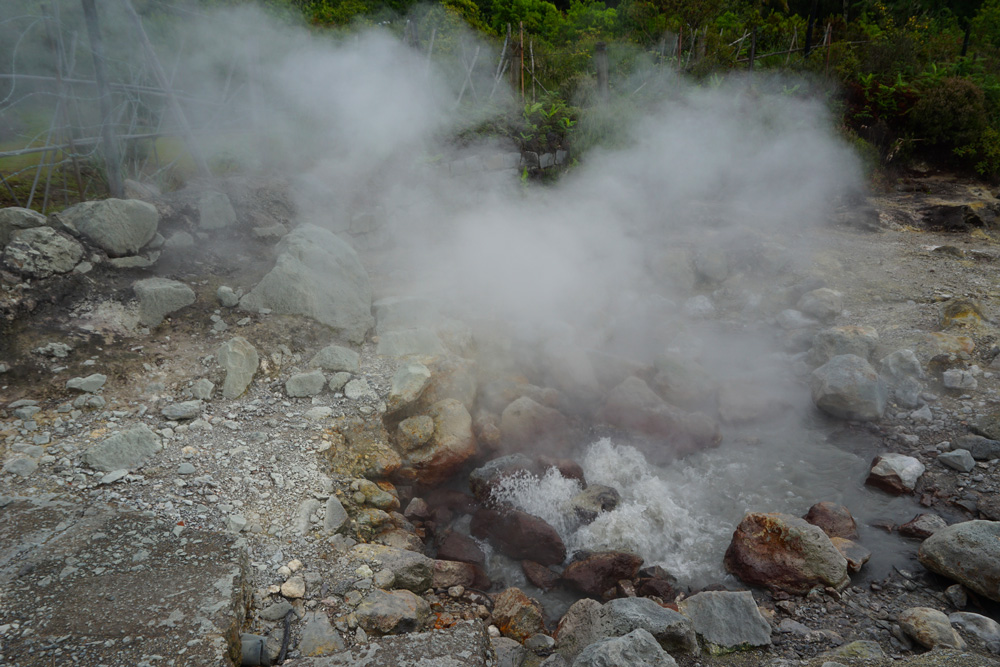 But it is not only tea that is made with the help of mother earth. Locals use the natural heat to boil foods like corn, potatoes or eggs (freshly boiled corn from a smiling guy for 1 euro:) and mostly, to prepare the specialty called Cozido das Furnas, which is being prepared in large pots buried in the ground for aprox. 6 hours by the Lagoa das Furnas. With recommendation from our host, we booked a table in restaurant called Miroma (make sure to reserve a table) and got to taste the famous natural stew – an it was delicious:)
//CZ// Žár vyvěrající ze země se tu nepoužívá pouze k výrobě čaje nebo vaření kukuřice. Na břehu jezera Lagoa das Furnas se od rána "vaří" místní specialita Cozido das Furnas, což je směs mas, různých druhů brambor a zeleniny, která se v hrncích vloží do speciálních otvorů v zemi, zakope, a za nějakých 5-6 hodin je hotovo:) Pokud chcete cozido ochutnat (což rozhodně chcete), udělejte si raději rezervaci, třeba v restauraci Miroma, kde je vyhlášené, a bylo opravdu vynikající.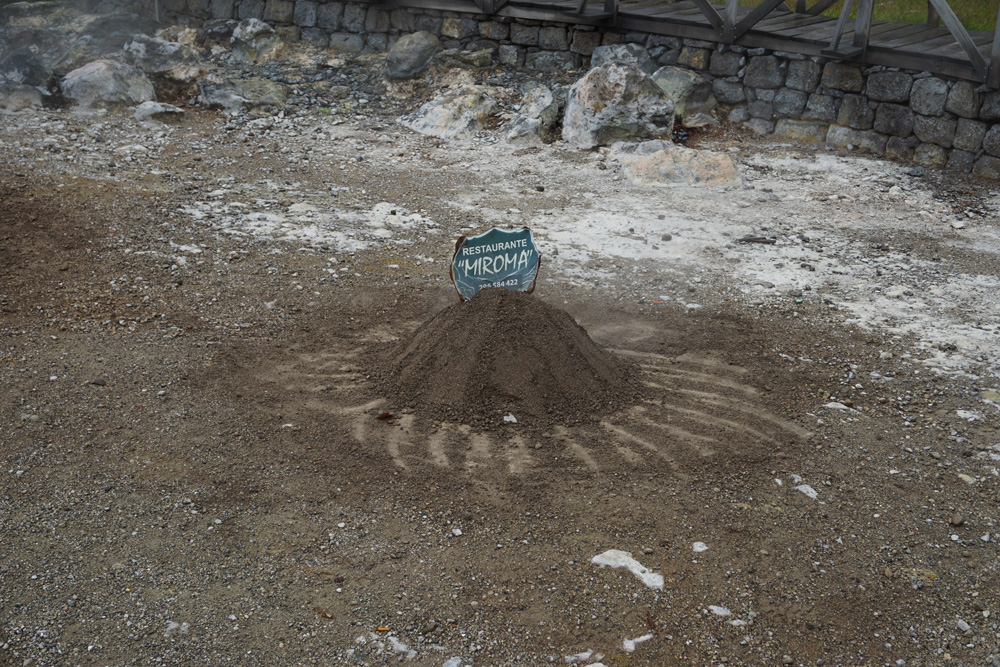 I am pretty sure this hole was an entry to hell, based on the boiling black mud splashing angrily.
//CZ// Tohle byl určitě vstup do pekla, z otvoru vystříkávalo v pravidelných intervalech černé vařící bahno následované oblakem páry…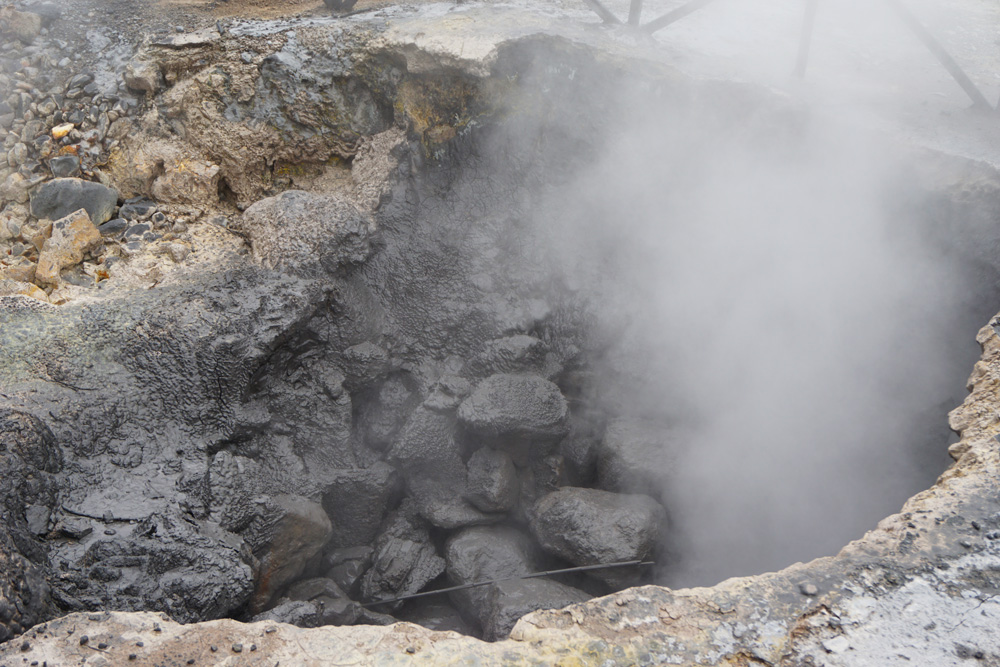 Somebody else took advantage of the heated ground as well. You can't be surprised:)
//CZ// Nejen člověk přišel na to, jak využít tepla vycházejícího ze země:)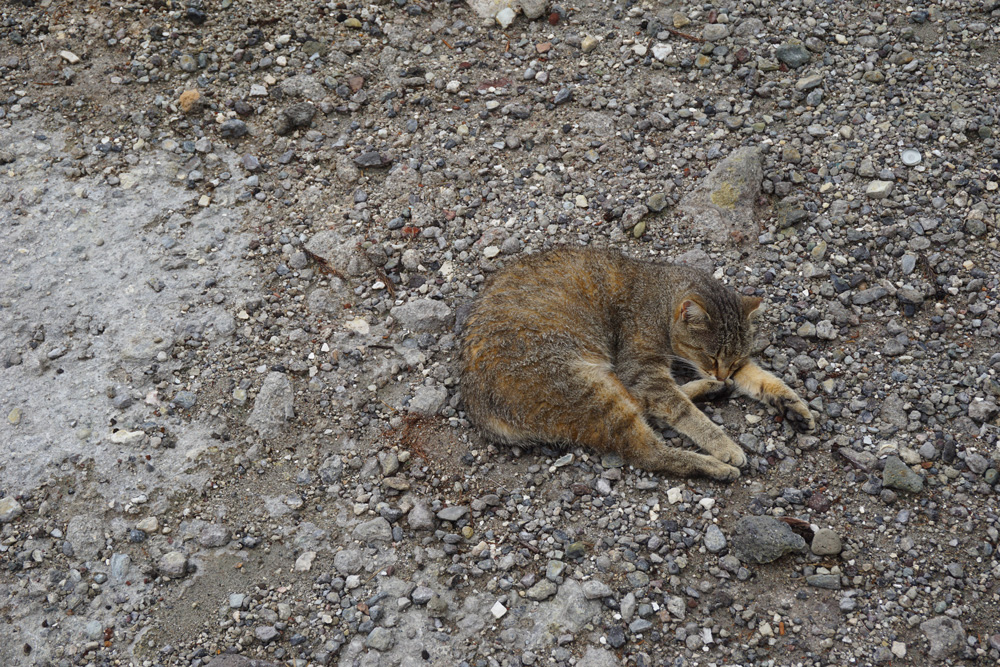 Whenever there is hot thermal water coming out of the Earth, there must be spa. And Furnas is no different:) There are two main resorts where you can take a dip, Poca da Dona Beija and Terra Nostra. Locals advised to visit the first one and come around the sunset, which was the ultimate advice. With entry of 5 euros, you can enjoy several thermal pools with different temperature and chemical composition. As the sun goes out, the spa lights up and hot steam creates an effect of a mystic jungle land. Don't wear your best bathing suit – the volcanic water might damage the color, as well as change the color of your hair if freshly dyed.
//CZ// Za každým horkým termálním pramenem hledejte lázně. A i ve Furnas je najdete:) To by bylo, aby se léčivé teplé vody dále nevyužilo! Vykoupat se můžete v Poca da Dona Beija nebo v parku Terra Nostra. Osobně jsme vykoušeli první zmíněné místo a podle doporučení jsem si návstěvu načasovali na večer, což byla rada nad zlato. Se západem slunce se tato přírodní zahrada s bazény ozářila lampami, bujná vegetace házela stíny do zvedající se páry a nám se z bazénů už nikdy nechtělo ven… Jen pozor na plavky, místní voda obsahuje hodně železa, a můžete si je jednoduše a navěčnost nabatikovat do ostínů, po kterých jste úplně netoužili. To stejné, pokud máte čerstvě obarvené vlasy, nebo nalakované nehty. Vstupné je 5 euro a lebedit si ve vodě můžete až do 23:00.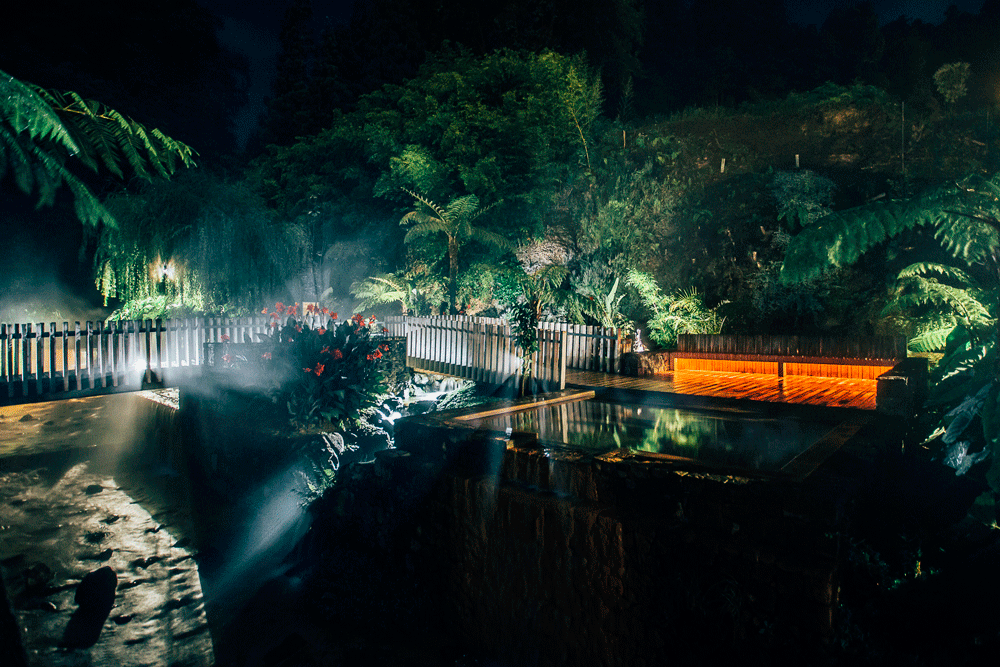 Once you enjoyed the view over the lake from the bottom, it is a good time to change perspective. This is Lagoa das Furnas in all it's glory:)
//CZ// Po prohlídce dna kráteru je čas na to změnit perspektivu a podívat se na jezero Lagoa das Furnas v celé jeho kráse.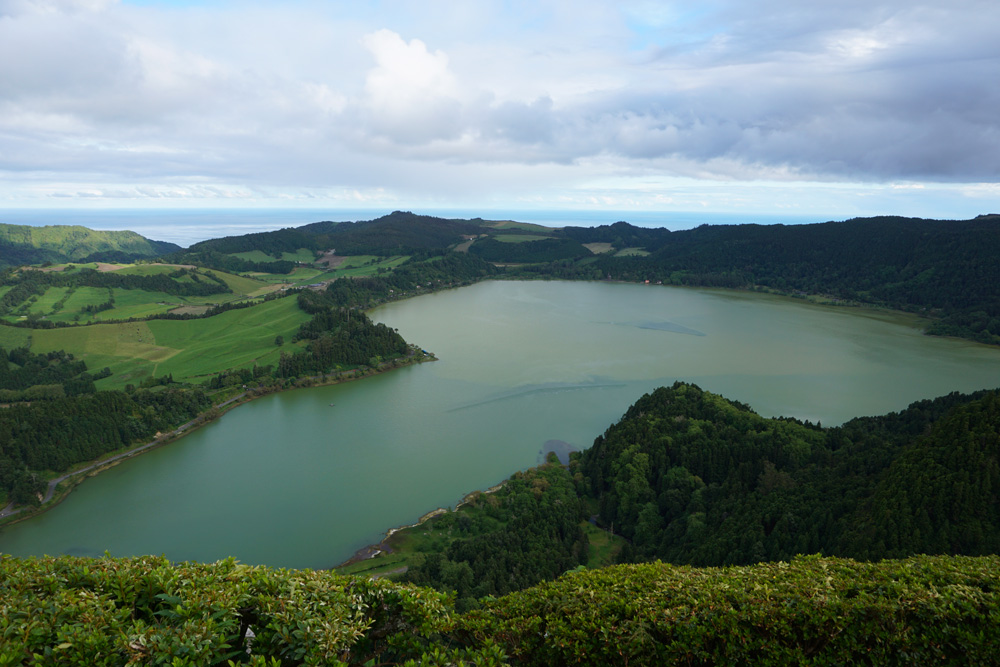 The area around Furnas called Nordeste is really beautiful, and somehow different from other parts of the island. It felt the greenest, most raw.With many view points and typical "parques de merendas" – lunch spots, I wished we would have brought a picnic basket. But we were still barely rolling around thanks to cozido, so this time if was time to feed the eyes only. Miradouro da Ponta do Sossego and Miradouro da Ponta da Madrugada are a must.
//CZ// Oblast v okolí Furnas zvaná Nordeste je opravdu nádherná, jiná, než ostatní části ostrova. Přišla mi nejdivočejší a nejzelenější, stromy i kytky tu vypadaly jako upravené ve photoshopu. Azorané jsou si toho vědomi, protože na každém kroku narazíte na odpočivadla s lavičkama a stolkama, buď ve stínů stromů nebo s krásnými výhledy. Všechna odpočívadla mají taky zabudované grily, stačí si přivézt vlastní uhlí a piknik může začít. Nevynechejte především vyhládky Miradouro da Ponta do Sossego a Miradouro da Ponta da Madrugada, výhledy z nich jsou zkrátka dechberoucí..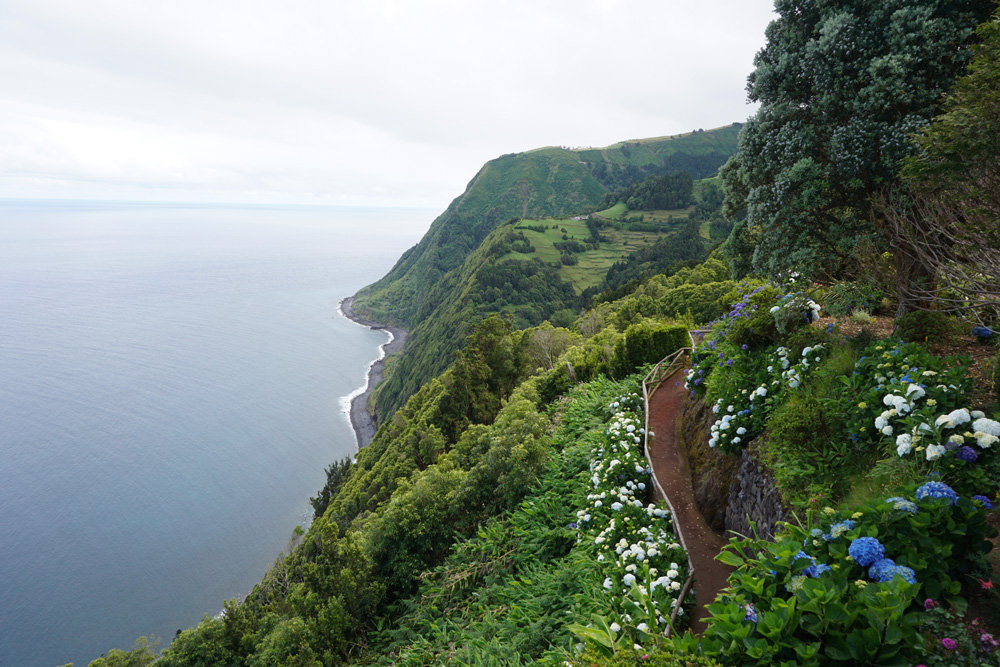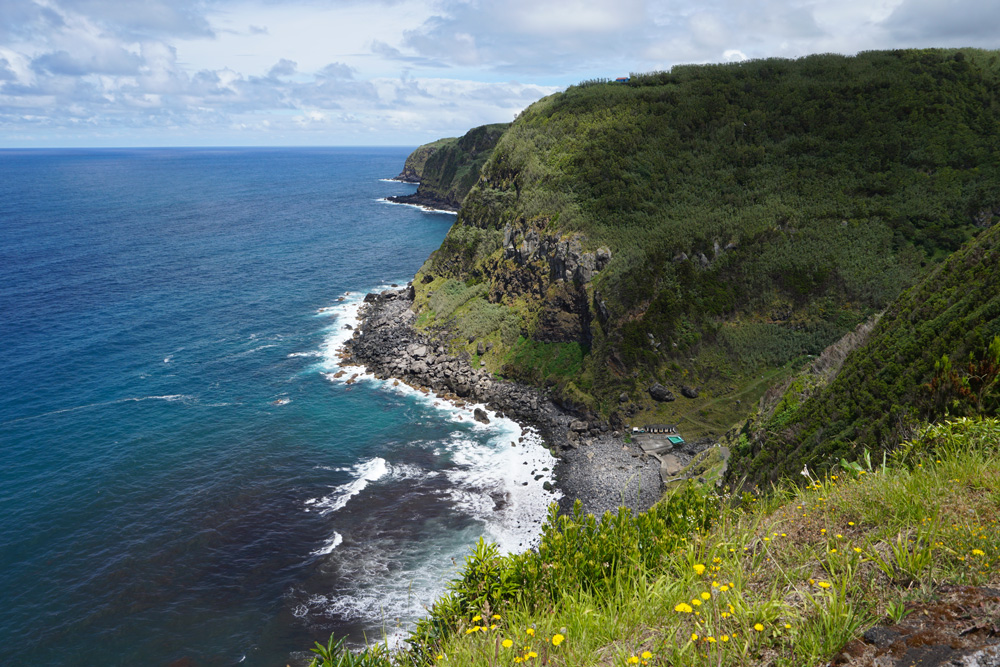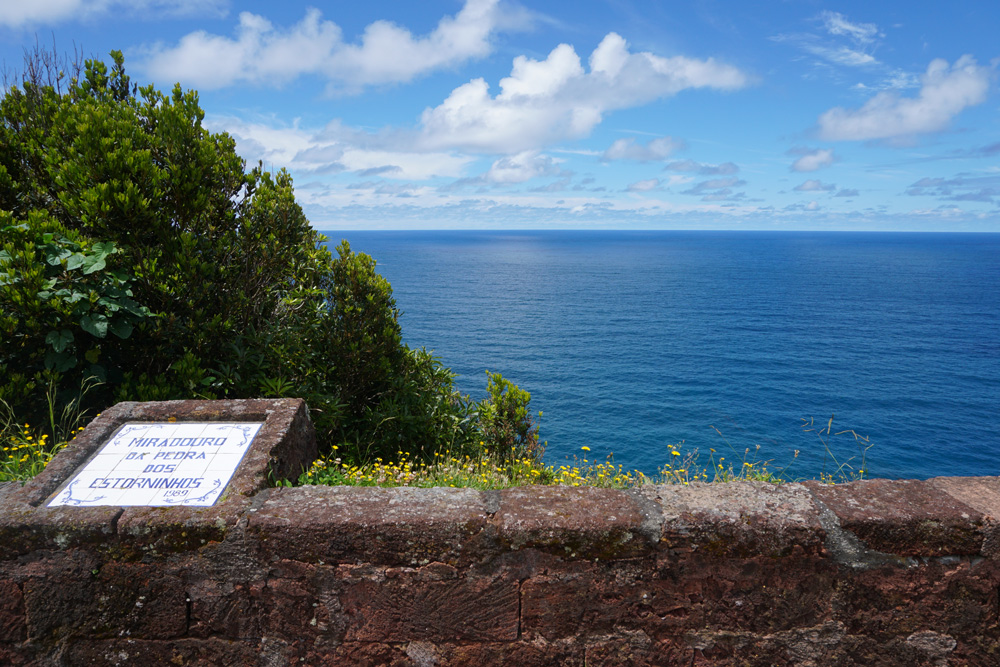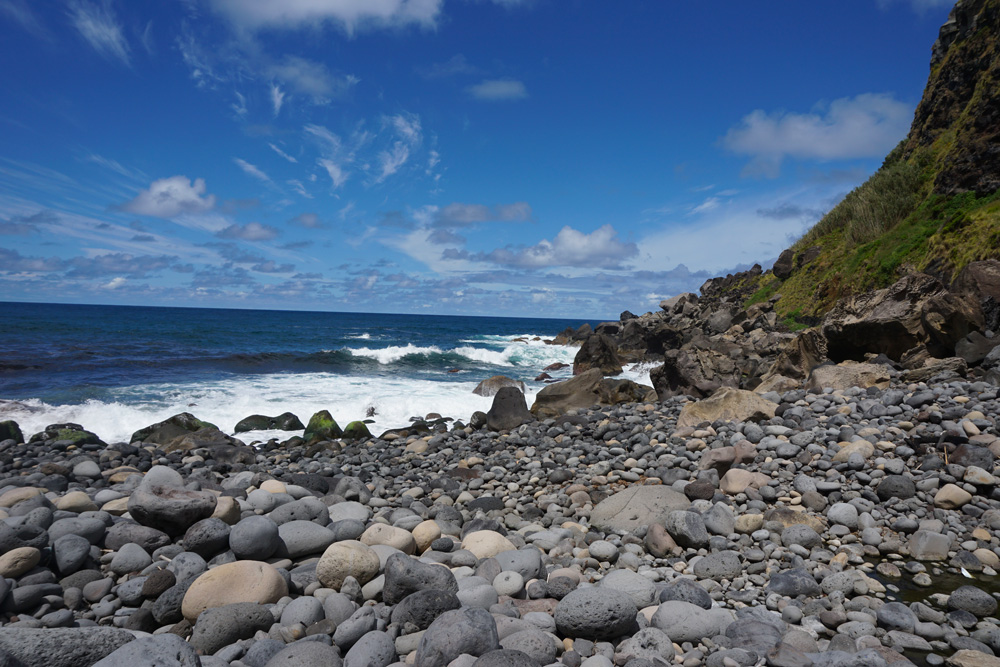 As a cherry on the cake, let me tell you a brief story of what you can certainly avoid in the Nordeste. It is the oldest lighthouse in Azores. Or maybe it would not have been be so bad, if we had read the description Bruno wrote on his blog. The things is, my friends, if you get a bad idea like us to go to it by car, you should get ready for the 35% declination! I think everybody in the car shit their pants.
//CZ// Jako třešničku na dortu vám povím o místě v Nordeste, které můžete s klidným srdcem vynechat, a to nejstarší azorský maják Farol do Arnel. Nebo spíš, klidně se na něj jeďte podívat, ale přečtěte si dopředu i o tom, že příjezdová cesta má klesání 35%. Nebudu přehánět, když napíšu, želá celá posádka našeho auta měla v kalhotách. Samotný maják je funkční, ale nepřístupný veřejnosti, takže…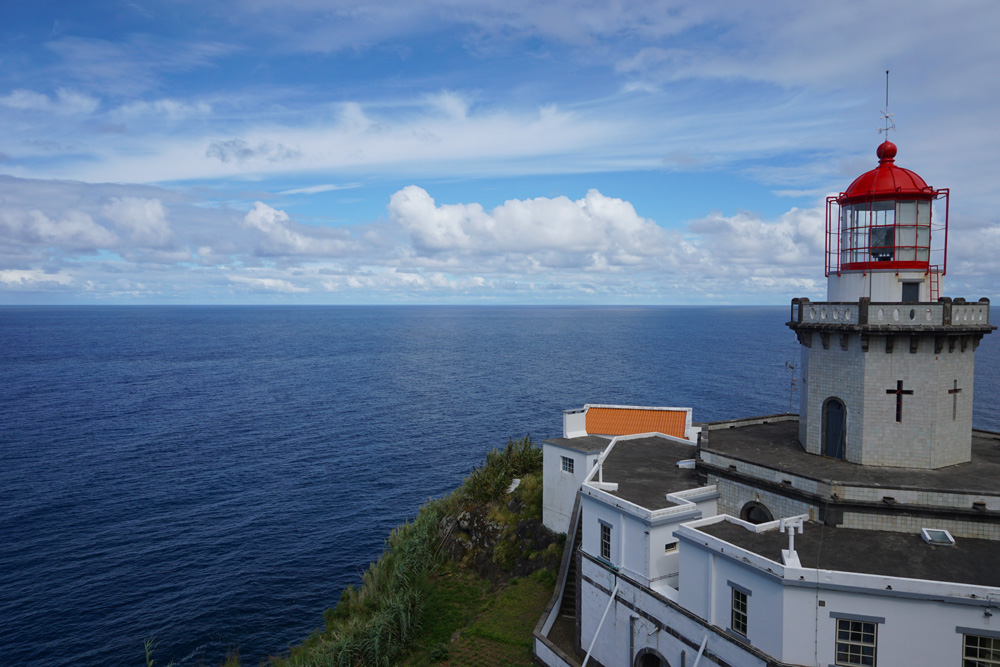 To be continued / Pokračování přístě:)