4 year after my last visit, I had chance to travel to beautiful Lisbon once again. And boy, a lot has changed! I was immediately struck by the amount of tourists. The world has discovered Portugal at last? Rightfully so, because there is much to see and taste:). Are you planning a visit too? Here my highlights to what is worth a visit:
//CZ// 4 roky po mé poslední návštěvě jsem dostala šanci znovu objevovat hlavní portugalské město, a musím říct, že se hodně změnilo. Svět objevil Portugalsko! Množství turistů se znásobilo, a není se čemu divit, protože je tu opravdu co vidět, ochutnat, a portugalská pohostinost je nakažlivá. Plánujete se podívat do Lisabonu? Mám pro vás tipy, co by jste rozhodně neměli vynechat:
Wonder in Bairro Alto
You can start of your day by taking a coffee and pastel de nata in the beautiful Art-Deco Cafe a Brassileira, place where Portuguese writers, artists and bohemians would drink their cafes and absinth – just like Fernando Pessoa whose bronze statue decorates the front yard. If you are like me and you love to sit down and sip your coffee slowly, the culture of drinking a coffee while standing by the counter in one or two sips will feel funky, but you will quickly learn to appreciate it. (I always think of Julia Roberts trying to order an espresso in Eat, Pray, Love 😀 )
//CZ// Váš den můžete začít s kávou a typickým koláčkem Pastel de Nata třeba v krásné kavárně Cafe a Brassileira ve stylu Art Deco, na místě, kde portugalští spisovatelé, umělci a bohémové popíjeli kávu a absinth, třeba jaka Fernando Pessoa, jehož bronzová socha zdobí ulici před kavárnou. Pokud jste jako já, a kávu si rádi vychutnáváte v sedě, budete mít pocit, že maličké portugalské espresso, které se často pije ve stoje u pultu/baru na jeden až dva doušky, vás neuspokojí. Rychle si na tuto možnost ale zvyknete, protože kávu, tu mají portugalci výbornou, a je to v podstatě další kávový rituál, jen o něco kratší:)
From there, head up and get lost. 
Cause getting lost always brings you to the best places.
2. Drink Ginja from a chocolate cup
Ginja is a sweet liquor made from sour cherries, and some places still serve it in a cup made from chocolate. Very zero waste if you ask me! Try the one in Ginjinha das Gaevas, a small place that tourists seem to be missing so far. And because life can always be sweeter, after the climbing streets of Bairro Alto, you deserve some extra sugar in shape of some heavenly ice cream in Pascoalini.
Ginja je sladký višňový likér, který se tradičně servíruje v kalíšcích z čokolády. Nejenže je to ekologické, a taky je to zatraceně dobré, kyselost višní a plná chuť čokolády….co vám budu povídat, bude to muset vyzkoušet na vlastní chuťové pohárky. Místní nám doporučili Ginjinha das Gaevas, je to poměrně nenápadný malý bar, který zatím turisté asi spíš míjí, takže ideální místo na nasátí atmosféry. A protože osladit si život je vždycky dobrý nápad, až budete unavení po objevování celé čtvrti Bairro Alto, která bohužel s rovinkou nemá nic společného, můžete váš turistický výkon oslavit boží zmrzlinou v Pascoalini.
3. Eat like Jose Saramago
I remember buying my first book from Jose Saramago in Lello Library in Porto, not knowing, what to expect, but with excitement to read something from a winner of Nobel prize for literature. I finished the Tale of the Unknown island with one breath. (It is written in such special way). So when we discovered a restaurant in Bairro Alto called Farta Brutos, where he used to be a regular, we had to book a table. You can even sit in his favourite spot:) Apparently, one thing we would have in common is our love for bacalhau à brás.
Pamatuju si nákup své první knížky od Jose Saramaga v kouzelném knihkupectví Lello v Portu s očekáváním, jak asi píše držitel Nobelovy ceny za literaturu. Povídku o Neznámém ostrovu jsem přečetla jedním dechem (což díky jeho stylu psaní ani jinak nejde:), a když jsme pak při brouzdáním v Bairro Alto narazili na restuaraci Farta Brutos, kam Saramago rád chodil, hned jsme si zamluvili stůl. Ceny jsou trochu vyšší, ale sedět u jeho oblíbeného stolu, a zapíjet tresku bacalhau dobrým vínem, to za to stálo!
4.Dine with the sunset in Cacilhas
Fancy a dinner with the fresh sea air, delicious food and sunset in 4k HDR? Take a boat to Cacilhas from Cais de Sodre and after leaving it, walk right along the water passing abandoned quay. You will arrive to a restaurant called Ponto Final, from where you can enjoy beautiful sunset with some proper Portuguese dinner (and it is not overpriced, so plus points for that)
Co byste tak řekli na večeři při západu slunce s fantastickým výhledem a ještě lepším jídlem? Pak si naplánujte cestu lodí na druhou stranu řeky do Cacilhas z Cais de Sodre, a pak se vydejte podél opuštěného přístaviště, až přijdete k restuaraci Ponto Final. Večeřet s mořským vánkem u sluncem zalité řeky už nemůže být větší kýč, který ale rozdodně to bude jedna z vašich nejkouzelnějších vzpomínek na tohle město. A není to vůbec předražené, takže body navíc!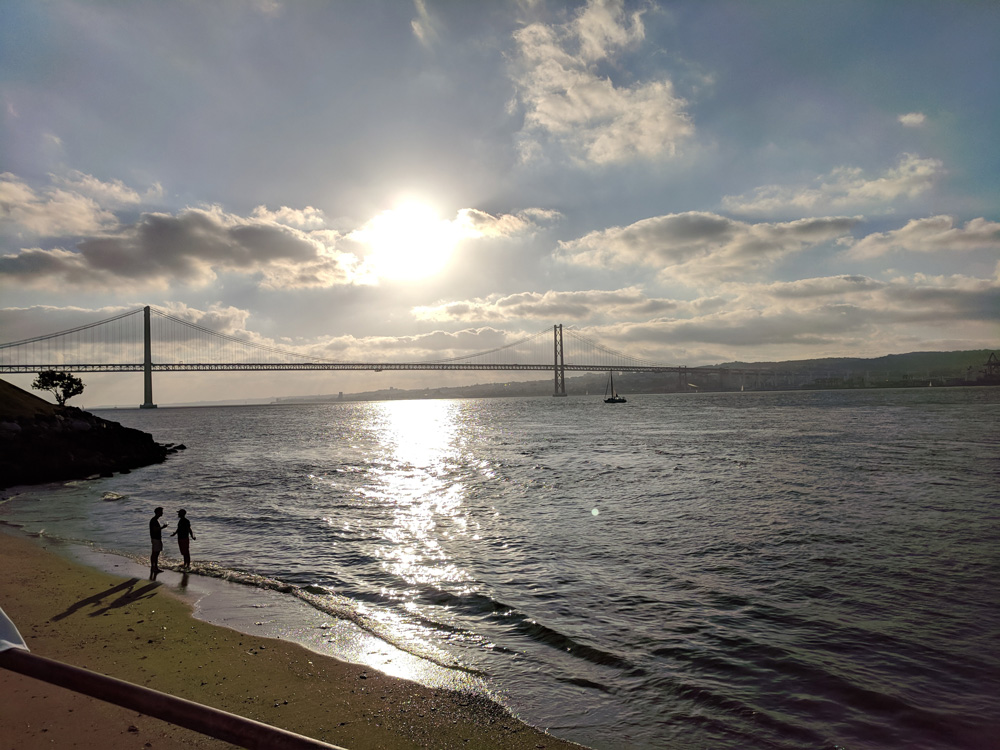 5.Listen to local chatter in Alfama
I bragged about Alfama in my post few years back, but I have to it again. That place is just out of this world, being the only part of Lisbon that didn't get destroyed during the earthquake in 1755. It has medieval feel with tiny streets, laundry hanging from small balconies and locals discussing football and politics in typical cafes and restaurants. Generally, you can't get really bad food in Portugal, but the rule of thumb, no matter where you go, is – if there are locals inside, go for it.
O kouzelné Alfamě už jsem psala ve svém starším článku, ale musím se o téhle čtvrti zmínit znovu. Je to totiž takový kus zakonzervované historie, protože se jedná o jedinou čtvrť, která nebyla zničená zemětřesením v 1755. Po této události se začaly stavět jiné domy, v tzv. Pombalino stylu, které byly strukturou odolnější v případě dalšího zemětřesení. Alfama si tak jediná zachovala původní styl, a ve ve změti uzounkých ulic s visícím prádlem, obchůdků a restaurací je radost se ztratit. Z mé zkušenosti vyloženě špatné jídlo v Portugalsku nedostanete, ale místní uvnitř jsou vždycky záruka, že vám bude chutnat.
6.Take a tram
Taking a tram in Lisbon is an experience itself, because they are still using the "Remodelado" type – those wooden yellow trams you are used to seeing on postcards and tourist guide books. The most famous line is E28, which takes you through the popular spots, and if you are lucky and you catch a seat, it's the perfect exploration tool. I recommend to ride it from the last stop to the first, the lines in Martim Moniz (starting point) were insane.
Jízda tramvají v Lisabonu je zážitek sám pro sebe, protože díky strmým úzkým ulicím v něm dodnes jezdí staré dřevěné tramvaje typu Remodelado. Nejslavnější linka je č.28, která vás proveze po těch nejturističtejších místech, a když vás po celém dni bolí nohy, sedět a jen se kochat, zatímco vám vánek čechrá vlasy, je dost lákavé. Problém je, že linka je extrémně populární, a vůbec se do ní dostat je úkol sám pro sebe. Pokud nekonečné fronty nejsou vaše ideální představa, jak trávit dovolenou, zkuste nasednout na konečné a projet si linku opačně, nebo vyrazit hodně brzy.
7.Visit Belem
Travelling to Lisbon without trying Pasteis de Belem is like going to Paris and not seeing the Eiffel tower. These custard tarts based on recipe from monks from nearby monastery are the most delicious guilty pleasure pieces of heaven you can ask for. Even though you can buy pasteis all over Portugal, the original can be found only in here with the pastry's recipe being well guarded secret. But Belem is not only about pastel de nata, there are plenty of interesting places to visit. The discoveries monument, the Belem tower, from where the Portuguese kings were saying goodbye to the sea explorers, Jeronimos monastery or the MAAT museum. A plan for a whole day is settled. (Just make sure you have tickets for the way back, the transport system and the machines to purchase tickets are not very easy to to use and thanks to the lines we missed several trains and buses back to the city centre).
Navštívit Lisabon a neochutnat koláčky Pasteis de Belem je jako jet do Paříže a nevidět Eiffelovku. Tyhle koláčky s žloutkovým krémem byly poprvé upečeny jeptiškami v klášteře Jeronimos, který se nachází právě v Belem, a i když se nyní pečou po celém Portugalsku, stojí za to si dát ty původní, mají totiž trošku jiné těsto (jehož výroba je přísně střežené tajemství). Na Belem si s přehledem můžete vyhradit celý den, je poměrně daleko od centra, takže stojí za to si projít všechny zajímavosti po sobě, třeba jako věž Belem, odkud portugalští králové vyprovázeli lodě na daleké cesty, památník zámořských objevů, zmíněný Jeronimos klášter, který vás ohromí svojí architekturou, nebo muzeum MAAT. Doprava bývá opravdu namačkaná, ušetříte si spoustu starostí, pokud budete mít dopředu nakoupené jízdenky, a pozor na osobní věci!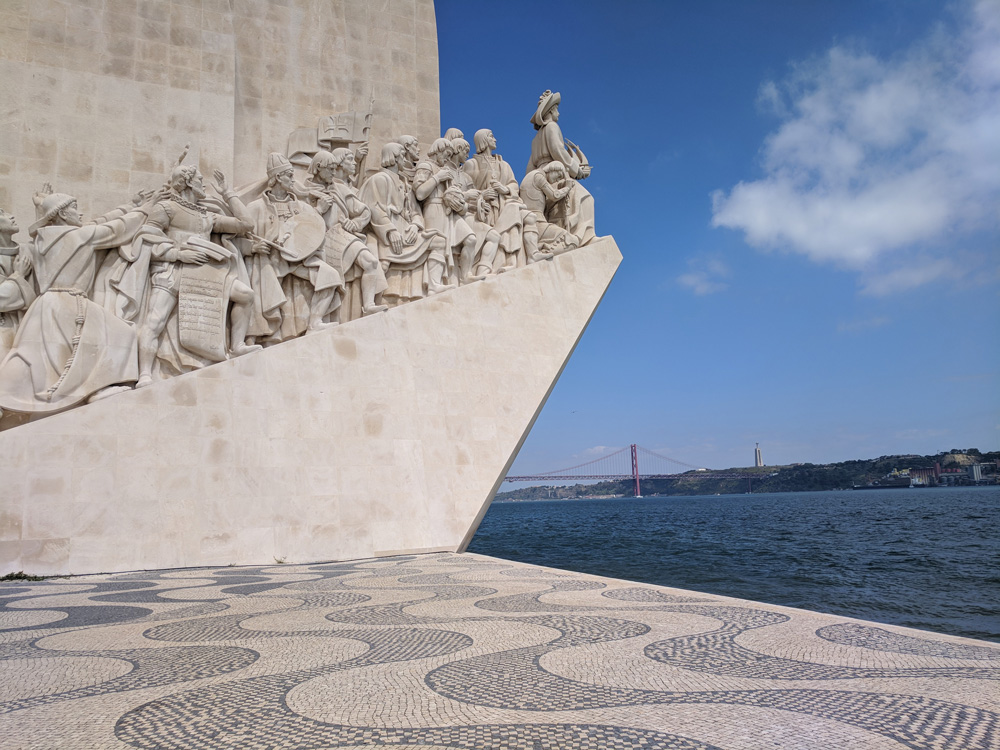 8. Have a drink in kiosk
First kiosk in Lisbon was opened in 1869 and even though their fame faded thorough the years, they are back and they are back strong. You can get drinks, small food, and the most laid back atmosphere in numerous beautiful kiosks around the city. Where are the best ones? Have a look in here.
První kiosek se v Lisabonu otevřet už v roce 1869, a když jejich popularita v historii klesla, zlaté časy jsou zpět, a město je jimi teď poseté. Můžete se vnich zastavit na rychlou kávu, jídlo, nebo večerní drink, a atmosféra u nich je boží. Místní, turisté, všichni pospolu pijí minis, zajídají to tremocos, a užívají si atmosféru tohoto krásného města. Ty nejlepší najdete třeba tady.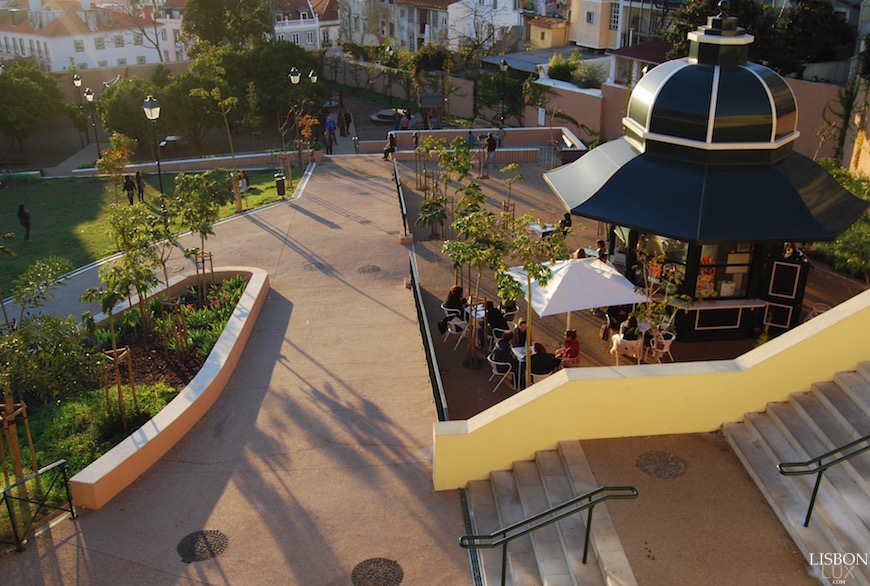 Photo source: www.lisbonlux.com
What are your favorite spots in the city? Are planning a visit?
Jaké jsou vaše oblíbená místa v Lisabonu? Plánujete se tam podívat?