Visiting New York has always been on my bucket list. I mean, it was such a huge part of my teenage years. I used to dream about taking a coffee in Central Perk with Monika and Rachel, while Phebe sings "Smelly Cat". I wanted to grab a beer and hear: "Have you met Ted?" from a guy in a suit that looks always good on photos. I imagined meeting beautiful girls on the Upper East Side in fancy designer clothes and headbands and most of all, I wanted to go shoe shopping with Carrie, and clubbing with Samantha.
Coming to a city with such a built up expectation could end up as a disaster, especially if these expectations were built on stories of a girl writing a column in a newspaper and shopping in Dior, but New York didn't disappoint me me. It did exactly the opposite – it enchanted me with all its beauty and ugly altogether.
As I was climbing the stairs out of the Canal street station to Broadway and gazed at it for the very first time, I literally felt like Santana from Glee as she arrives to the city. There was everything I dreamed of – the lights, the honking cabs, the hustling people and the fire escape stairs on every building:)
Hands down, those were the most intense 5,5 tourist days I've ever had. Good news is, you can see a LOT in 5 days in the city. Bad news is that it's gonna cost ya. NYC is not cheap to stay in, eat in and neither shop in. But you don't go there every day, right?
Before You go
Planning part is important if you want to make most of the time you have for your trip, so here are some tips beforehand.
1.Arrival
I can't speak for other airports, but getting out of JFK took forever. Our plane landed in the afternoon, and it was a full house, so the immigration queues were insane. As a bonus we got separated, because I got picked for a more thorough check, so we managed to get out of the airport 2 hours after landing.
2. Getting around
If you plan on staying at least 5 days, I would totally recommend the Metro card for a week. It costs $33 and it will give you a lot of freedom. We didn't use taxi or Uber once and managed to see a fair share of Manhattan and Brooklyn. It was also the cheapest way how to get out of the airport.
3. Choosing a place to stay
this is where you have to consider your budget vs how much time you are willing to spend on commuting. We stayed in Manhattan in Tribeca and the location was perfect. Close to several metro stations, we could easily get anywhere in the city. In over an hour, it was possible to walk to Time Square on Broadway. Don't underestimate the size of the island – it's biiig 🙂 What is not big are the hotel rooms. Square meters are weighted in gold, so even if you pay up, your room is going to look like a dollhouse, but it will have everything that you need.
4. Don't fall for scams
considering the types of scams in Prague, NYC felt quite safe in that manner. We managed to stay scam-free until paying 10 bucks for 2 hotdogs in a food truck in Midtown. Well, won't make the same mistake twice. To avoid them all, watch this video to be prepared. And this one too! Or just watch all the videos from John, they were a massive source of inspiration for us:)
5. Consider a CityPass
if you are planning on seeing a lot of sights, you might save a few bucks with one of the city passes. Entrance tickets in NYC are very pricey, so we chose the C3 CityPass which allows you 3 entrances of your choice from their list.
So, what is worth to see in the city, that never sleeps?
I am glad you asked:)
1.Brooklyn Bridge at sunrise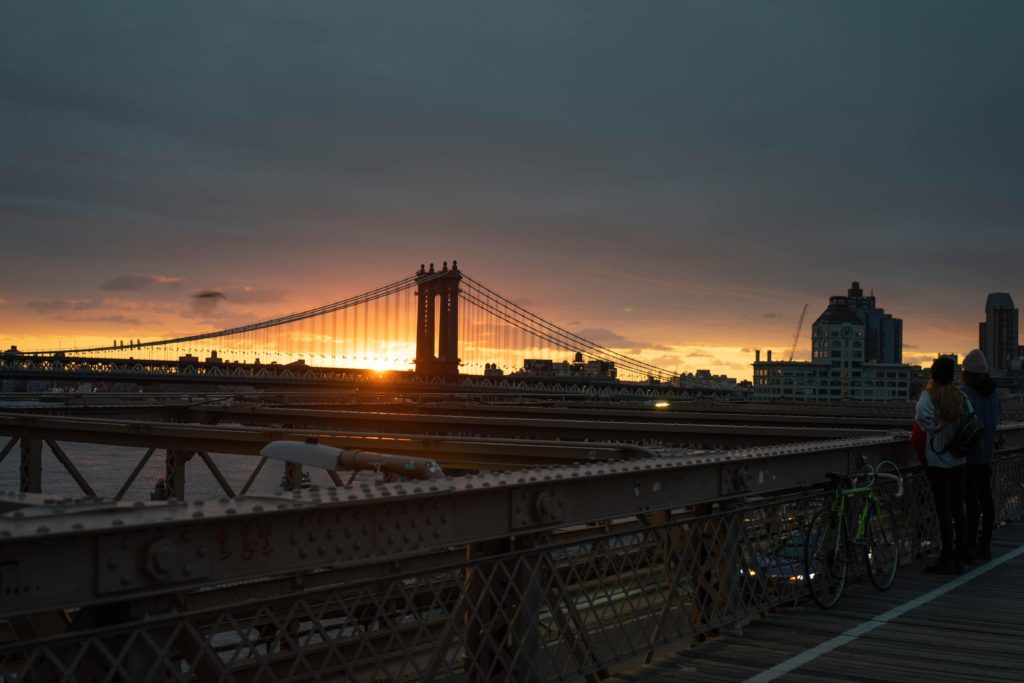 I recommend doing this while you are still jet-lagged because you won't have to push yourself to wake up so soon. We arrived at the bridge around 6:30, and the timing couldn't be more perfect. I didn't know where to look first. On one side, the sun just started to peak under the Manhattan bridge, and on the other there was the still at night skyline with thousands of lights. As the sun was rising, the scenery was changing with every minute spreading the golden beams around, and I was trying to desperately capture the beauty on my camera and phone.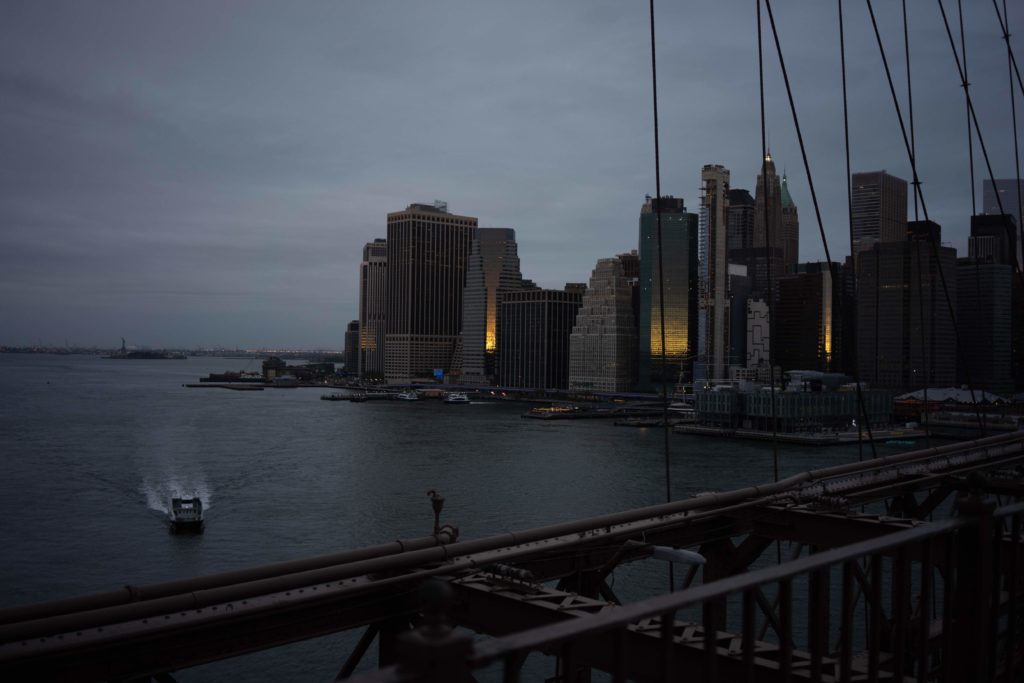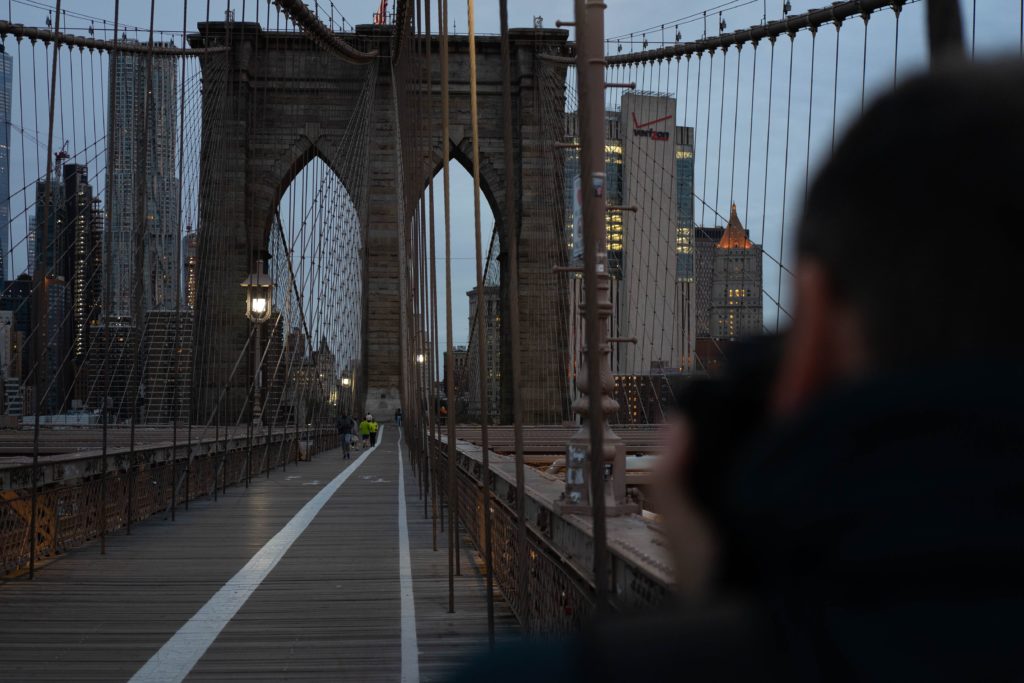 As a bonus, the bridge was almost empty! And that is something to say, cause when we walked on it again in the middle of the afternoon, it was far from being a pleasant experience. One side is reserved for cyclists, and they are not the relaxed type (can't blame them, tourists were everywhere, everybody stepping in constantly). You can always get a bonus like we did, in a form of a girl shooting yoga poses completely naked. You heard me, nada! But that belongs to a different kind of blog 😀
2. Gaze at the city from the top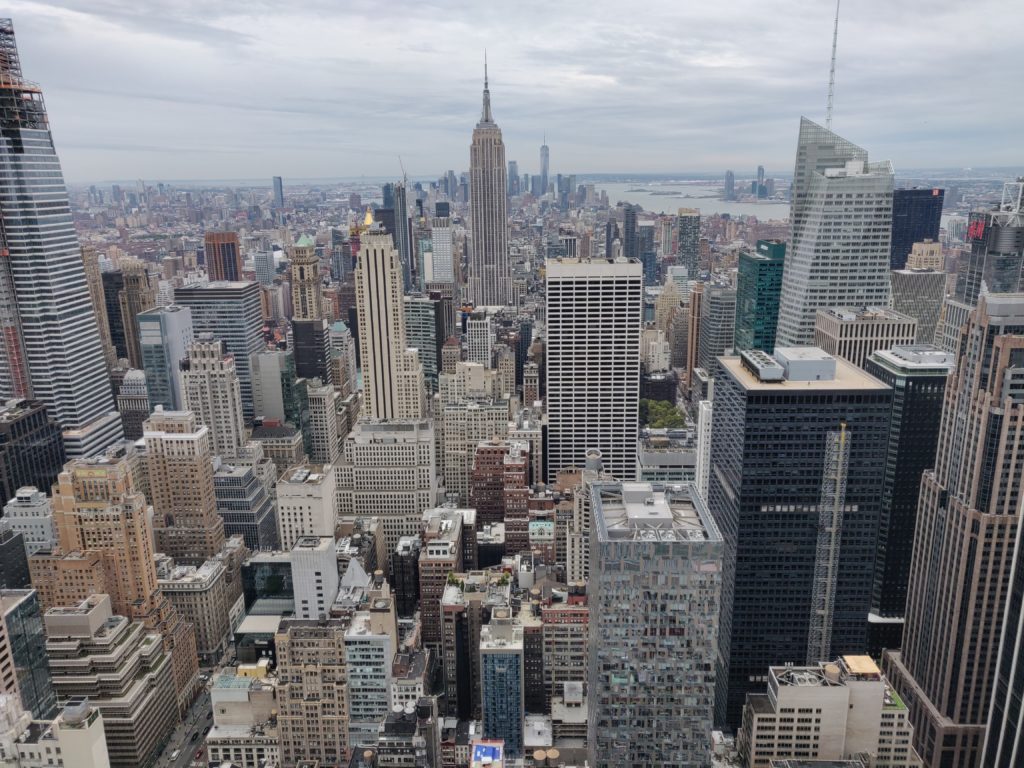 Your first days in NYC will leave you with pain in the neck, cause you are going to be constantly looking up. The scenery is slightly higher than what we have around European cities. The best way how to truly get the feeling for the size of the city is from up top. So to which viewpoint should you go?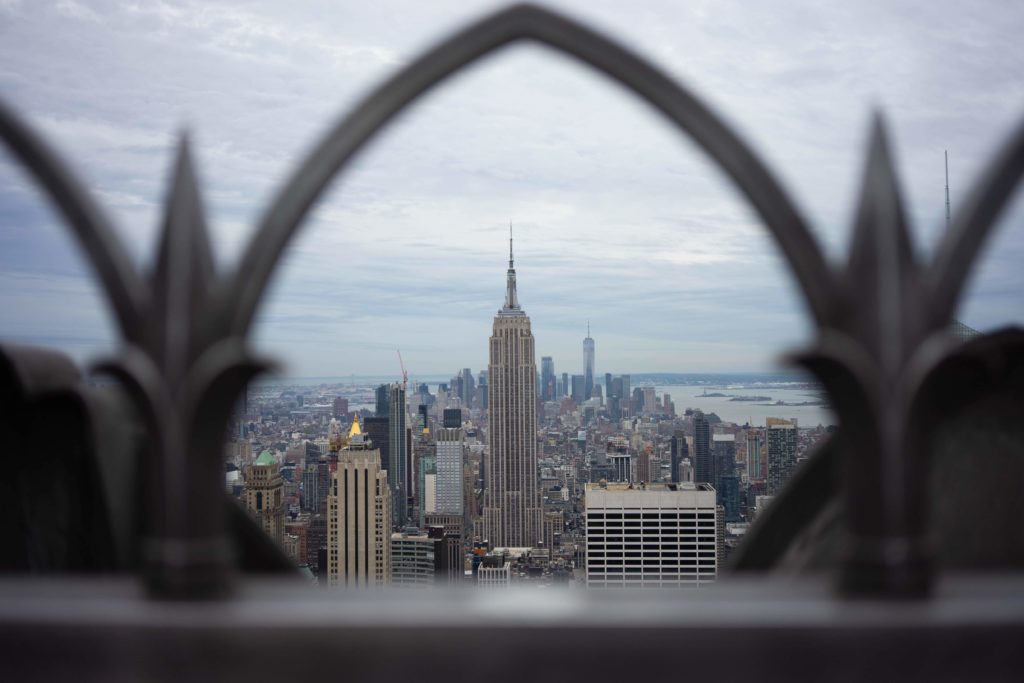 For me, I have to vote for Top of the Rock. The views are unbeatable, not only because there is no glass protection, so you can get crazy with your camera, but you actually see the whole Central Park on one side, and whole Manhattan with the mighty Empire State building on the other.
The views from Empire State are really nice too. What I enjoyed a lot there was the program around. There were a lot of pictures, stories, and video recreations along the path to the elevators of how the building was built, which really takes you back in time, and makes you realize what had to happen for this piece of architecture to come alive. But in terms of views, Top of the Rock is better IMHO 🙂
3. Walk the Highline to Hudson Yards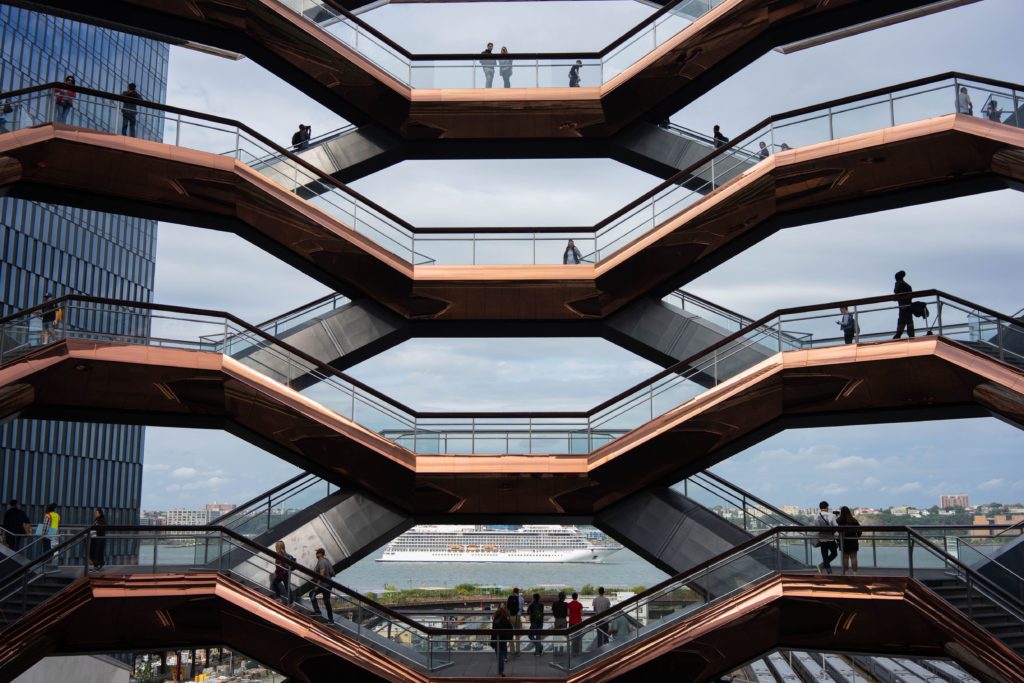 The old railway now rebuilt into walking park as an initiative of locals is a place not to be missed. There are often displays of art as you walk on the elevated path and occasional viewpoints. I would recommend starting early, like this you will skip the crowds, and you can have your coffee and snack in one of the many relaxing spots along the lane.
It ends in a new fancy part of town called Hudson Yards, that is growing buildings like mushrooms after rain (and local are not liking it that very much, cause apartments for 20 million dollars..?) and it's dominated by the Vessel, futuristic spaceship-like structure you can visit for free. Just book online or on the spot.
4. See a show
I might be biased since I love theatre and musicals, but even my husband had a good time on Broadway. I mean, pinch me, I was on Broadway! 😃 We saw a Book of Mormon and till this day I humm "Hello, my name is Elder Price" and "I am gonna baptize you". If you get a chance seeing it, go for it, it's hilarious, energetic and as inappropriate as the creators of Southpark could have made it. We got our tickets straight in the theatre, like this it was possible to get better seats than the website was generating for us. Decent seat will cost you around 100 bucks (for Book of Mormon, the prices vary show to show) 😭
5. Chill in Central Park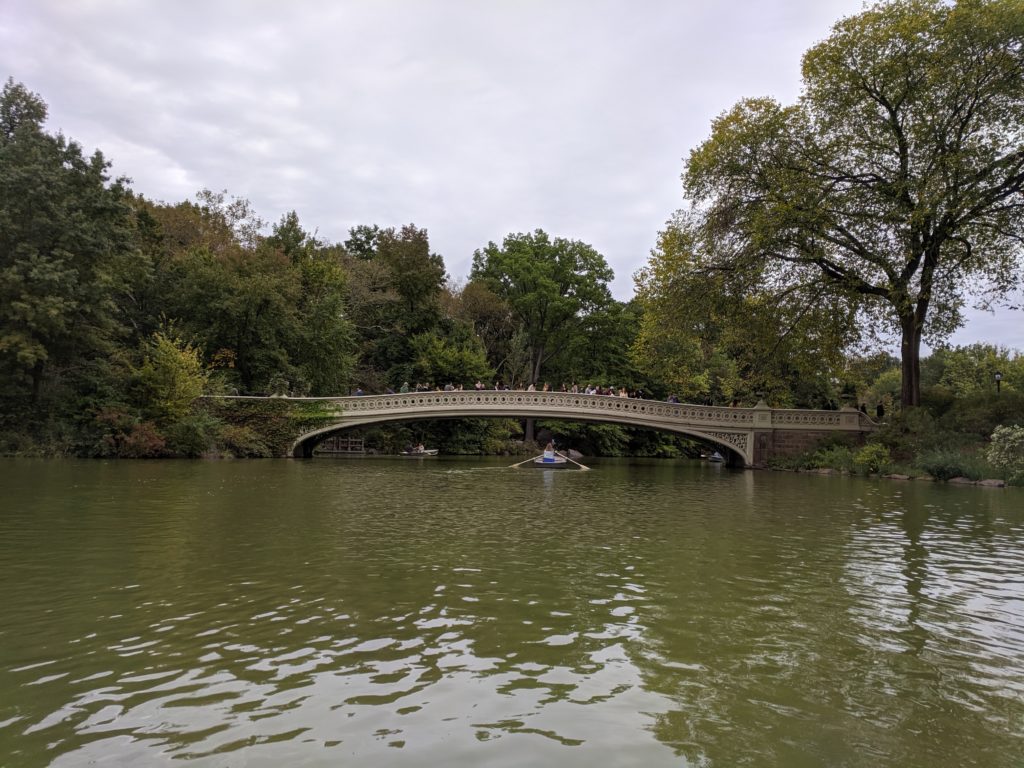 Central Park probably doesn't need much describing:) A wonderful escape of the city's hustle & bustle, the park is full of street performances, squirrels and nice spots to chill away from the busy city. You can rent a city bike to go around to cover more ground, the whole day will cost ya $12. Another cool way to see it is to rent a rowing boat for $15 an hour and you can enjoy views of the park and some peaking skyscrapers from the lake. Be careful, it gets busy and not everybody knows how to operate a boat 😀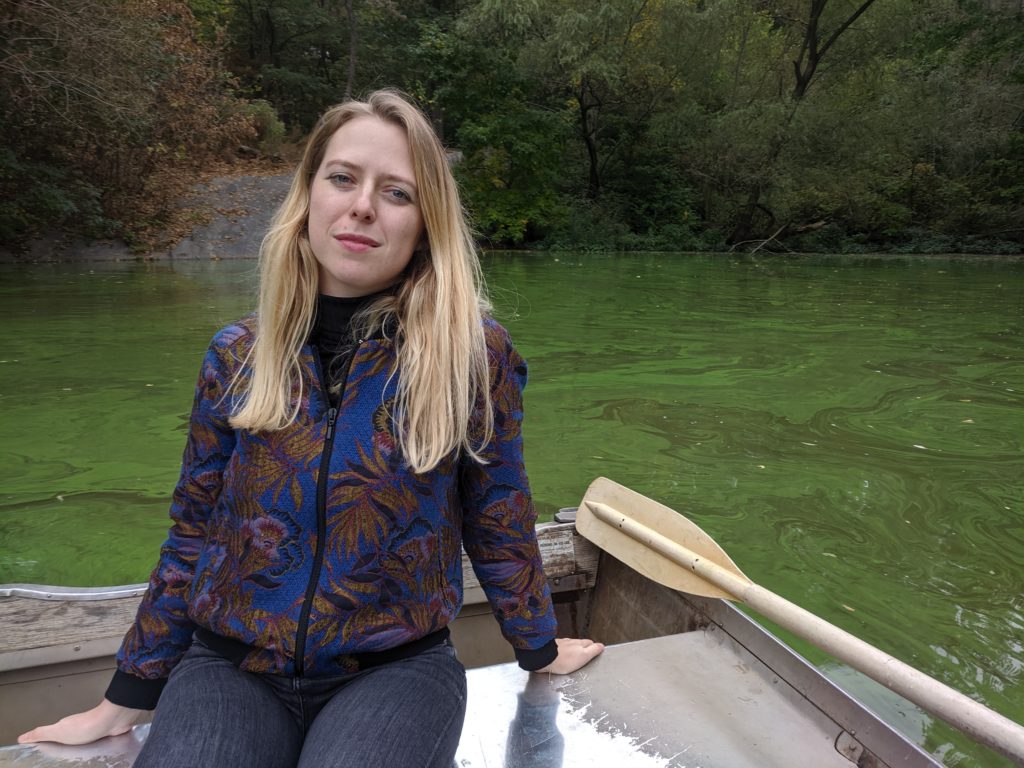 6. Visit a museum
The museum I was excited to see the most, MoMA, was closed for reconstruction, but I would still recommend going there 😃 We did only one as part of the C3 city pass, which turned out to be a best thing to do on a rainy day – The museum of natural history. The displays took me back in time – the dark rooms, old wooden displays…highlight of the museum is a skeleton of T-Rex, although for us it was the deep space show in local planetarium. The visuals of expanding universe, galaxies, and antimatter were e-p-i-c!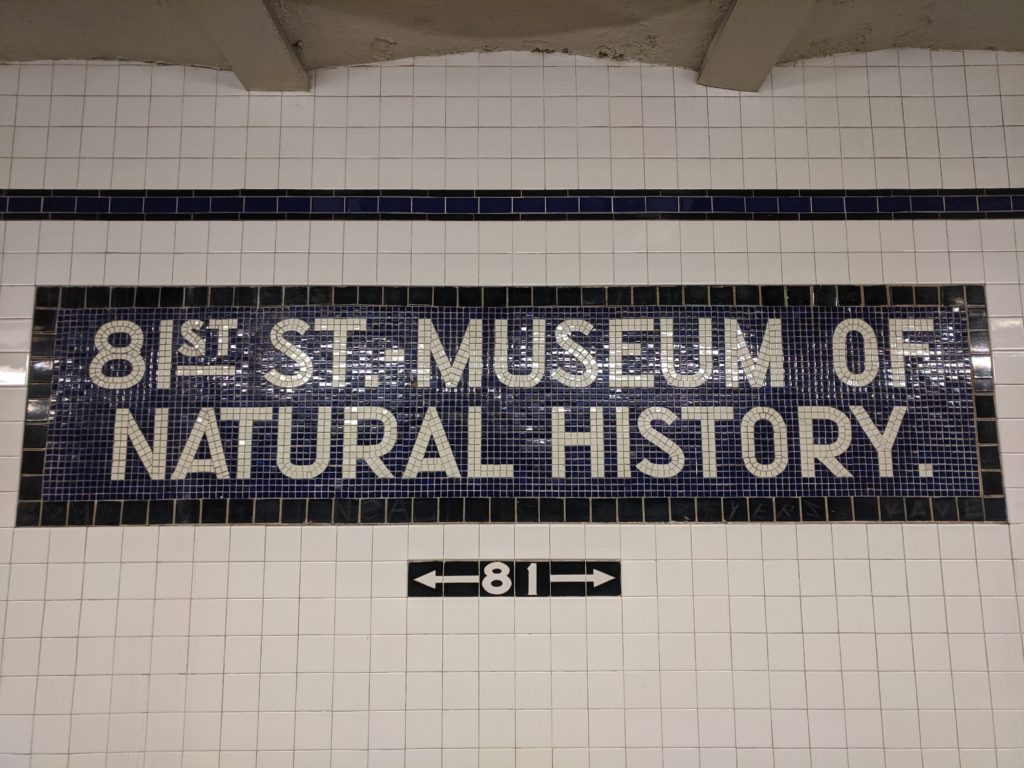 7. Pay your respects at 9/11 memorial
Do you remember what you were doing on September 11th, 2001? I remember vividly standing in our living room watching the old Tesla TV showing shots of planes hitting the twins. It was terrifying, and everybody was talking about it. Yet standing there, on a place where all this happened, made it even more real. It's beautifully done – the two pools surrounded with carvings of names of everybody who died that day make it a heavy, reverent place and it should be treated as such.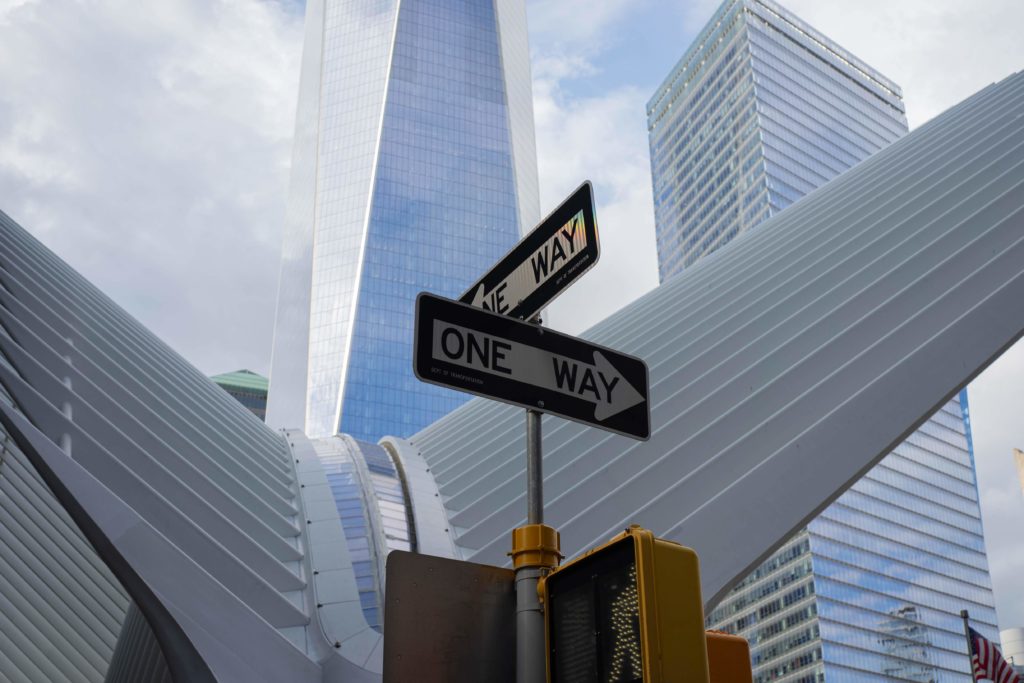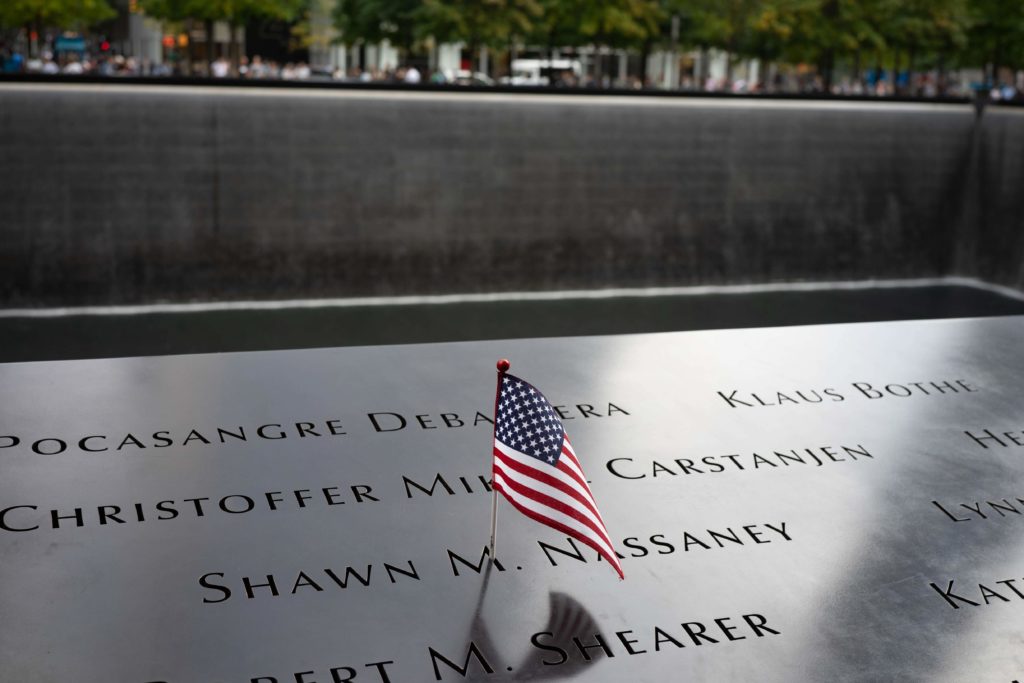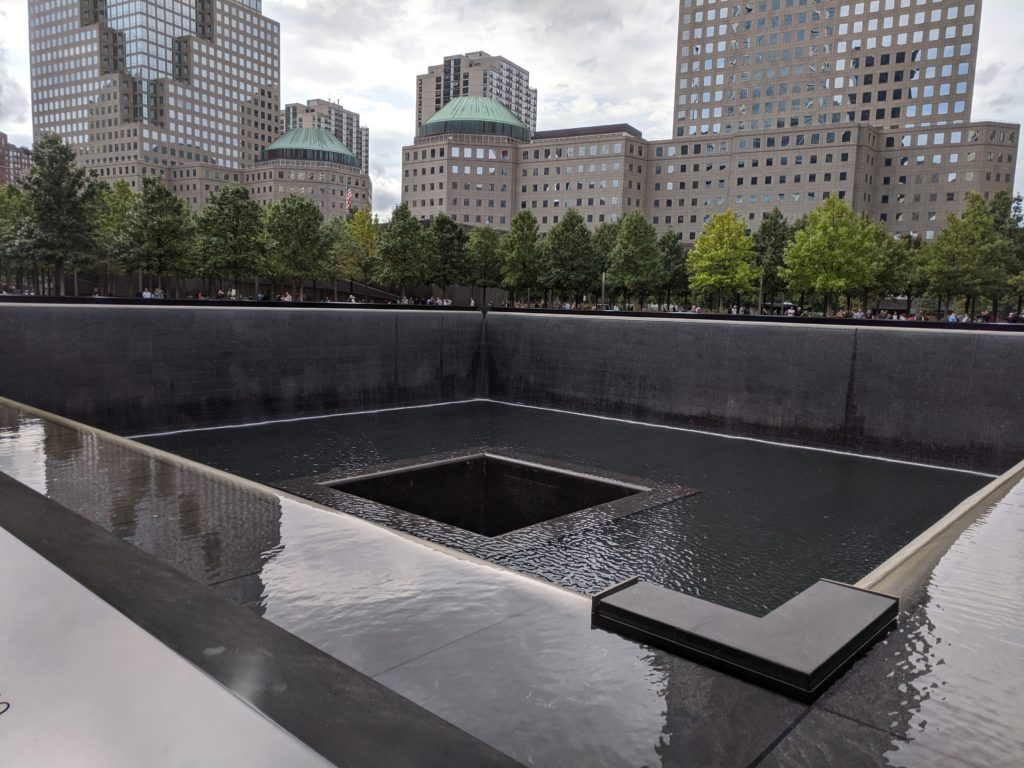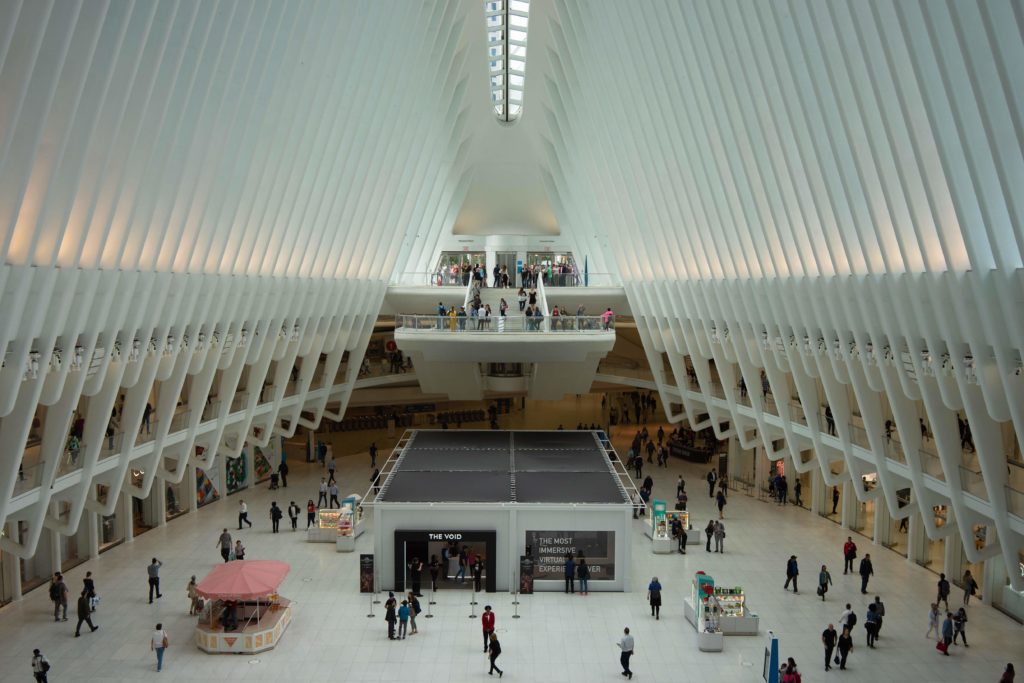 8. Take a ferry to the Staten Island
There are many cruises being offered in NYC, but if you don't necessarily need to go right to the statue of liberty or around the whole Manhattan, the Staten Island ferry is the best alternative. It's for free! Take a seat on the right side of the ferry as you embark and enjoy the ride as the skyline gets smaller in the distance. And don't be surprised by the size of the Statue of Liberty:)
9. Stop at Grand Central terminal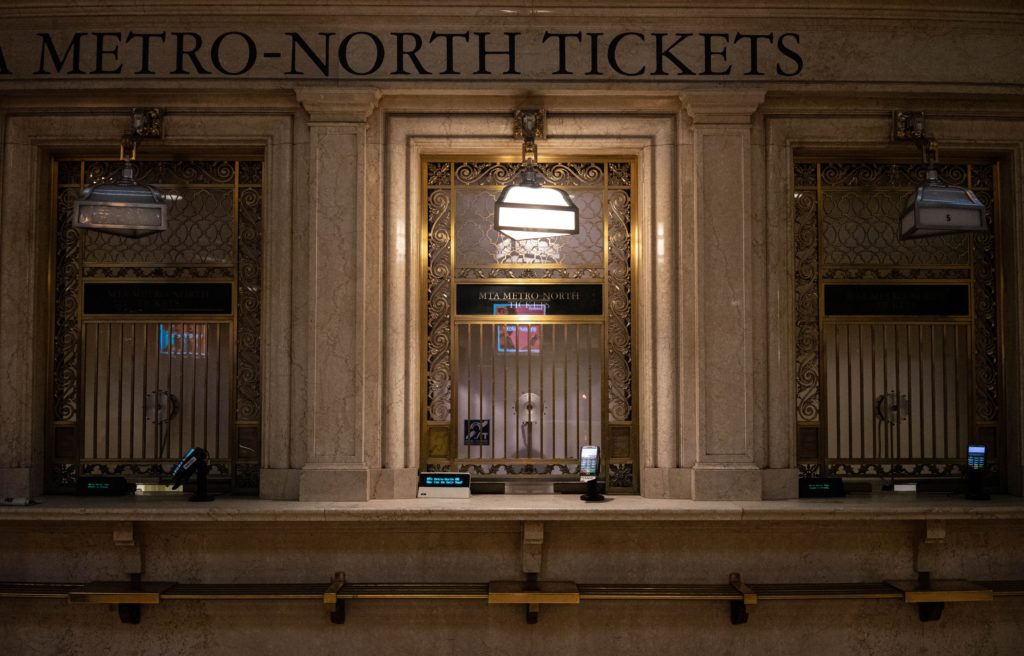 "Spotted! Serena Van Der Woodsen arrived to Grand Central !" Ok, I hope at least one of you used to watch Gossip Girl 😃 Hands down the most beautiful train station I've ever seen! Completed from beige granite built in Beaux-Arts style, it looks more of a museum then train station. No wonder Apple decided to open a shop on the upper floor. The green ceiling is decorated with beautiful star constellations.
10. Go to Brooklyn
Best views of the skyline? Of the Brooklyn Bridge? More chill? The answer is: Brooklyn.
After crossing the BB, you will end up in a hip part of town called DUNBO (Down under the Manhattan bridge overpass) where you can find a lot of hipster cafe's and shops, epic Manhattan views ,Time Out Market with a lot of delicious food options and terrace with extra-large benches to lie down and digest while enjoying the scenery:) Spend some time in Brooklyn Bridge Park, the views are worth it.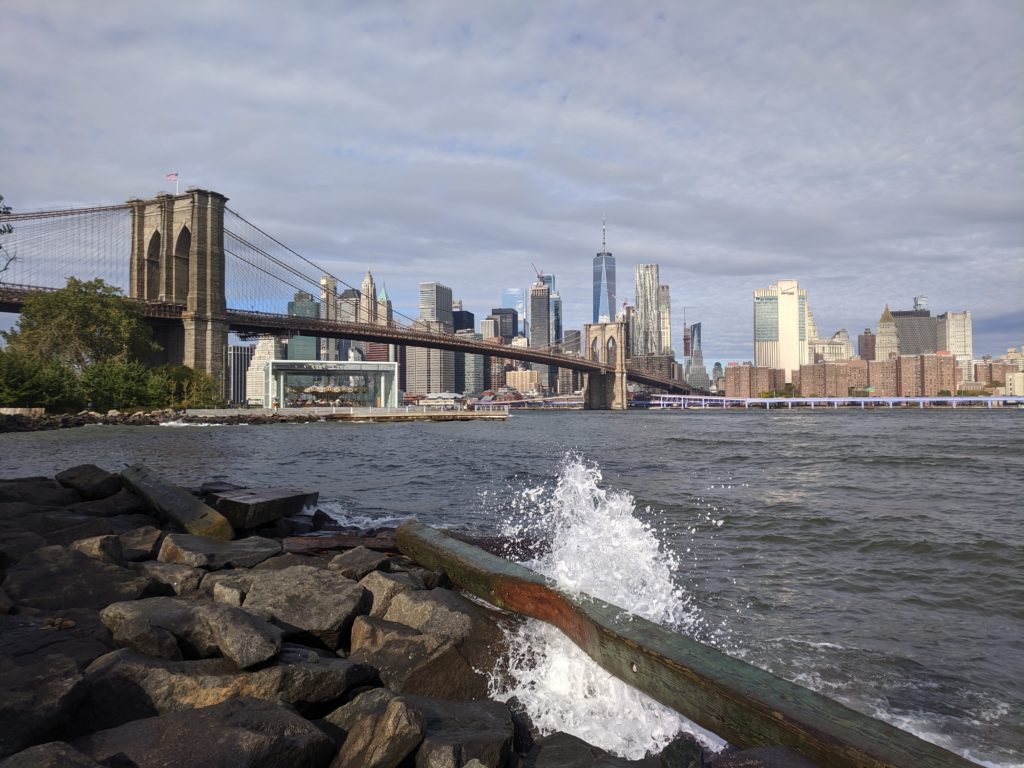 You should also go to Williamsburg, for me it was the most chill area that we visited in NYC. It felt more like California, with wider streets, trees and street art everywhere as well as the coolest shops and cafes. I have no tips here – just wander around, explore, taste and enjoy 🙂
12. Eat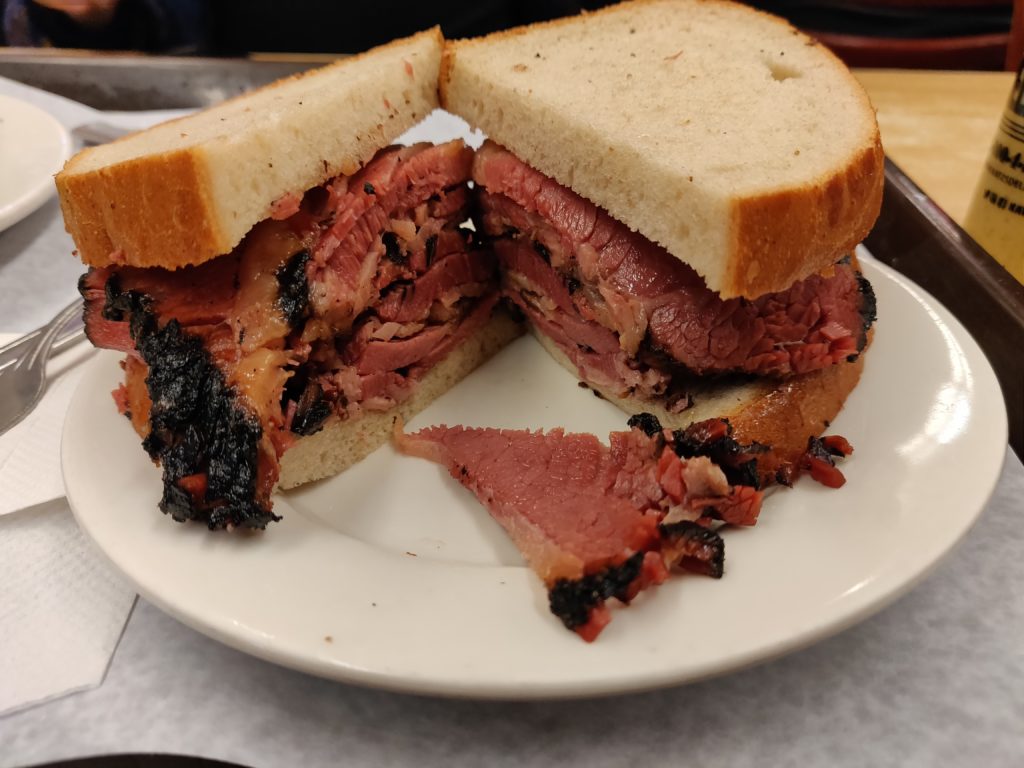 Someone told me the other day, that traveling is filling time between meals😃 Can't argue with that in a city that houses ethnicities from all over the world. New Yorkers are undoubtedly foodies as you would have to go a new restaurant every single day for 68 years to try them all. After a thorough YouTube, Netflix as well as word of mouth research, here are my recommendations. Eating out is not cheap, although you have always options like one dollar pizza, street food or fast food chains. A dinner for two will cost you around $60, with alco drinks count at least $80 (one small beer is around $10😭). Don't forget to tip, in a restaurant with service, the expected tip is 20% from the price before tax, but it's common to tip everywhere, even if you get something from behind a counter. /Which I find super weird. Why not pay the employes fairly instead?/
@Chelsea Market – used to be a cookie factory, now it hosts food corners from all over the world. A MUST try is Tacos no.1, and Sarabeth's for dessert (oh, that milky rice…)
@Ivan Ramen – epic ramen that featured on Netflix's Chefs Table. Book a table:)
@momofuku – David Changs restaurant. There are 8 Momofukus in NYC, we tried the Noodle Bar in East Village. They don't accept reservations there – just show up. And try the smoked Ramen 🙂
@Katz's – old-school deli with sandwiches that will make you cry with pleasure. The meat will fall apart before you start chewing it:)
@Prince street pizza – we found it by accident. Our lives will never be the same 😀 For me it was the best pizza in NYC.
@Shake Shack – Shake Shack gets constant comparisons to In & Out. That should speak for itself:) Different level of fast food. Plus, isn't it cool to drink a shake in ShakeShack ? 😀
@Levain bakery – THOSE COOKIES! I still think about them sometimes. (Often.)
@Milk bar – sweet heaven from Christina Tosi.
@Eileens special cheesecakes – nice cheesecake. And it's in the cutest part of town.
@Republic of Booza – delicious oozy ice cream in Williamsburg
@Blue Bottle Cafe – it's a chain, but the coffee reminded me of Double Shot. Real nice.
13. Get lost
It's good to be prepared and have an idea of how to utilize your limited time effectively, but at the same time, you don't want it to feel like a chore. The best places are those discovered by accident and you never know what or who you are going run into in NYC to make your stay unforgettable.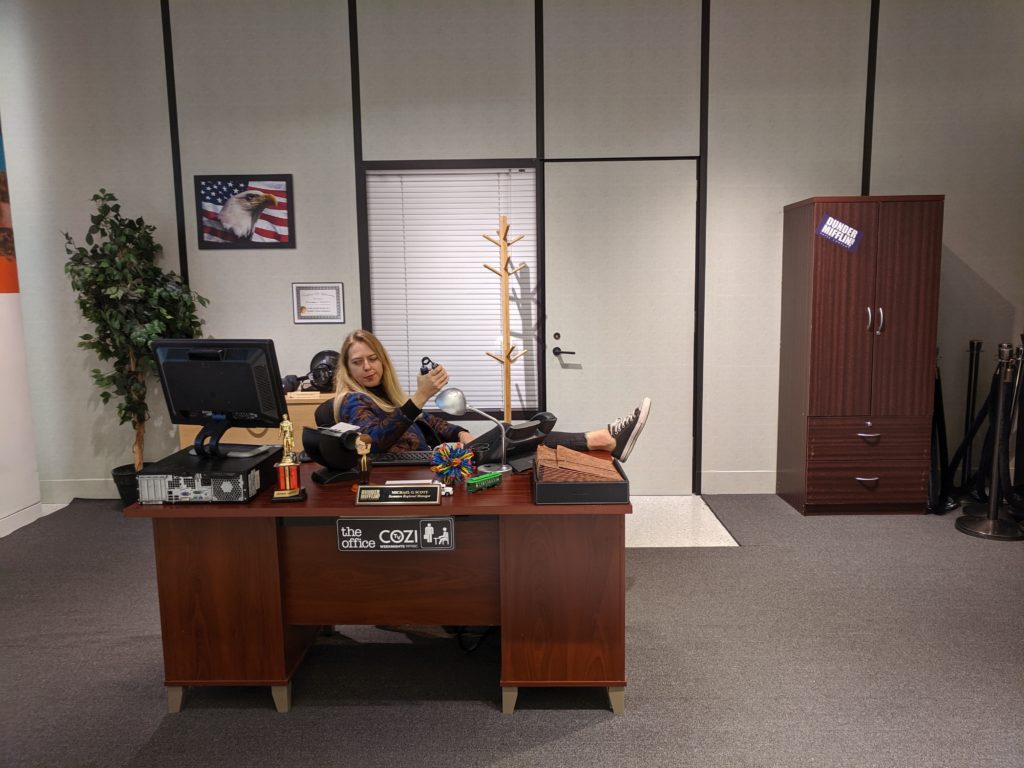 Have a great time!:)