To truly enjoy traveling and getting to know a new city, you need to get lost they say. So on arriving to Viana do Castelo, a city located in the northern part of Portugal right by the Atlantic, we parked our car and just started walking.
It was a beautiful morning, the fog started to clear out from the valleys and the sun took the ownership of the sky. Even though the city has just woken up and started a new day, the atmosphere was relaxed.
//CZ// Opravdu objevit nové místo prý znamená se vněm ztratit, a tak jsme po příjezdu do Viana do Castelo, města zdobícího sever portugalského pobřeží, zaparkovali na okraji auto a vydali se ho objevit. Bylo krásné ráno, mlha, která ještě předchviličkou zahalila vše kolem do hutného oblaku se začala rozpouštět a sluníčko převzalo plnou vládu na nebi. I když se město probouzelo, atmosféra byla relaxovaná.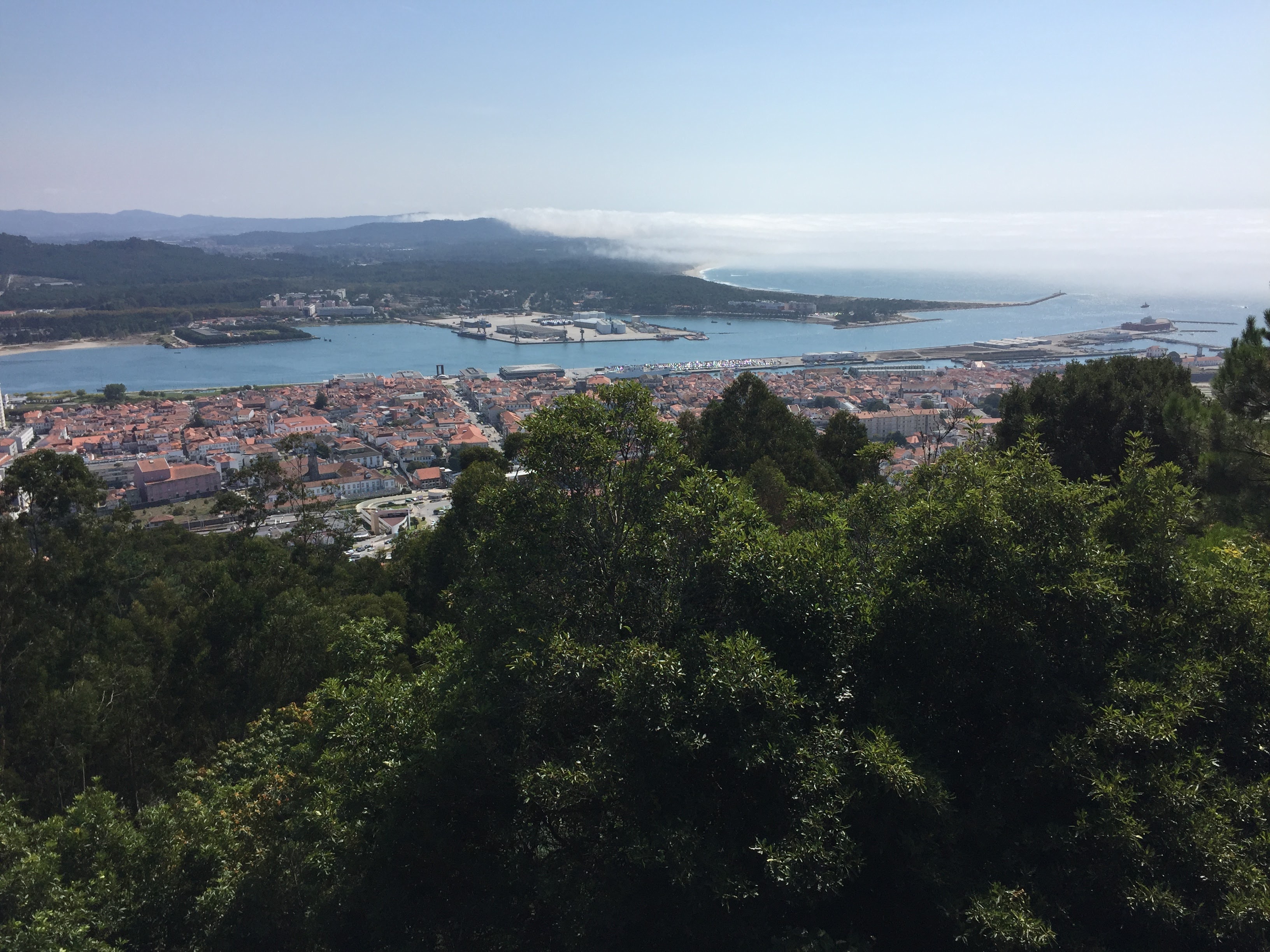 Small cobbled streets got busy with morning hustle, little cafes opened their doors portraying their windows with irresistibly looking pastry and smell of fresh coffee was inviting you to step in every time somebody opened the door. With all our senses highlighted, we decided to start the day in a café on the square called Praça da Republica to get some caffeine into our bloodstream. Even though it was late September, the sunbeams were kissing our skin lightly as we watched the morning unravel from the sidewalk. It was time for exploration.
//CZ//Úzké uličky se pomalu začaly plnit lidmi, kavárny otevřely své dveře dokořán lakajíc kolemjdoucí na neodolatelně vypadající pečivo a všudypřítomnou vůni kávy. S nadšením jsme se vydali do samotného centra na náměstí Praça da Republica pro pravidelnou dávku výborného portugalského kofeinu. I přestože byl konec září, teplé sluneční paprsky nás šimraly do očí, když jsme usrkávali z malých hrníčků při pozorování kolemjdoucích.
On arrival to Viana, there is a monument that will invite you graciously from the distance – Santuário de Santa Luzia overlooking the city since 16. Century. To get up there, you can either climb on foot or take a funicular not far from the railway station. As you get closer, the church unravels in front of you in all its beauty. Actually, you don't even know where to look first, because if you turn your head, the view of the city and port is pretty epic. And it's going to get better! For one euro, you can take an elevator and then some extra stairs to climb to the very top of it. When you glance over the glistening ocean and the salty wind entangles your hair, you must ask yourself: was this the very feeling giving curiosity to Portuguese navigators when they set sails to explore the unknown?
//CZ// Při příjezdu do Viany vás na první pohled upoutá kostel Santa Luzia shlížející na město už od 16. století. K němu se můžete dostat nejen autem nebo pěšky, ale také lanovkou, která má stanici nedaleko vlakového nádraží. Při vystoupení pak nebudete vědět, kam se dívat dřív – jestli na kostel, nebo na epický výhled na celé město. Výhledy tím ale nekončí. Za euro se dostanete do nejvyšší kopule kostela, odkud vás pohltí výhled na blýskající se oceán, vlasy se vám zamotají silou slaného větru a řeknete si: byl tohle pocit, který portugalské plavitele volal k objevům a cestám ?
Downtown of Viana has a cozy vibe. The streets are narrow with buildings decorated with painted azuleijos, balconies facing the street are covered with laundry and flowers and small businesses are inviting you to step in and explore their offer. There is street art everywhere blending both the traditional and new into balanced symphony.
//CZ// Zpátky v centru města stojí za to se zamotat v úzkých uličkách. Všudypřítomné jsou různobarevné tradiční kachlíky azuleijos, které se mísí se streetartem v perfektní kombinaci starého a nového.
Just few steps away from the Praça da Republica there is museum of Traje, the traditional costume. Embrace yourself for more beauty. I am a big fan of kroj coming from South Moravia, so I was happy to see how traditional costumes looked few thousand kilometres away. The handwork and decorations were incredible, and the one I admired for the longest time was the wedding costume, because it was beautifully decorated and to my surprise – black! Entry is 2 € per person and the tickets is valid in extra 2 museums:)
//CZ// Pár kroků od hlavního náměstí se nachází muzeum krojů, což na první pohled možná zní jako nuda, ale opak je pravdou. Jako správné moravské devče jsem přeci musela zmapovat situaci:) Muzeum má rozsáhlou sbírků krojů z různých regionů na všechny události, od režných pracovních, až po kroje sváteční, jako třeba ty, které se nosily jen v neděli, nebo kroj nevěsty, který je neuvěřitelně zdobený a světe div se – zcela černý!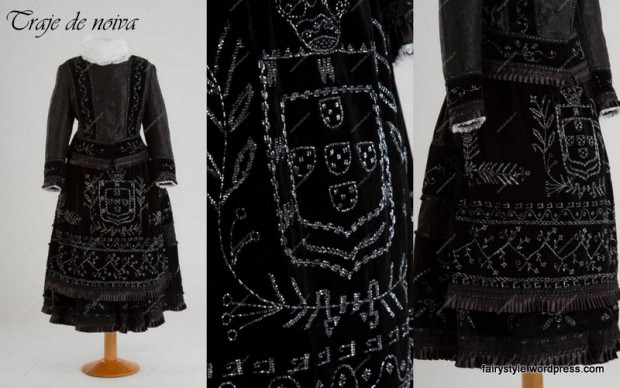 Check them all on this amazing blog!
I think we can all agree that after any museum activity, it's necessary to re-build energy levels. Even though with sea literally right in front of you it's a crime not to eat fresh fish or sea food until you need to open your belt, we decided to be misfits for the day and go for Francesinha instead. All I can say is that our plates looked like washed when we finished 🙂 oh, and this is, of course, only half portion my friends…
Určitě všichni budete souhlasit s tím, že po tak náročných aktivitách, jako návštěva muzea:) je potřeba se řádně posilnit. I když by mělo být snad trestné si ve městě, kde jsou mořské ryby a plody čerstvější než kdekoliv jinde, nějakou rybu nedát, rozhodli jsme se být rebelové a dát si Francesinha, jídlé typické spíš pro Porto. Jediné, co vám k tomu můžu říct je, že vám doporučuju udělat to stejné. Talíř se vám bude po jídle blyštit, jakoby na něm nikdy nic nebylo. Já jsem zvládla jen poloviční porci!:)
If you still have space in your stomach after lunch (I am kidding, everybody knows there is a secondary stomach for deserts), it's time for the local speciality called Cedonios. These sweet pastries look like little coffins (Hello there, rakvičky), and they are crunchy on the outside while deliciously dewy on the inside. Based on a friends recommendation we went town are café A Brasileira located in here. Though it was a tough choice..
Pokud máte v žaludku ještě trochu místa (dělám si srandu, každý přece ví, že všichni mám ještě extra žaludek na dortíčky:), zkuste ochutnat místní specialitu se jménem Cedonios. Vypadá to jako naše rakvičky, jen z hutnějšího těsta, na povrchu křupavé a uvnitř hutné a mazlavé. Na doporučení jsme si zašli na nejlepší ve městě v kavárně A Brasileira.
You can't fully explore Viana without getting close to the water. The marina has a nice promedade with cafes and ferry that will take you to the other side of the city. But nothing is quite like a walk on the beach, am I right? City of surfers, Viana can offer many great spots for sports, relaxation or a nice walk with the ultimate ocean view. One could get used to this, couldn't they?
Nemůžete plně objevit Vianu, pokud se nepřiblížíte k vodě. V přístavu se můžete projít po promenádě, hradbách nebo se svést lodí na druhou stranu města. Nejkrásnějším zakončením pro mě ale byla procházka podél oceánu. Viana je město surfování díky svým vypečeným vlnám, a pobřeží tu lemuje jedna pláž za druhou. S mini v ruce a pohledem na tuhle nádheru jsme už nebyli ztracení, spíš přesně naopak:)