The recipe for the ultimate cinnamon rolls comes from Add a pinch and I followed it pretty much to the last word besides some changes in the frosting. The cinnamon rolls are so delicious that you won't be able to stop eating them still warm from the oven. I managed to eat 7 already! Thanks god they are not huge, otherwise I will be!:D
For the base, you are going to need:
1 cup of warm milk
1 packet of yeast
1/2 cup of sugar
1/2 melted butter
2 teaspoons of salt
4 and 1/2 cups of flour
For the filling:
butter, cinnamon and sugar in the amounts of your liking
For the frosting /here I went little sideways as I didn't want to use so much butter again/:
1 pack of cream cheese
few spoons of frosting sugar depending on how sweet you want to have it
1/4 cup of butter
drop of vanilla extract
The recipes steps are very well described on the Add a pinch website with pictures of all the steps.
They were not even, but they tasted like heaven, so who cares?.)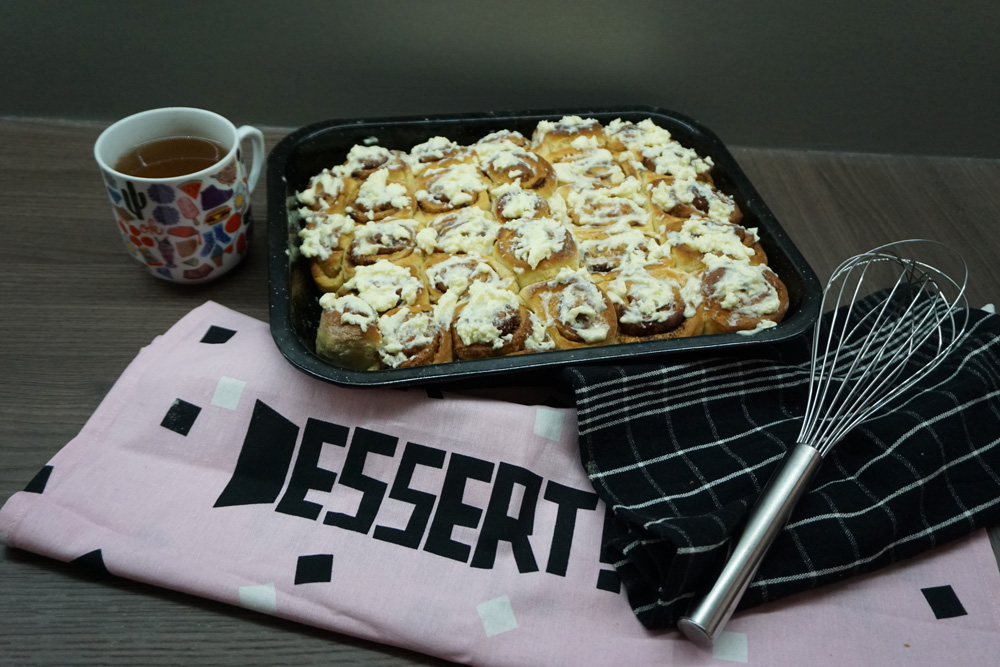 //CZ//Už hodně dlouho jsem chtěla upéct skořicové šněky, ale z nějakého důvodu jsem se bála, že mi to nepůjde. Konečně jsem se ale rozhoupala, a výroba rozhodně nebyla těžká (akorát mám mouku až za ušima:) a tento recet, který jsem našla na stránkách Add a pinch je opravdu luxusní!
K přípravě těsta skořicových superšneků budete potřebovat:
hrnek teplého mléka
2/3 kostky droždí
1/2 hrnku cukru
1/2 hrnku másla pokojové teploty
2 čajové lžičky soli
4 a 1/2 hrnku mouky
Na náplň budte potřebovat:
rozehřáté máslo na pomazání těsta
cukr a skořici podle toho, jak sladké a intenzivní šneky chcete
Frosting jsem si trochu upravila, protože podle originálního receptu tam šla opět půlka hrnku másla..
balení krémového sýra, já v zoufalství koupila lučinu a bylo to mega dobré!
1/4 hrnku rozměklého másla
dvě tři lžíce cukru moučka
kapku vanilkového extraktu/esence
Nepovedly se všechny stejné, ale jejich vůně a chuť to náležitě vynahradily:)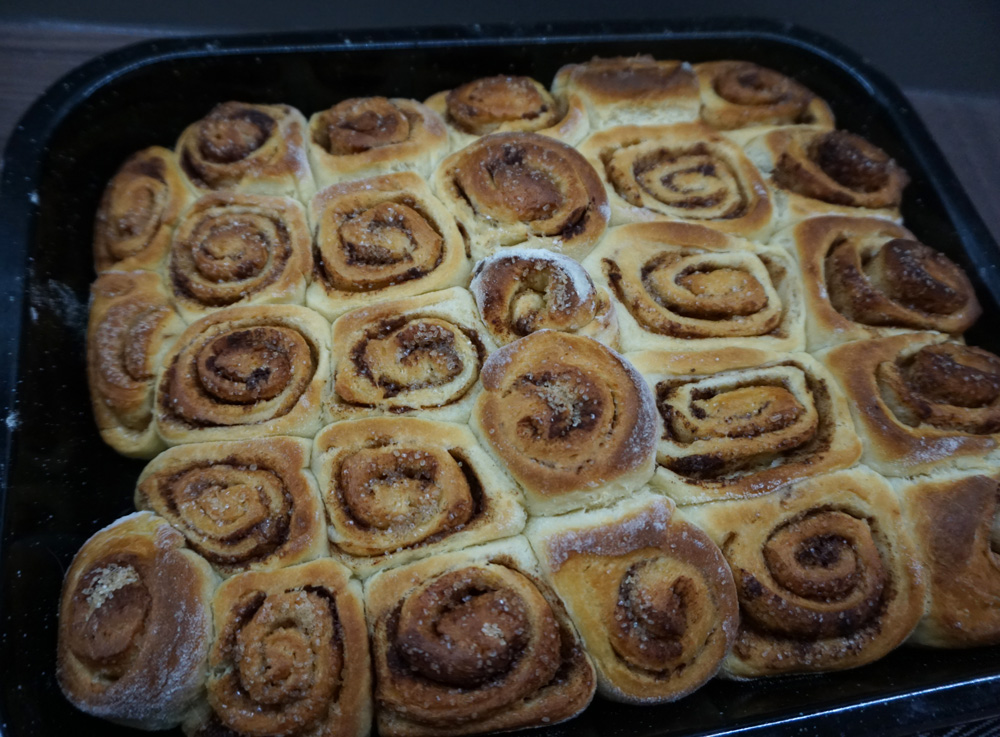 Postup je následující:
V horkém mléce rozmíchejte cukr a droždí a nechte chviličku odležet. Pak přimíchejte věechny ostatní ingredience na těsto a hněťte, až bude lepivé, ale zároveň držet ve tvaru bochánku, rozhodně by nemělo být tekuté, v tom případě přidejte více mouky. Pak omoučněte strany mísy a nechte na teplém místě hodinu kynout. Těsto opravdu krásně naskočí.
Dalěí krok závisí na rozměru vaší "válící" plochy, já jsem neměla dostatečně velkou podložku, tak jsem těsto válela po půlkách. V tomhle kroku je zásadní si podložku, váleček a těsto pěkně posypat moukou, jinak z toho bude neštěstí:) Těsto vyválejte asi na půl centimetru, ideálně do tvaru obdélníku, potřete rozpuštěným máslem a posypte skořicí a cukrem. Zamotejte z něj jakoby palačinku a krájejte kousky, asi 6cm široké, které klaďte do máslem vymazané formy. Pečtě na 200 stupňů asi 15 minut, údajně je velký hřích je upéct příliš suché:)
Zatímco šněci zlátnou v troubě si můžete nachystat "polevu" smícháním másla, sýra, cukru a vanilky. Směsí pak šneky potřete ještě teplé, díky máslu se poleva roztopí a chutě se krásně propojí.
Dobrou chuť, já si jdu dát osmý šnek:D